On the Cover
The Messenger, the headpiece and cape ensemble on the cover, reminds us that Story-telling, the occupation of Winter, is not just a matter of the written word, such as the lyrical novels of Louise Erdrich, or the oral tradition that emerged in the Vinland sagas. It can also take shape in fabric, bead-, quill-, feather- and metal-work, clothing and regalia. This material tradition is very much alive in current indigenous fashion, as demonstrated in a recent New York showing by Patricia Michaels and an upcoming exhibition, Native Fashion Now, which will include our Owl Lady, The Messenger. The exhibition, organized by the Peabody Essex Museum of Salem, Mass., will feature the work of more than 60 artists from the United States and Canada and opens Feb. 17, 2017, at the National Museum of the American Indian, George Gustav Heye Center in lower Manhattan.
Margaret Roach Wheeler (Chickasaw) for Mahota Handwovens. The Messenger (The Owl) cape and headpiece, from the Mahotan Collection, 2014. Silk-wool yarn; silk-wool yarn, metal, silver, glass beads and peacock feathers. Portland Art Museum, purchase with funds provided by an anonymous donor.
Articles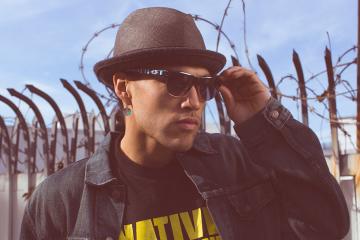 Art & Culture
New York's exposure to the broad range of Indigenous couture continues in February at the Museum's George Gustav Heye Center in lower Manhattan with the arrival of the…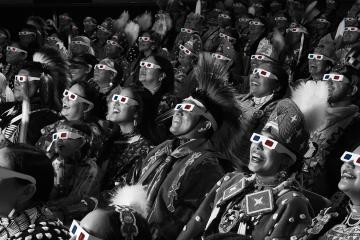 Art & Culture
Steven Paul Judd (Kiowa) gives a unique twist to some well known images. The results are pointed and hilarious.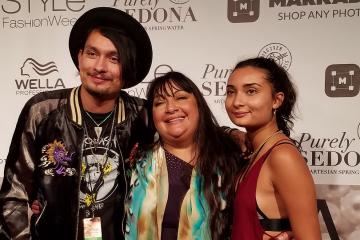 Art & Culture
Long a leader in Southwest design, Patricia Michaels (Taos Pueblo) made a national breakthrough, for herself and for indigenous designers, as a star of the television…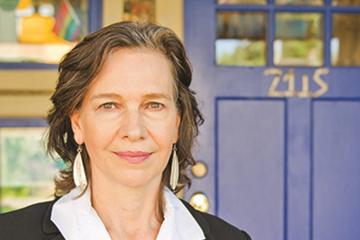 Current Affairs
Did the wrong Minnesotan win this year's Nobel Prize for Literature? Some in Indian Country think the honor is overdue for Louise Erdrich (Turtle Mountain Band of Chippewa),…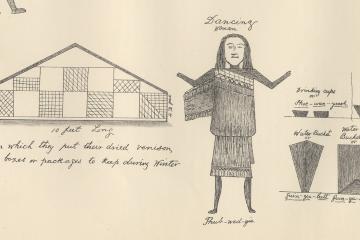 History
A puzzling passage in the Norse account of an expedition to Vinland 1,000 years ago has recently been recognized as a nearly verbatim record of an encounter between the…