On the Cover
The horse stick is a prominent feature of ceremonial dances, often celebrating the bearer's feats of military valor. This tradition is alive today, both in the  artistry of this modern version by Bryan Akipa (Sisitonwan Dakota) and in the wartime heroism of American Indian veterans, such as the famous World War II horse raid of Joseph Medicine Crow (Apsaalooke [Crow]). This object is a fitting emblem for an issue devoted to our Museum's new Congressional mandate of establishing a National Native American Veterans Memorial, to be dedicated on our grounds on Veteran's Day 2020.
Dance Staff, 2008. Artist: Bryan Akipa, Sisitonwan Dakota [Sisseton-Wahpeton Sioux Tribe] Sisseton, Lake Traverse Reservation; Roberts County; South Dakota. Materials: Wood, horsehair, hide, rawhide, turkey feather/feathers, commercially produced fabric patches/insignia, cotton twine/string, iron nails, glue, wood stain, paint.
Techniques: Carved, stained, painted, pyroengraved, wrapped, tied, glued.
Purchase from the artist, 2008. 37" x 2.9" x 11.8". (26/7158)
Articles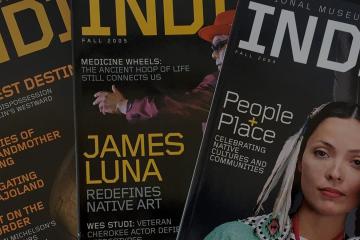 Current Affairs
Smithsonian historian Herman Viola eulogizes his adopted brother, recipient of the Presidential Medal of Freedom.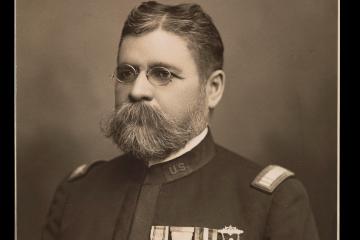 History
In a military irony, a U.S. Army unit recruited from the Iroquois Six Nations of New York was posted to its historical homeland in North Carolina and heroically repulsed an…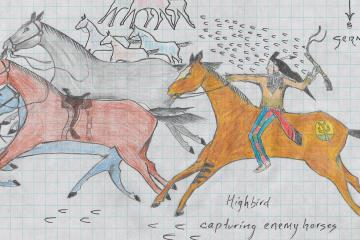 History
Toward the end of World War II, Joseph Medicine Crow (Apsaalooke [Crow]) performed one of the traditional Plains Indian feats of valor, relieving the enemy of his horses.…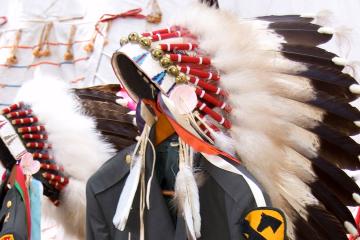 History
In spite of broken treaties, dispossession and oppression, men and women of the First Nations continue to serve in the U.S. military at a higher rate than any other ethnic…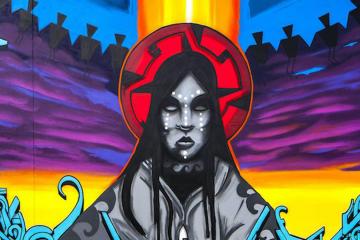 Art & Culture
Indigenous artwork is taking to the streets, the sides of buildings and the landscaped grounds of major institutions, a movement toward accessible expression that our Museum…