On the Cover
With the world again turning attention to the Olympics, this issue celebrates the long and rich history and remarkable continuity of Native athletics, from the hip-ball players of ancient Mesoamerica, to Iroquois runners to Polynesian mariners. Team sports were central to indigenous communal life long before Columbus, let alone the National Football League and its first president, Jim Thorpe. The Mayan ball player on the cover still has counterparts in several small villages in Mexico. The player's outfit, the fajado, still serves the same function, although the elaborate hip-guards of the Mayan player have been replaced by strips of automobile tire.
Maya bas-relief depicting a ball player, AD 600-750. La Corona, Department of el Peten, Guatemala. Limestone; 14.6" x 11.2". 24/457. On view in the on-going exhibit Infinity of Nations at the George Gustav Heye Center, New York City
Articles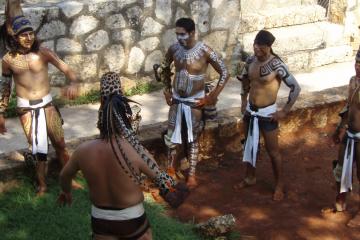 Current Affairs
Possibly the oldest team sport in the world, the game played by the Hero Twins of the Popol Vuh lives on in several small villages in Sinaloa, Mexico.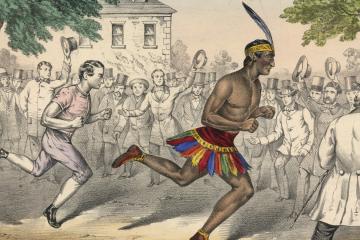 History
The messengers who traversed the Haudenosaunee Confederacy, often carrying diplomatic dispatches embodied in wampum belts, were forerunners of the champion long-…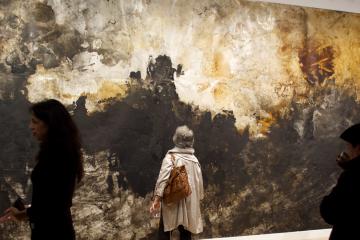 Art & Culture
The Alaska-born artist works ink into paper with a variety of found objects, including tire strips, but excluding brushes, to fashion huge artworks inspired by the majestic…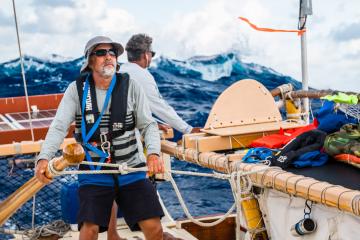 Current Affairs
In 1976, the Polynesian Voyaging Society launched its sea-going outrigger canoe, the first built in Hawaii in centuries, to show how Pacific islanders explored and settled…