On the Cover
On the cover: Traditional food and drink continue to sustain Indigenous identity and cultural (and political) survival. This richly carved Inka qero (wooden drinking cup) shows a mule team hauling house beams to the highlands as a Native woman offers a drink of chicha to the mule drivers. Colonial Inka ceremonial drinking cup. AD 1550- 1800. Near Cusco (Cuzco); Peru. Wood, paint, tree pitch/gum. Carved, painted, aboriginally repaired. Collection history unknown; purchased by MAI or its agent from an unknown source in Hamburg, Germany, in 1929 using funds donated by Mrs. George (Thea) Heye. 9.1" x 22.4". 16/6132. This item is currently on view at NMAI – N.Y.
Articles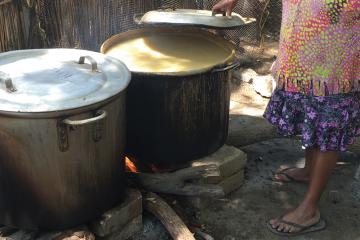 Current Affairs
From dank chicherias in small towns to gourmet big-city restaurants catering to tourists, the traditional fermented-corn beverage chicha is still being drunk throughout the Andes. It is no longer the medium of reciprocity that oiled pre-colonial social bonds, but it is still a standard for Indigenous identity.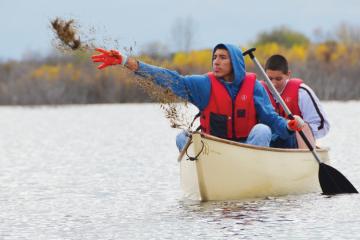 Current Affairs
Traditional agriculture and cuisine are integral to tribal culture. Recovery of these roots is also preserving the well-being and identity of many Indian peoples.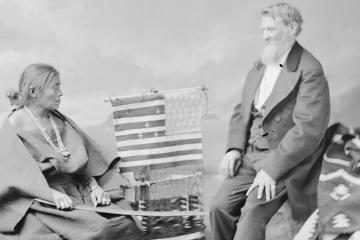 History
Naal Tsoos Saní, the "Old Paper" in the language of the Diné, is the Treaty of 1868 that ended the Navajo peoples' forced relocation to the Bosque Redondo. Although it is the legal foundation of the modern Navajo Nation, its limits on traditional Diné sovereignty are still intensely debated. The 20-page document, recently displayed in the exhibit Nation to Nation: Treaties Between the United…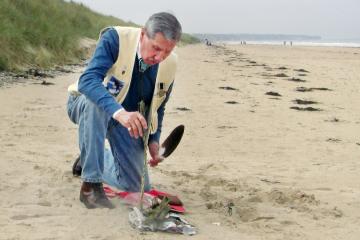 History
For more than 60 years, Charles Shay (Penobscot) couldn't talk about his horrific experiences on Omaha Beach during the largest seaborne invasion in history. Now he performs a smudging ceremony at the annual D-Day observances in Normandy, France, in honor of the 175 American Indians who landed that day. The French have dedicated a park overlooking the beach, in his, and their, honor.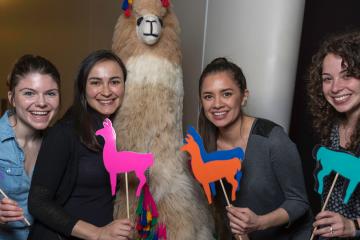 Current Affairs
An after-hours party at the Museum on the National Mall drew a lively crowd to view The Americans exhibit behind the scenes, to enjoy food and drink and generally to enjoy themselves.