On the Cover
This cedar woven crest hat features the painted face of a Raven, one of the animals that represent the two moieties that balance the Tlingit world. On the hat's reverse is the face of a whale, from which the Raven is said to be bursting forth. The painting on the hat is by Naak'ushtáa, a Dakhl'aweidí carver. It was repatriated to the Central Council Tlingit and Haida Indian Tribes of Alaska on behalf of the Tlex' L'ooknax.ádi (One Coho) clan in 2014.
"Yaay yikdéi wudikíni yéil s'aaxw" (Raven Flying Out of the Whale Hat); 1850–1875; cedar bark, paint and ermine pelts; 14" x 20" x 5.8" x 4.7", 17/6251
Articles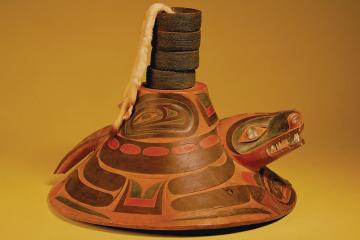 Art & Culture
A two-decade collaboration with Tlingit people in Alaska has returned more than 70 items from Smithsonian collections to clans.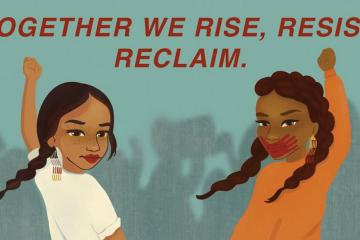 Art & Culture
Through art, a collective of Black-Indigenous artists is advancing social justice.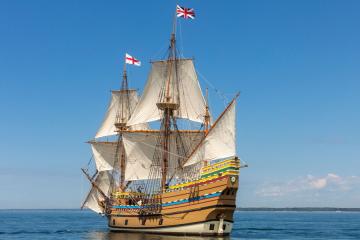 History
When the Pilgrims arrived on the Mayflower four centuries ago, they knew far less about the local Indians than the Indians knew about them.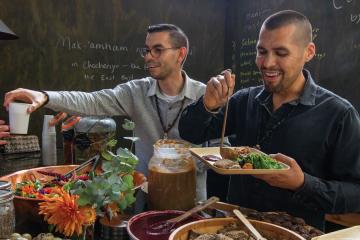 Preserving Traditions
Even during a pandemic, Indigenous chefs continue to sustain their communities.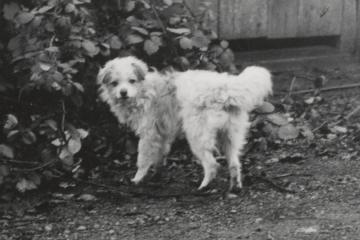 Collection Stories
Coast Salish people once used the hair of a now-extinct dog in their weavings. Today, they are reviving their nearly lost art.