On the Cover
This striking ash Strawberry Basket by Jamie Brown (Pokagon Potawatomi) is one of the wondrous objects available for purchase during the Annual Art Market Dec. 1 and 2 at the New York and Washington, D.C. sites of the National Museum of the American Indian. Strawberry Basket; 2012, Black Ash, 46" x 24"
Articles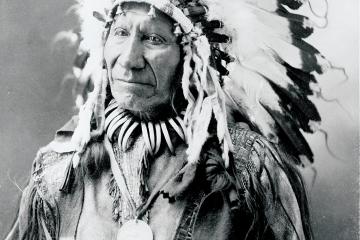 Art & Culture
The ceremonial procession wound past the green and yellow prairie bottom, streaked with silver-white stands of sage, toward the tiny settlement of four frame houses near a large tipi placed beside a stone foundation from long ago.
Art & Culture
With his friend, Miss Erna Fergusson, Shawn drove for hours to the Pueblo, "white adobe houses around an open square, blue New Mexico sky, bluer than the Mediterranean at its best, and the inevitably right masses of color made by the Indians' red blankets, coal black, straight hair, silver and turquoise jewelry." Shawn watched all day, as some 60 dancers repeated their 40-minute pattern with a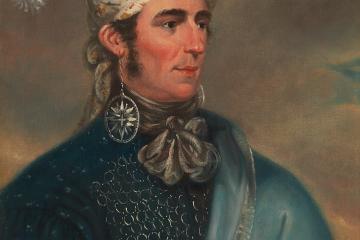 Art & Culture
Imagine you had to choose sides in a fight between your oldest friend and his children who live next door. Remaining neutral is not an option. How would you decide which one to support? That is what the Six Nations Confederacy faced during the War of 1812.