Women Warriors: Fighting on Many Fronts for the Right to Serve
Ola Mildred Rexroat didn't even know how to drive a car when she climbed into a cockpit for her first flying lesson in 1940. Born in 1917 in Kansas, where her father was a newspaper publisher, her family would later move to the Pine Ridge Indian Reservation in South Dakota, where her Oglala Lakota mother taught at the local school. Rexroat would go on to earn a bachelor's degree in art from the University of New Mexico in 1938. But as the United States prepared to enter the Second World War and called for pilots, she was drawn to flying. With the few dollars a month she earned from working at the Bureau of Indian Affairs and then for the U.S. Army Corps of Engineers helping to build airfields, she paid for the 35 hours of flying lessons she needed to join the Women Airforce Service Pilots, or WASP, in 1944. Rexroat was the only American Indian among the 1,074 WASP who served during World War II.
As women weren't allowed into combat at the time, the WASP ferried planes and officers from base to base, tested new planes and sometimes trained other pilots. They also towed targets, 20-foot-wide wire circles, that gunners would practice shooting using live ammunition from the air or ground. "They would turn their aircraft so they estimated when they made a 90-degree turn and were headed at a right angle toward us, then they could begin firing at our target—or were supposed to fire at the target and not the plane," she said, as they had a few near-misses. "I know you heard that joke about that WASP who said 'Hey, boys, I'm towing the target—not pushing it!"
Despite the WASP's consistent success, the male-dominated U.S. Armed Forces thought "every time a woman climbed into a cockpit, it was an experiment. They were waiting for them to fail," says Nancy Parrish. She and her mother, Deane, one of the few surviving WASP, founded Wings Across America to document the women's stories, including the one about towing targets Rexroat recounted in 2001. In spite of the constant struggle to prove herself, Rexroat—nicknamed "Rexy"—was always a positive force for her sister WASP. "Her spirit lifted everyone," says Nancy Parrish.
Formidable Forces
Native women have led and served their people in and outside of war long before and after the United States was formed. In addition to cooking, providing needed supplies and caring for wounded, they have taken up arms. For example, the Oneida tell of the woman Tyonajanegen who fought on horseback alongside her husband, an army officer, at the 1777 Battle of Oriskany during the American Revolution. After he was shot in the wrist, she loaded her husband's gun for him so he could keep fighting.
Some Indigenous women courageously plowed through glass ceilings, becoming among the first Native women to support or serve in the U.S. Armed Forces. Judith Bellafaire, curator of Women in Military Service for the America Memorial Foundation, describes Cora E. Sinnard (Oneida) and Canadian Charlotte Edith Anderson Monture (Six Nations of the Grand River) as being among the 14 Indigenous women who served in the U.S. Army Nurse Corps in World War I. The Army Nurse Corps grew from 2,000 to nearly 60,000 during World War II. Some nurses, including Lakota Marcella Ryan LeBeau (see page 23), followed the front, treating the wounded in makeshift hospitals.
Even before the United States entered World War II following the attack on Pearl Harbor in December 1941, the U.S. military enlisted the help of Alaska Natives to patrol their homelands against Japanese invasion. Of the nearly 6,400 volunteers and the few employees who formed the Alaska Territorial Guard (ATG), only a couple of dozen were women. One was sharp-shooter Private Laura Wright, who once hit a target 49 out of 50 times. Wright was part of the ATG from 1942 to 1947. Her granddaughter Sheila Ezelle says she would keep her eye out for invading Japanese while delivering mail on skis or by dog sled. She continued to serve her community by delivering babies as a midwife and later designed world-renowned parkas. Ezelle describes her as "a very capable woman."
According to the America Memorial Foundation, about 800 Native women served in the U.S. military during World War II, including in the Women's Army Corps (WAC) and the Navy reserve called Women Accepted for Volunteer Emergency Service (WAVES). Minnie Spotted Wolf of the Blackfoot Tribe in Montana also became the first American Indian woman to join the Marines. Known for her skill in breaking horses on her father's ranch, she served as a heavy equipment operator from 1943 to 1947.
In addition to serving in the military, thousands of Native women supported the troops during both World Wars by working in war-related industries and through efforts such as Red Cross clothing drives. After every war, women have also cared for the physically and mentally wounded when they came home. "Whether providing support in the form of supplies and healing or serving as leaders and warriors in their own right, Native women have always played critical military roles for their tribal nations and the United States," says Alexandra Harris, a senior editor at the National Museum of the American Indian. She and NMAI Historian Mark Hirsch coauthored "Why We Serve: Native Americans in the United States Armed Forces."
Regardless of how Indigenous women have served their communities and country, their stories are rarely found in the annals of American military history. In part, this omission could be because those histories typically focus on battles, says Hirsch. Yet throughout the more than two centuries of U.S. military history, he says, "Women are at the center of the story, not a marginal part of the story."
Writing Their Own Histories
On and off the battlefield, Indigenous women have served in every branch of the U.S. Armed Forces. Just as other women veterans, they joined for a variety of reasons and they shared some of their struggles. However, as Native women, some have experienced additional challenges.
Some turned to military service because they were following in the footsteps of their family members and had a desire to defend their people. Marilee Spottedwolf is a direct descendant of Northern Cheyenne War Chief Spotted Wolf, who led the Battle of Rosebud Creek in Montana on June 17, 1876, a week before Little Bighorn. "In Cheyenne culture, the Rosebud Battle is referred to as the Battle Where the Girl Saves Her Brother. Chief Comes In Sight was surrounded, about to be shot, when his sister, Buffalo Calf Road Woman, rode in on her horse and saved him. In that height of the genocide, a lot of women actively participated in war," Spottedwolf says. "Having that kind of legacy plays into what we do today. ... The woman veteran is not uncommon in our tribe."
A third-generation Navy veteran, Spottedwolf served from 2010 to 2017 during Operations Enduring Freedom and Iraqi Freedom as a Gunner's Mate Petty Officer Second Class. She helped maintain weapons ranging from 9 mm handguns up to entire weapons systems. She also trained crew members how to use them and made sure that they had enough ammunition. "My job was to help keep everybody alive in a firefight," she says.
As she was often the only Indigenous person on board, she felt at times like "the weird exotic in a lot of my commands. I am not just a Native, but a Plains Native, from a landlocked part of the country. Kind of ironic." She was also frequently one of only a handful of women. "You face all the adversity being a Native American female in a male-dominated MOS [military occupational specialty]," she says. But that helped drive her. "It pushed me to the kind of level that I became an asset."
Mitchelene BigMan (Apsáalooke [Crow]/ Hidatsa) knows from experience that Indigenous servicewomen often don't get credit for their work and feel they have to try harder to prove themselves. BigMan enlisted in the U.S. Army in 1986. After U.S. servicewomen were finally allowed into combat in the 1990s, she served as a Sergeant First Class, working as a mechanic in Operation Iraqi Freedom with two deployments in Balad. "We were the first to volunteer for the craziest missions knowing we may not make it home," she says. In Iraq, "when we had to go to a village, I'd be the first one to go in," she says. "I'd have to pretend that I was not scared, even though I was."
When 23-year-old Private Lori Piestewa (Hopi) became the first Native woman to die in combat in 2003, BigMan says she thought, "She made the ultimate sacrifice. She kissed her kids goodbye and didn't come home. I listened to flute music and burned sage. I just cried. It hit home. It could have been me."
"As a soldier, we are trained not to think we are women," says BigMan. She was often told, "You wear your heart on your stripes" because she cared about those under her command. "Those soldiers relied on me, expected that I would bring them home safe." But then, "If I am a soldier, well, then treat me like one," she says. "Treat me as a comrade."
While many tribes acknowledge and respect their women veterans, BigMan says that initially after she retired in 2009, "My own people didn't recognize what I had done." She founded Native American Women Warriors to raise awareness of women veterans' contributions. The organization also helps Native veterans find employment and educational opportunities and provides some emergency funds to pay for the cost of necessities such as rent, utilities and food.
When the Native American Women Warriors first led the color guard at powwows instead of the men, she says they found resistance from tribal members: "They said we weren't supposed to march in front." The women have since marched in their bright red, white or blue jingle dresses decorated with metal cones in color guards at various powwows, parades and even the Native Nations Inaugural Ball at the National Museum of the American Indian in 2017. The jingle dance is a "dance of healing," BigMan explains. "Every time our ladies go to dance, we are dancing for all veterans who have passed."
Lakota Army Specialist Kella With Horn from the Two Kettle Band of the Cheyenne River Sioux Tribe in South Dakota looked to the military as an opportunity to grow. "It wasn't in our world to know what college was," she says. "I always knew from a kid I was going into the military." She wanted to join the Marines, but as a single mom with an 18-month-old son, she didn't feel that branch would take her. So she enlisted in the U.S. Army in 1986 when she was 20 years old and her mother stepped up to help with childcare. Later when she married another soldier and they had another child, if they were both called away to duty, her mother would once again help take care of her children. "They will tell you, 'the Army didn't issue you a kid, so figure it out,'" she says. "You have to make a decision: is it going to be my career or my kids?"
After three years of active service and five years in the reserve, she attended college using funds from the GI Bill, eventually earning a master's degree in business administration. With Horn decided to found the Lakota Women Warriors organization in October 2014 to increase recognition for female veterans and to serve as mentors for young Native women. "We want to instill in them that they have options, such as joining the military and entering college," she says. "I tell them, 'You can still do this. You just have to have it in your heart.'"
Members of the group will now serve as a color guard in powwows, community gatherings, parades and other events. When they march, they wear their military jackets or other indications of their military branch with traditional skirts to encourage other women veterans to be proud of their service. She says, "We want to empower who they are."
Sometimes this boost is particularly needed for those who have served in support roles, as they don't always get recognition for their service. Dorothy Button (Seneca Nation) joined the U.S. Coast Guard Reserves in 1989 when she was 28 years old because she "wanted to help people." However, she never served on a ship. During her 20 years of service, Yeoman Button aided in the recovery efforts in Louisiana after Hurricane Katrina by paying the bills that kept critical supplies flowing. Following the terrorist attacks on September 11, 2001, she was recalled to active duty to again process paperwork quickly. "I was glad I got to be a part of it," says Button. "We were holding down the home front while other people were keeping us safe elsewhere."
Caring for Veterans
Brenda McEwing (Dakota) was a U.S. Army Telecom Operations Chief for 23 years. She served from October 1990 to May 1991 in operations such as Desert Storm and October 2005 to November 2006 in Operation Iraqi Freedom. In her truck full of communications equipment, she would follow the troops until she was given the signal to stop and set up—in less than 20 minutes. Parked just behind the front lines, she would have to tear down and pack everything up quickly and move to the next site within communications range of the soldiers, sometimes close enough to draw fire. "We had to stay with them no matter what," she says. Sometimes they would do this for days at a time in the hot desert, eating cold food and taking sponge baths using their helmets.
Such energy is hard to tame. After McEwing retired in 2006, she struggled to find her new purpose. Then one day it came to her. She says, "I thought, 'I will support soldiers.'" She founded the First Nations Women Warriors in 2014 to raise funds to build houses for homeless Native veterans. In March, the organization broke ground on its first home, being built for Orville and Shirley Boni (Apache) on the San Carlos Apache Reservation in Arizona.
Orville joined the Marine Corps right out of high school in 1970 and was immediately thrust into the Vietnam War. A year of combat was enough to give him severe post-traumatic stress disorder (PTSD) and drive him into alcoholism. Unaware of any benefits or assistance for veterans, he struggled to recover. Then he met Shirley. "Marriage was a great blessing for me," he says. Finding Shirley and faith helped him survive. He says, "That is why I am living." Forty years later, Orville is serving as a heavy equipment operator for the Bureau of Indian Affairs on the San Carlos Apache Reservation. The couple is living with Orville's son until their home is completed. McEwing and the Bonis celebrated the groundbreaking together. "It was an emotional ceremony," says Shirley. Unfortunately, the COVID-19 pandemic has halted construction for now.
Mary Louise LaForge served as a U.S. Air Force Buck Sergeant from 1976 to 1983 and is now the veteran tribal outreach worker for her Crow Tribe in Montana. She says that Native liaisons for tribal veterans are necessary because "a lot of the veterans don't ask for help." In addition to being intimidated by all the paperwork, they are often not comfortable talking with non-Native people. As she is not only Crow but also a veteran, "I speak their language," she says. She does everything from helping them get healthcare benefits to applying for burial with military honors. She also helps them with basics like obtaining food and transportation to the nearest veterans clinic, which is 50 miles away. Due to the COVID-19 pandemic, she has to arrange televisits with doctors and counselors for patients, including those suffering from PTSD and MST, or military sexual trauma.
"Some of them were pushed to the point of doing anything to get out, including taking a less than honorable discharge," says LaForge. She is now helping a couple of women who suffered MST to apply for their records to be amended. The women did so in response to the murder of U.S. Army Specialist Vanessa Guillén. On April 22, 2020, Guillén disappeared from Fort Hood Army Base in Killeen, Texas. She is believed to have been the victim of sexual harassment, culminating in her brutal assault and murder. Guillén's death has encouraged many women finally to speak out about the MST they endured. "They are just coming forward," says LaForge. "It is all coming to light."
Beginning in 1980, Juanita J. Mullen (Seneca Nation) served as a Traffic Management Specialist in the U.S. Air Force, tracking cargo and troops, including ensuring that human remains made it home. Then, she says, "I spent over 20 years away from my tribe and my people, and I didn't want to work away from my culture anymore." She now serves as the American Indian/Alaska Native veteran liaison for the Center for Minority Veterans at the U.S. Department of Veterans Affairs (VA) in Washington, D.C., connecting with Indigenous people across the nation and abroad.
Before the onslaught of the coronavirus, Mullen would "bring the VA to the tribes." She traveled to powwows and other tribal events to set up booths to distribute information about veterans benefits and introduce local VA staff to tribal members. Now she uses video conferences to communicate with tribal nations and their veterans as well as to collaborate with representatives from Australia, New Zealand, England and other foreign countries to exchange information about how to work with Indigenous and other minority veterans.
Honoring All Who Served
Native women and their family members have waited a long time for their service to be recognized. Between 1942 and 1944, the WASP flew more than 60 million miles in 75 different types of military aircraft. However, as civilians, they did not receive military benefits or burials until the U.S. government finally granted them veteran status in 1977. The WASP were awarded the Congressional Gold Medal in 2010. Ola Rexroat died in June 2017 at the age of 99 and was later interred with full military honors in Arlington Cemetery.
The Alaska Territorial Guard members were not granted veteran status until 2000. Laura Wright died in 1996 at the age of 87. Her family accepted her discharge papers at a ceremony acknowledging the service of about a dozen ATG members in 2017. Ezelle, who attended, says, "I was very, very proud."
The idea that all veterans should be acknowledged for their service is one of the driving forces behind the National Native American Veterans Memorial at the NMAI in Washington, D.C. BigMan served on the memorial's Advisory Committee and Mullen spoke at the community consultations held to inform its vision. Spottedwolf says of the memorial, "To be able to contribute on that level to a broader understanding, to be able to represent our Indigenous people and the contributions we've made—it is very fitting."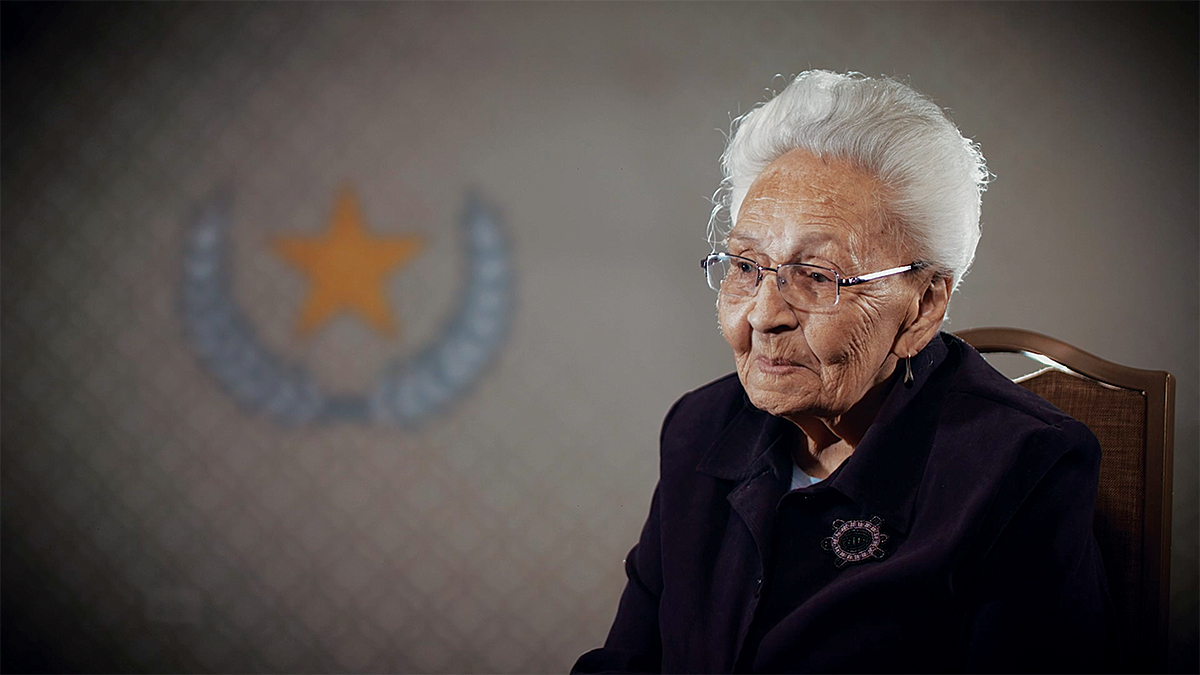 Marcella Ryan LeBeau (Lakota). Photo Courtesy of American Veterans Center
Nursing on the Front Lines and Beyond
A Lakota of the Two Kettle Band, Marcella Ryan LeBeau began taking care of people at age 10, when she nursed her dying mother on their Cheyenne River Sioux Tribe's reservation in South Dakota. LeBeau joined the U.S. Army Nurse Corps in 1943 and served as a nurse during World War II. As part of the 76th General Hospital, she was "following the war," tending to wounded from military operations such as the June 1944 D-Day invasion in Normandy. As air forces flew overhead into battle, she says, "We could see the sky just filled with silver planes."
In a tent hospital, LeBeau also treated those who fought in the Battle of the Bulge in western Europe's dense Ardennes Forest from December 1944 to January 1945. The buzz bombs flew over day and night. Just miles from the front, she says, "we could feel the concussion of the ack-ack" on the ground. On January 8, a bomb hit the hospital's motor pool, killing 25 military police. A nurse coming through the aftermath warned her, "Don't go there. They are going to need you tonight." So she rested before going on duty. Years later, she returned to the area to ensure that these soldiers were not forgotten. A plaque at the site lists all their names.
One of the patients she helped during the war was Eugene Roubideaux, a Native soldier from the Rosebud Reservation in South Dakota. He had lost both legs and was despondent. She stayed by his side, taking him newspapers from home, until he was suddenly transferred. After the war, at each nursing conference LeBeau attended, she would ask if anyone knew his fate. Forty years passed before a phone call from Roubideaux's daughter reunited the attentive nurse and grateful patient. LeBeau says, "I choked up."
After LeBeau retired from the military as a First Lieutenant in 1946, she was a civil service nurse for 31 years. Her long career culminated with her serving as the director of nurses at the Indian Health Service in Eagle Butte, South Dakota. Her many honors include the French Legion of Honour in 2004, induction into the South Dakota Hall of Fame in 2006 and a Special Recognition Award from the National Congress of American Indians in 2020.
At 101 years old, LeBeau continues to care for her people. This past May, she wrote an editorial appealing for tribal nations to be allowed to maintain "health checkpoints" at reservation entrances to stop the spread of COVID-19. She also often speaks on behalf of her culture and veterans. Reflecting on her own military service, she says, "It was a great honor."