Using Fire to Fight Fire: California Tribes' Cultural Burns Restore Land and Keep Flames at Bay
From a 25-foot granite ledge in the foothills of California's southern Sierra Nevada, one can look out onto a large golden meadow next to a wide creek where for millennia a Miwok village of some 600 people thrived. This view had been obscured by thick brush, thistle, poison oak and gnarled dead trees. But this past February, the dense overgrowth was devoured by fire. Not wildfire, but flames carefully ignited by the descendants of the Miwok and other American Indian tribes from the region.
Members of the Miwok, North Fork Mono and Chukchansi Tribes gathered at the former village site for a four-day "cultural burn" to clear overgrown fields on private land outside Mariposa, California. They were joined by neighbors and dozens of volunteers, including staff from the Forest Service and California Department of Forestry and Fire Protection (Cal Fire). Following an early morning prayer in the rain sung by Mariposa Miwok Tribal Chair Bill Leonard and a sage smoke blessing by Keith Turner of the North Fork Mono Tribe, seven columns of orange flame and smoke began rising where slash piles of foliage and branches along with the stump of a just felled 40-foot dead oak were set on fire.
This annual cultural burn is one of many efforts to bring Indigenous fire management back to the landscape. These efforts are meant to restore plant growth, benefit wildlife and put nutrients back into the soil while helping clear the dense underbrush that fuels the massive wildfires now common across the West. Today's uncontrolled fires are hotter, larger, more intense and in large measure the result of increased temperatures, drought and tree-killing insect infestations—all linked to climate change.
Archeologists have estimated the former size of the Miwok village from the many bedrock mortar holes and stone pestles found in the area. Families once used these to pound acorns into meal. The Miwok knew the oak trees that grow here produce more acorns when they are exposed to periodic ground fire, and so fire became an intrinsic part of their culture.
By a shallow, 5-foot-wide depression in the earth that appears to have been an ancient "house pit" where a family might have once cooked acorns, brodiaea bulbs (Indian potatoes), wild onions, venison and other fire-enhanced foods, North Fork Mono Chairman Ron Goode explains how the land has changed. "When people lived here, this forest floor would have been clear. They'd gather all the loose stuff and dying trees for wood," he says. They could then more easily "harvest acorns and mushrooms, and stomp on and ruffle up the sourberry, elderberry, soap root and other plants that like being disrupted."
For the past 20 years, Goode has coordinated cultural fires set on this rural 400-acre property as well as on several other sites within the historic range of his tribe in the southern Sierra Nevada region. He distinguishes "cultural fire" from "prescribed fire," a term used for burning to reduce the fuel loads that feed today's huge, out-of-control conflagrations. While "cultural fire" also reduces incendiary dense underbrush, it primarily aims to produce healthy new growth for food, medicine and fibrous plants that can be made into baskets and other traditional items. Native Californians and other Indigenous people have applied this land management technique for thousands of years before colonists settled here and it was banned by local officials and later the Forest Service.
A Burning Need
About 500 miles to the northwest, the Karuk, Yurok and Hupa tribes of the Klamath River Basin also set cultural fires. A number of local Native families lost their homes during the devastating 2020 fire season, something that rarely happened when slow-burning ground fire was a part of their harvesting practices. "We had permanent houses and villages made out of Port Orford cedar plank, and fires out of the high country wouldn't flow fire down into the villages because of the reduced fuel load," explains Bill Tripp, director of natural resources and environment for the Karuk Tribe. "We need to burn to benefit wildlife, including salmon, to do it all right."
"I would like to be able to use modern tools and our ancestral knowledge and integrate it with Western science so we can restore the natural landscape," Tripp explained in a later interview with the San Francisco Chronicle. "We are trying to work with the Forest Service. We've been trying to do that for decades."
Goode says many tribes in the West have made ongoing efforts to work with state and federal agencies to allow cultural burns on Native lands. Yet the tribes have been met with some resistance. "They haven't understood when we tell them that with fire, we don't destroy," he explains. "We refresh the underbrush so it's green, not dry and dying, and it's going to be restored for a long period of time."
In the past, naturally occurring fires ignited by lightening combined with cultural burns may have cleared as much as 10 percent of California's underbrush each year. However, more than a century of misguided forest management denigrated traditional practices and aimed at total fire suppression. This policy has allowed two to four times the normal amount of woody fuel to accumulate while the largest, healthiest, fire-resistant trees were logged.
In addition, the population boom of the past 50 years has led to rapid growth on the wildland-urban interface. Disaster has followed in places such as Paradise in northern California, where 85 people died and more than 18,000 structures were destroyed at a cost of more than $16 billion in the 2018 Camp Fire. Climate change has also extended the state's fire season by at least 75 days since the 1970s, creating the hotter conditions that resulted in a record 4 million acres—an area larger than Connecticut—being burned in California in 2020. Massive fires also swept Oregon, Washington, Montana and Colorado last year.
These trends have forced state and federal agencies to reassess how to protect and restore forest health. These organizations now recognize fire as essential to many ecosystems, including California's giant redwood and sequoia forests. Part of this recognition is reflected in California Governor Gavin Newsom's 2021–2022 budget, which sets aside $20 million to help fund tribal fire programs.
An example of how managed fire can reduce the impact of megafires at a landscape scale came as an unplanned experiment during the 2013 Rim Fire. This conflagration burned more than 400 square miles in the Sierra Nevada, including 77,254 acres in Yosemite National Park, where the Park Service had been using periodic ground fire since 1970. Such fire is essential to redwoods and sequoias in that it clears forest floors and heats open seeds, encouraging them to germinate. In the park's controlled-burn areas, according to a 2017 study by Penn State geographers, the impact of the big fire was far less severe than in its other 400 square miles.
The 2020 Creek Fire burned 379,895 acres, most of which was in the Sierra National Forest. Although now managed by the Forest Service, "that was Mono people's land," says Jeff Irwin, an archeologist with the agency. It has since been looking to the tribe for advice and proposals about how to prevent another megafire in the area. "Now there's an opportunity for a major restoration project, and we've been talking about cultural burns on the forest," says Irwin.
Len Nielson, staff chief of prescribed fire at Cal Fire, says his agency is consulting with the Native American Advisory Council (which is made up of tribes from northern, central and southern California) about "incorporating tribal ecological knowledge into our tactics."
Restoring One's Roots
At the cultural burn near Mariposa this past winter, Irwin and Nielson were among the dozens of volunteers who came to help that weekend. Others included Goode's North Fork Mono nephews Jesse Valdez and Elijah Knight, who work on a Forest Service "Hot Shot" firefighting crew, as well as Danny Manning (Mountain Maidu/Navajo/Sioux), the assistant fire chief of the Greenville Rancheria 300 miles to the north.
Because these three would be among those wielding drip torches to carefully ignite the grasses and brush, they wear fire-resistant clothing. The torches have extended spouts that release small drizzles of mixed flaming diesel and gasoline. Other essential tools for the job include Pulaskis (a combined ax and adze), McClouds (part rake, part hoe), shears, chainsaws and pole saws.
Knight has been working as a firefighter for six years. This is his third year helping on this project. He and his partner, Sheila Santamaria, pause by a circular patch of chest-high sourberry and redbud stalks growing from the ashes of last year's burn. "I came here the first year just to have fun," he admits. "What I didn't know is that fire does a lot of good. I'm kind of new to this whole tribal thing. I didn't know we were burning for so long. Now seeing regrowth like this, seeing how much life has returned, is cool. I realize we're doing something important."
Amid the ka-chunk of hand tools and loud buzz of chainsaws at this cultural burning Theresa Williams-Lundy (Mono/Chukchansi) and her granddaughter Alanna Clark are using pruning shears to cut sourberry stalks for cradleboards. "This is a blessing, this site. Sourberry sticks are rare this year because of the drought," she explains, wrapping a bundle of 25 to 30 tightly in yarn for drying. She scrapes the reddish bark off one stalk to show the inner cream-colored stem that is used for weaving. Its berries are also much sought after as a tasty and valued traditional treat.
Danny Manning creates traditional items from wood, such as clapper sticks played during songs and ceremonies. At the back of his dark green truck, he reaches past some of these notched sticks made of elderberry to show a pair of cradleboards he made of willow. The cradleboards demonstrate how fire can help trees grow straighter. One cradleboard is constructed of thick rudely uneven stalks, but the stalks used for the other are slim, straight and tightly bound. "I ask people would you want your baby to lay on this one or that one?," Manning asks. "The difference is after you burn them, willows grow back with straighter shoots."
Lois Bohna (North Fork Mono/Chukchansi) is a master basket maker who learned her art from her great aunt and collects material from the property. "My grandmother would talk about our people burning and said that's how you get really good basket materials. You can prune all you want but if you just cut a bush back you get a fatter stick, not the long, fine, skinny ones when you burn," she explains. "Redbud also makes a fine string. Deer grass that we use in our coil baskets has to be burned for the spring sprouts to come back beautiful, and soap root—if you can burn a brush pile—the seeds will germinate. I've seen thousands of soap root buds coming up. Everything has to have fire."
Also known as the Acorn Lady, Bohna says, "My great grandmother was known for making the best acorn [meal] in the mountains. My mother helped her and my mother schooled me. I called her 'quality control.' There's an art to processing acorns, pounding, grinding and cooking them with hot rocks," she says, "I've got 2,000 pounds of acorn sitting in our barn right now. I'm an acorn-picking whizz. A good crop's not buggy, and so trees need to be smoked. The trees need fire."
"To feed one person in the old camps took 1,000 pounds of acorns a year," Bohna says. "We'd trade acorn for pinion nuts with Paiutes and put stinky stuff in the granaries to keep the grizzlies away." (The last California grizzly bear was seen in 1924.) Just as more than 150 million pine trees have been lost from drought and bark beetle infestation, California's oak trees are now threatened by forest crowding and global warming. "I see a day when we don't have any oak trees," worries Bohna. "And the animals—the squirrels, deer and bears—depend on acorns."
Scaling Up Good Fire
Cal Fire cites more than 130 scientific studies that make the case for controlled burns as a way to combat this growing threat. The challenge is scaling up "good fire" in time to save the state's forests while dealing with vexing issues such as air quality permits, insurance liability and a shortened burning season due to climate change.
The Forest Service and Cal Fire estimate that 8 to 10 million acres of the state's 33 million acres of forest need urgent thinning. The agencies have committed to selectively cutting and burning up to 1 million acres a year by 2025.
"We had not appreciated burning, and then it became popular in the 1970s and '80s and we called it prescribed burns and 'something new,' which is not true," explains John Williams, who works on the Prescribed Fire Monitoring Program at the University of California, Davis. "It was done long before, when Native people would get arrested for arson for doing their burns." Williams attended this cultural burn along with archeologists from the University of California, Berkeley; students from Middlebury and Montana State; and a small team from the 3,200-acre Pepperwood Preserve located in Sonoma California, which is doing its own burns working with a locally based Native advisory council.
During the past two decades, the Mariposa cultural burns have brought together many Native communities. "We have tribes now from four to five counties who come here and gather sticks and berries and acorns because we've been restoring cultural resources with fire," Goode explains.
On the third morning of the burn it's raining hard, yet this hasn't dampened anyone's spirits at the tent camp by the main gate. Under an open-sided tent, Williams-Lundy presents Elijah Knight and Sheila Santamaria with a "pusak" to carry their expected first child. When the infant is around 6 months old, the supporting sticks of the cradleboard will begin to break and it will be time for a larger hoop carrier. She shows them how to wrap their infant in a blanket and secure the child with straps to the backboard as Keith Turner blesses them with sage smoke to the rhythmic sound of split clappers.
Turner then speaks to those assembled, "We're doing burning for Mother Earth and in all our hearts, there is a loving fire. I was raised by my great-grandmother and she never said 'pray'; she just said 'talk with the Creator, think about the seven generations [after you]."
After the gathering, a team forms to cut, rake and burn a path through an overgrown trail several hundred yards from the campsite down to Mariposa Creek. Later in the afternoon, experienced firefighters Valdez, Knight, Nielsen and Manning line up at one end of the meadow with drip torches. A double rainbow forms overhead. They move forward, drizzling fire in a steady line to light off the tarweed and invasive star thistle across several acres where fire-tolerant native grasses have begun making a comeback. But instead of generating a wall of flame like the previous year, yesterday's downpour and today's early rains, cloud cover and humidity set the grasses to crackling, burning and sizzling before sputtering out and dying. They decide to try again in a week or so.
Ron Goode is not bothered. "I feel fulfilled with the burn when these people arrive," he explains, "because they come to help us be a part of the land and nature and take the spirituality back with them to all the places they've come from. Once we put fire on the ground to restore it, we know we're taking care of Mother Earth. You can wash Mother Earth with rain," he adds with a smile, "but she still needs a new dress to feel good, so that's what fire does."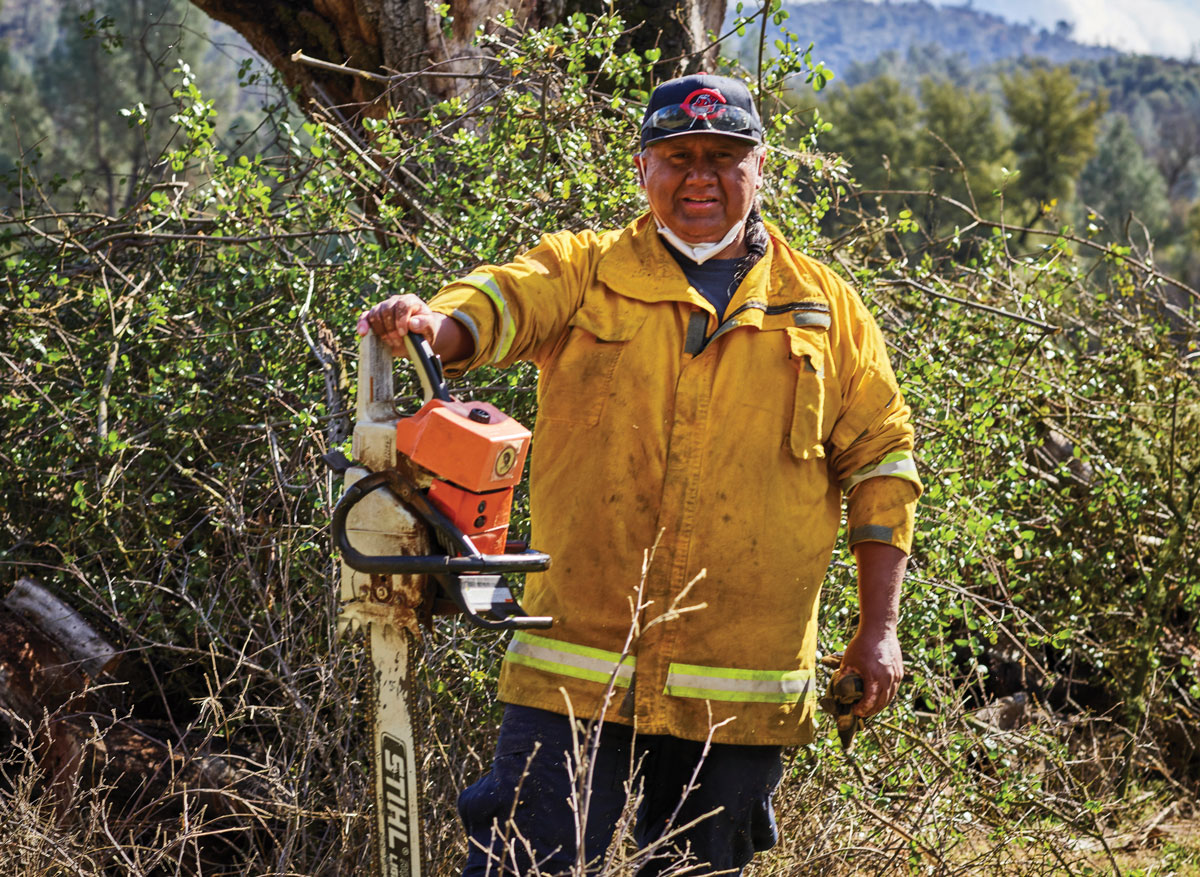 Chukchansi firefighter John Saucedo is descended from generations of forest workers. Photo by Stuart Palley.
A Logger, a Topper and a Hot Shot
Chukchansi firefighter John Saucedo's maternal great-grandfather, Jack Roan (Southern Sierra Miwok) used cultural burning long before controlled burns were adopted by non-Natives. But as the displacement of Indigenous people increased, many Native Californians were forced to find jobs as workers in the booming timber industry, laboring in logging camps, often doing the most dangerous jobs for half the pay of white workers.
Saucedo's maternal grandfather Bill Bolton (Southern Sierra Miwok/Chukchansi), born in 1895, worked in timber mills and also as a "topper," chopping the canopies off tall trees before they were felled. Saucedo has a picture of Bolton more than 150 feet up, on top of a tree whose canopy he'd just axed away. His son, Saucedo's father, also worked in a timber mill as did Saucedo for a couple of years starting in 1989. He went on to be a logger, doing the industry's most dangerous work—high-lead logging, attaching fallen trees to Yarders, or machines that drag the logs up steep hillsides. Then he decided to fight fires.
"I was 17 and logged three seasons before going to work in an all-Native American Hot Shot [firefighting] crew for the Forest Service," he recalls. "In the southern Sierra in 1989 to '90 the logging ended, but the fires grew with the bugs [tree-killing bark beetles]. So I started working fire." He now contracts with the Forest Service and Cal Fire to drive a bulldozer to take down burning trees.
In recent years, many Indigenous loggers have become firefighters to help combat the more destructive wildfire seasons. "I've seen death and burns and mudslides," says Saucedo.
Saucedo attended the cultural fire event near Mariposa this past February. He is proud that "I did a full circle from logging to fire fighting to good practices like this, preparing the land."
This past spring, the Chukchansi held their first cultural burn on their tribal land in Coarsegold, California, to encourage sourberries growth. "We have documentation of cultural fires in the Coarsegold area during the late 1800s (near Chukchansi land)," adds Saucedo. His great-grandfather Jack Rowan may have helped set those fires.
Photographer Stuart Palley covers the environment, art and other subjects. His recent book "Terra Flamma: Wildfires at Night" documents catastrophic wildfires in California.