Developing Stories: Native Photographers in the Field
The COVID-19 Outbreak in the Navajo Nation
In March 2020, COVID-19 started ravaging the Navajo Nation, turning it into a national hot spot for the virus. The infection rate among Diné (Navajo people) was aggravated by several issues, including chronic underlying illnesses, food and water insecurity, and a lack of electricity among a third of households. Many Diné live in extended families where COVID-19 can spread quickly. There are often vast distances between households and towns, which can make it difficult for Diné to receive public health messages and medical assistance.
Donovan Quintero, a photojournalist for the Navajo Times–Diné bi Naaltsoos, has documented the pandemic's impact throughout the Navajo Nation and the Diné's response to it. He began documenting the pandemic when it first struck the reservation. In this photo essay, Quintero explores how the Diné have been impacted by the pandemic and how they have taken care of one another. His photos capture the vast expanse of the reservation and the isolation and resilience of the Diné. His essay also highlights the critical roles played by tribal council members, police, health care workers and the unsung heroes of the pandemic. The essay ends with the COVID-19 vaccine rollout and Diné prayers for the future.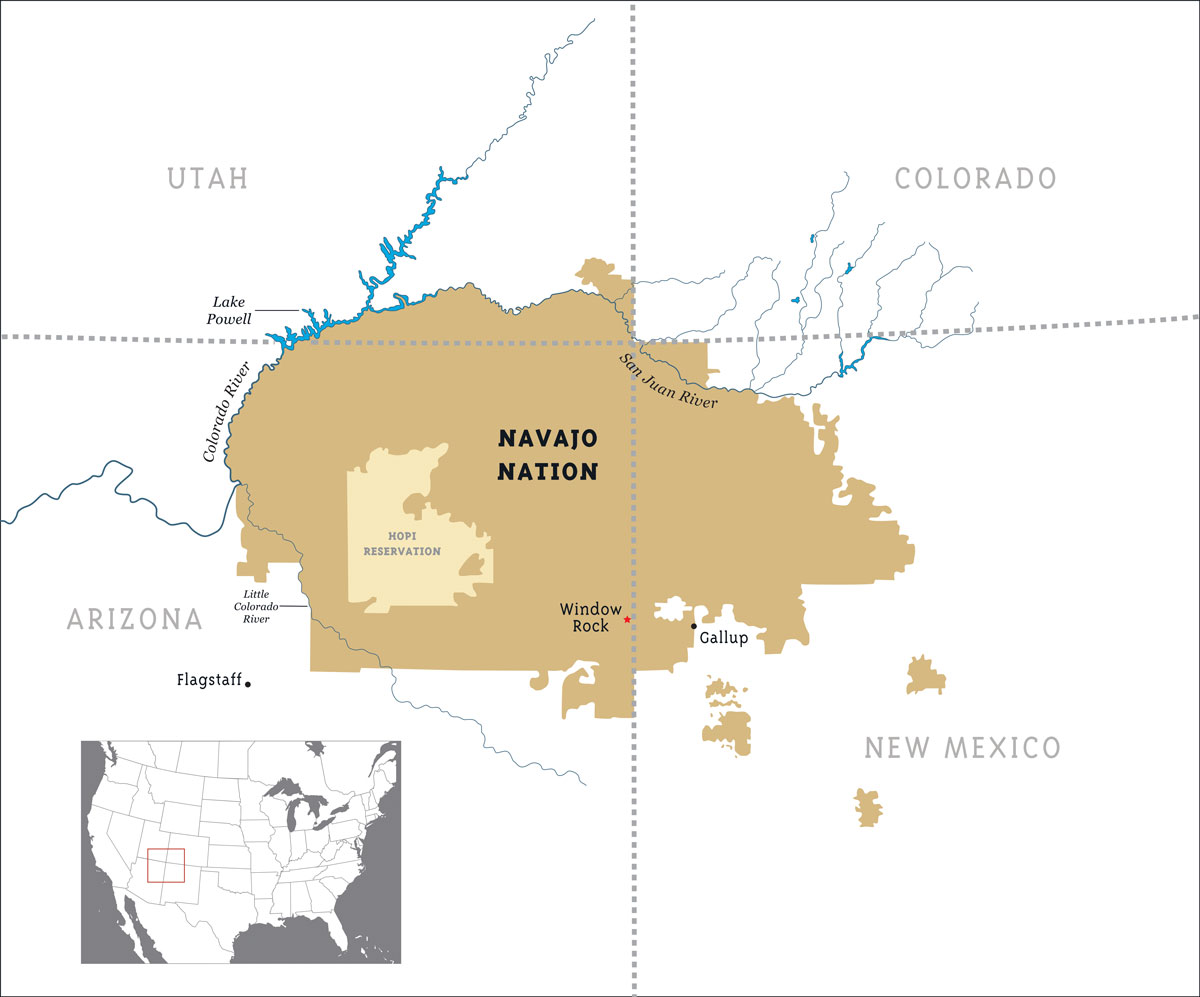 COVID-19 in Indian Country
Native Americans and Alaska Natives throughout the United States have been disproportionately impacted by the COVID-19 pandemic—across all age groups. According to the Centers for Disease Control and Prevention, the rate of lab-confirmed COVID-19 cases among Native Americans and Alaska Natives was 3.5 times higher than among the general population.
Native peoples in the United States have had the highest hospitalization rate of any racial and ethnic group in the country. There are multiple historic reasons for this. Most critically, Native Americans and Alaska Natives have higher rates of underlying chronic diseases than the general U.S. population. This health care crisis is, in no small measure, due to the failure of the United States to live up to its treaty obligations to Native Nations.
The United States signed a series of treaties with Native Nations, making promises in exchange for parts, or the entirety, of their sovereign territories. The U.S. Supreme Court has repeatedly recognized these treaties as legally binding. The unmet treaty rights have contributed to enormous health disparities between Native Americans and the general U.S. population, including a lack of access to well-equipped and staffed medical facilities.
View the full virtual exhibition and listen to an interview with the photographers of this and other "Developing Stories: Native Photographers in the Field" photo essays at AmericanIndian.si.edu/developingstories.
Authors
Donovan Quintero
Award-winning photojournalist Donovan Quintero was born in the Navajo Nation. Since 2005, he has worked for the "Navajo Times–Diné Bi Naaltsoos," covering news, sports and feature stories.