Suzan Shown Harjo was born June 2, 1945, in El Reno, Oklahoma, within the exterior boundaries of Cheyenne and Arapaho Nations' reserved lands. Her mother's great-grandfather was Chief Bull Bear, a ceremonial leader who "healed with colors" and a leader of the Dog Men Society, whose families comprised half of the Cheyenne Nation. He was the first to sign the 1867 Medicine Lodge Creek Treaty with the United States that established these tribal lands.
Harjo's Muscogee ancestors were ceremonial people who "sang and danced to be well" and cultivated traditional foods and medicines. She says, "They were wrenched from their original homelands," in what is now Alabama and forcibly moved to Indian Territory in present-day Oklahoma.
Harjo and her mother, Susie Eades Douglas, both Cheyenne, lived in her grandparents' home while her father, Freeland Douglas—a Muscogee (Creek) Nation citizen and World War II combat veteran—traveled to his postwar Army base. Harjo and her younger twin brothers also lived with their parents in their "garden-spot assignments" on Oahu, Hawaii, and in Naples, Italy, where her father was stationed with NATO's Allied Forces Southern Europe.
Harjo calls her upbringing "the best of so many worlds, filled with myriad and stunningly wise, dignified, talented, hilarious, powerful, humble and kind people to love and admire." She also says, "My early life had just the right number of bad teachers and rotten apples in the family tree to prepare me for the worst of what life might bring." She says her "childhood experiences with anti-Indian racism, sexism, violence, abuse and dysfunction" connect in a "direct line" to laws she has championed as well as "unjust laws we have tried to end or change."
Harjo says that the "best of my relatives, spiritual leaders and teachers" taught this: "Always be prepared to speak, to lead, to follow, to find something that needs to be done and to do it. And always, always to be optimistic about achieving what others call the impossible." She traces the origin of those teachings to an instruction given to the Tsistsistas [Cheyenne]: "The Nation shall be strong so long as the hearts of the women are not on the ground." Harjo says it "provides direction for a profound way to be in the world" and she hopes "all who need it may be heartened and strengthened by it."
Because she was instructed that the world's balance depends on confident, strong, goal-oriented women, she says, "It's my job to be optimistic that collective wisdom and work will result in good for the people. Cross-generational thinking makes it possible and necessary to keep moving in a positive direction even if the goal you envisioned isn't realized in your lifetime."
However, Harjo says, "It is most sweet, when you get to be a part of a mighty movement and see it to a clear demarcation point." In particular, she refers to helping achieve the passage of the federal acts that affirmed American Indians' religious freedom, established the National Museum of the American Indian in Washington, D.C., and required federally funded institutions and agencies to return cultural items and human remains to descendants or appropriate tribal representatives. These laws passed in 1978, 1989 and 1990, respectively.
"That's several lifetimes from when my mother and I first visited the [Museum of the American Indian] in New York," says Harjo. Her journey of many years of "labors and magic" to achieve these goals began on her mother's birthday in 1965, a month after Harjo turned 20 and four days after her first child was born. They were horrified to see that the museum was "a place of profanity and sacrilege." On view were human remains and sacred objects, such as a mummy, shrunken heads, beaded baby cord pouches, Haudenosaunee False Face masks and medicine bags. They saw a Cheyenne girl's buckskin dress, with "dead rust patterns surrounding a bullet hole where her belly had been," as Harjo wrote over the next few days in her poem, "child of time."
Upon leaving the museum, her mother said, "Those things do not belong there! You have to do something." Harjo admitted that she "had no idea where to start." She dreamt about a young, healthy Cheyenne girl wearing a new buckskin dress. She and her parents talked to Cheyenne ceremonial men about her dream, and her promise to return the girl's spirit and claim her name. The spiritual leaders said that many people had been having "dreams and visions and unexplained occurrences" that might be related. "Everyone prayed about it and, after ceremonies in 1966, they decided to have four days of talks after ceremonies at Bear Butte [South Dakota] in June 1967."
Harjo was inspired to lead campaigns that helped achieve the passage and implementation of the American Indian Religious Freedom Act and the Native American Graves Protection and Repatriation Act. She was also part of the group that first envisioned the National Museum of the American Indian in 1967, and one of the young people sent out to build a coalition to see that it came to fruition.
In 1984, in her capacity as executive director of the National Congress of American Indians (NCAI) and as president of The Morning Star Institute, she initiated talks with the Smithsonian Institution's new secretary, Robert McCormick Adams. As a Trustee of the Museum of the American Indian (MAI), NMAI's predecessor museum collection, she was authorized to conduct certain negotiations for MAI, as well as for NCAI and Morning Star. She says Adams was the "first Smithsonian secretary to meet with our people since the initial one, Joseph Henry."
Adams, Harjo and others examined ways to improve the Smithsonian's care, treatment and display of Native objects, to respect and return Native human remains and sensitive materials and to develop relationships with Native peoples and cultural institutions. Their agreements formed the basis of the 1989 law that established the NMAI and contained the historic repatriation provision covering all Smithsonian collections.
"Some in the Institution did not like that Adams was meeting, negotiating and reaching agreement with us," says Harjo. "What we did—thousands of us collectively, in Indian Country, in the media, in museum world and academe, on the Hill, and in the courts and agencies—was to revolutionize museology, gain space on the National Mall, and do something people said cannot be done: legislate respect by changing the lexicon of disrespect and by removing impediments to Native peoples being in the room."
Even after implementation of the acts she worked so hard to see pass, "the work began for everyone else, and started anew for some of us," says Harjo. "We set in motion the amazing possibilities in [these] dynamic laws. The ceremonial, artistic, everyday impact of the return of our relatives, living beings and cultural objects from holding repositories is magnified exponentially throughout most Native Nations." Harjo says these "legal blueprints" mandated "consultation with elders on everything" and "three NMAI facilities in three cities to build, open and fill with life, in order to honor our ancestors and the present generations, and to provide for our grandchildren's children and beyond."
The Cheyenne girl appeared in Harjo's dreams for nearly a quarter century. "She would show up every so often, an uplifting, friendly presence," says Harjo, "never saying anything else, and just doing ordinary things, like standing in the tall buffalo grass or sitting on a tree limb." The girl's appearances became a gentle motivating force while Harjo worked to reform museum policies. "I guess she stopped dropping in on my dreams because she was satisfied that I hadn't forgotten her," says Harjo. "I miss her and cherish her memory."
The title of the symposium to be held September 20 at NMAI in Washington, D.C., and the volume to follow, "A Promise Kept: The Inspiring Life and Works of Suzan Shown Harjo," is inspired by Harjo's dream and poem.
---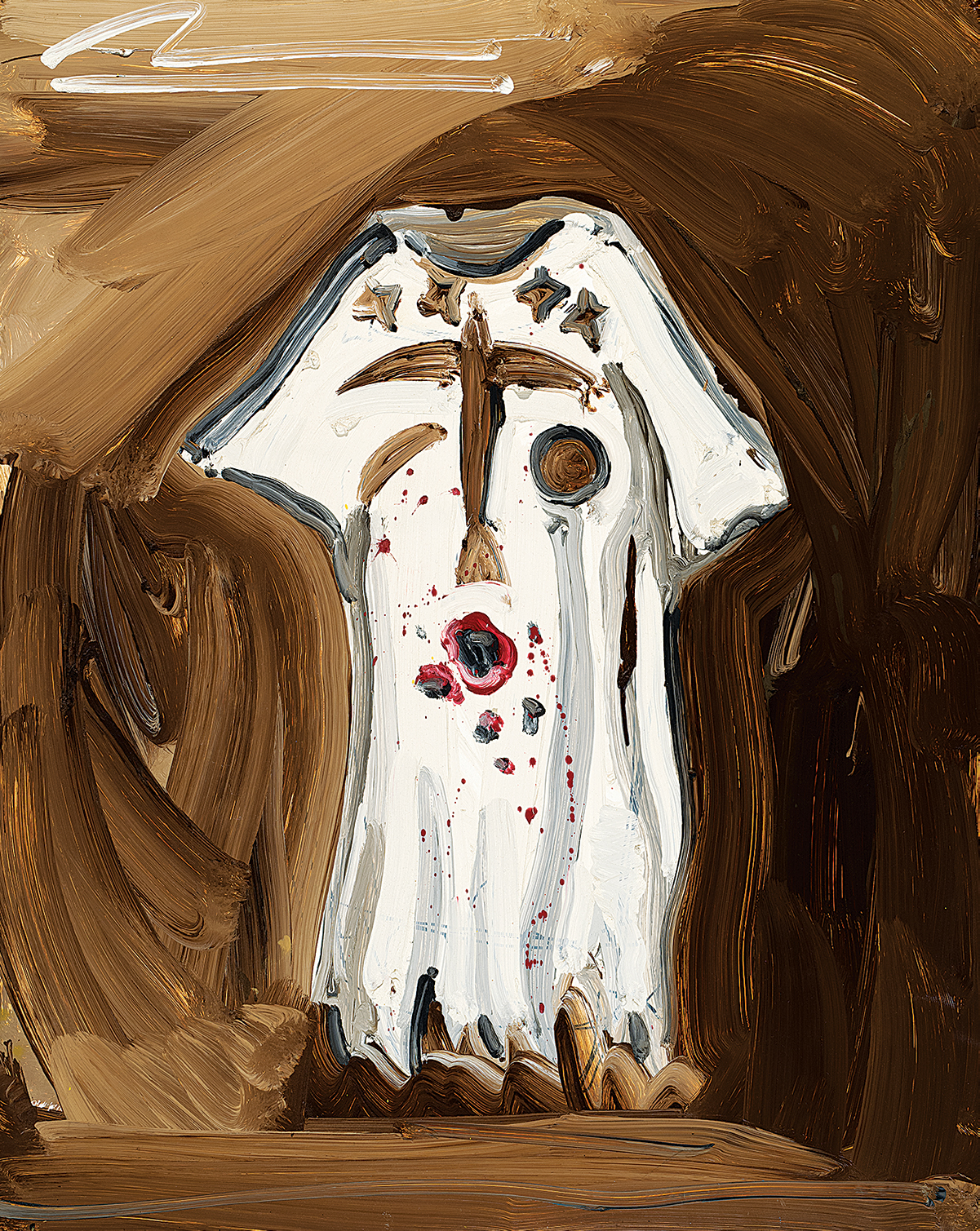 Mateo Romero (Cochiti), "child of time," 2011 (responding to the 1965 poem by Suzan Shown Harjo). Acrylic on canvas, 30" x 24." The Harjo Family Collection, Courtesy of Mateo Romero and the MoCNA Collection. Photo by Eric Wimmer
Child of Time
a child of time, naked and weeping
walked one night in my dreamless sleep
she came to claim my word of honor
the promise she heard me make to keep
her voice when she spoke
was the sound of the wind
first howling, then moaning and sighing
the sound of a storm without end
she knew of my early mourning visit
to the museum of indian dead
where i had stared at her small torn gown
of leather and beads, all stained with red
blood should mean something more than this
blood flows and lives and gives again
but here, only dead rust patterns surrounding
a bullet hole where her belly had been
to most it was merely a dress on display
placed next to the ancient Navajo loom
lighted and indexed for all the curious
patrons of this bone-chilling public tomb
this dress of dried blood does not belong here
it should be saged and secretly burned
and now, with the dawn, her voice on the wind
"I'll walk this way 'til my spirit's returned."
hush, now, my pretty, there's work to be done
sleep on the earth, i'll give your heart ease
your name will be claimed, now quiet the storm
and come to me next as a soft, gentle breeze
— Suzan Shown Harjo, 1965