The Making of a Memorial: A Long-Overdue Tribute to Native Veterans' Monumental Military Service
A memorial to honor Native veterans who have served in and out of combat has its roots centuries ago, when Indigenous people served on the battlefields of the Revolutionary War. American Indians have served in every major U.S. military conflict since, often at one of the highest rates per capita of any ethnic group. Today, more than 21,000 American Indian, Alaska Native and Native Hawaiian men and women are on active duty, and more than 183,000 veterans identify as American Indian or Alaska Native. Yet, while many Native communities deeply respect and honor their servicemen, servicewomen and veterans, their extraordinary service and sacrifice has rarely been acknowledged on a national level and is unknown to most other Americans.
"This memorial is saying: 'We are still here. We are still viable. We still count,'" says Debra Kay Mooney (Choctaw), who served on the memorial's Advisory Committee.
In 1994, in recognition of Native Americans' "long, proud and distinguished tradition of service in the Armed Forces of the United States," the U.S. Congress passed the Native American Veterans' Memorial Establishment Act. The legislation authorized the National Museum of the American Indian to create a memorial that would give "all Americans the opportunity to learn of the proud and courageous tradition of service of Native Americans in the Armed Forces of the United States."
This law—passed a decade before the museum opened on the National Mall in 2004—was amended in 2013, allowing for placement of the memorial on the grounds of the museum and enabling the project to begin. But that was just the first step. NMAI knew this monument must be built with input from those it would honor.
Reflecting Their Story
Work on the National Native American Veterans Memorial began with the formation of an Advisory Committee of American Indian, Alaska Native and Native Hawaiian veterans, tribal leaders and families of veterans. The committee is co-chaired by former Senator and Northern Cheyenne tribal member Ben Nighthorse Campbell and Chickasaw Nation Lt. Governor Emeritus Jefferson Keel, both distinguished veterans. The group grew to nearly 30 men and women who are from Native communities across the United States and represent all branches and several eras of service, from the Korean War to the present.
From 2015 to 2017, museum staff and members of the Advisory Committee spent about 18 months consulting with Native American veterans, active duty service members, tribal leaders, veterans' families and community members. During 35 consultations in 16 states and the District of Columbia, staff met with about 1,200 people to share plans for the memorial and gather their recommendations.
Veterans and their family members told stories of service, sharing the pride and pain these memories bring them. Norma Jean Dunne (Tsimshian), who participated in one consultation session, wrote to NMAI, "Our Native American and Alaska Native men and women have served in the United States Armed Forces with honor and distinction, defending the security of our nation and state of Alaska with their lives, whenever called upon."
Veterans also discussed their reasons for serving in the military, foremost among these being an inherited sense of responsibility to protect their homeland, family, community and way of life. "Why are we willing to sacrifice our lives for this country?" Rod Grove (Southern Ute) posed. "Because our great, great-grandparents' bones are in this land."
These consultations with community members were essential to understanding what Native American veterans and their families wish to see in the memorial, the values it must embody and what the experience of visiting it should be. Several themes emerged that formed the basis for the design guidelines for the memorial.
First, the memorial would need to be inclusive—honoring all American Indian, Alaska Native and Native Hawaiian veterans, both men and women, from all branches and all eras of service. It should also respect the long tradition of service and the inherited responsibility to protect. "The memorial must reflect life," said Yup'ik veteran Nelson N. Angapak Sr. "We were taught to love life, even to the point of risking our lives to save the life of another person."
The memorial would also acknowledge the sacrifices made by the families of those who serve. As Commander Howard Richards of the Southern Ute Veterans Association said, "This memorial will represent all Native people, Native soldiers—men and women. [But] let's not forget the role that the families—mainly the women, the grandmas— played in this great history of ours."
Finally, it should reflect Native spirituality. Visiting the memorial should be a contemplative and healing experience—for veterans, families and service members returning home. As NNAVM Advisory Committee member Kevin P. Brown (Mohegan Tribe) said, "This is about the warrior, not the war."
Inclusive, Timeless Design
On Veterans Day in 2017, NMAI launched an open competition to create a design for the memorial. The call drew 120 proposals from around the world. A jury of distinguished artists, architects, designers, cultural experts and those representing veterans painstakingly chose five proposals blindly (indicated by their numbers only). The finalists were then asked to submit more detailed proposals, of which one concept stood out—that of Cheyenne and Arapaho artist and Vietnam veteran Harvey Pratt.
The centerpiece of Pratt's design is a vertical, 12-foot-tall, stainless-steel circle perched atop a low, carved stone drum. Water flows continuously from the center of the drum, and at the base of the circle, a fire can be lit on ceremonial occasions. Surrounding this "Warriors' Circle of Honor" is a circular seating area, which has four points of entry from the cardinal directions. This is one way the design accommodates the needs of different cultural practices, as members of different communities can enter the central space from the direction appropriate to their traditions.
Standing around the circular seating area are four lances, to which visitors can attach "prayer cloths." Pratt says, "People can come in and say a prayer and tie those prayer cloths to those lances, and as the wind blows it, it shakes that prayer out again." He describes the stainless-steel circle as representing "the hole in the sky where the Creator lives." On a nearby wall are the seals of the five branches of the U.S. Armed Forces— the Army, Air Force, Coast Guard, Marine Corps and Navy.
During the consultations, participants expressed a strong preference for a location in a quiet place on the grounds of the museum, rather than a more prominent, visible location near the busy streets of Washington, D.C. So the memorial is set within the living landscape, at the edge of the upland hardwood forest and overlooking the freshwater wetland east of the museum. A meandering walkway leads visitors through the trees to the memorial, allowing them time to prepare themselves as they approach it. A circular Path of Life surrounds the memorial and the inner Path of Harmony. The trees and the water nearby help to buffer the memorial from the noise and traffic of the city.
Pratt's design for the memorial is simple yet powerful and inclusive. The memorial incorporates the elements of fire, representing strength, courage, endurance and comfort; water, signifying purification, prayer and cleansing; earth, which provides people with all they need; and the wind that will carry the scents and sounds of the wetlands into the memorial site and carry the prayers and memories of visitors skyward. The design is open, yet it creates an intimate space for reflection or prayer.
The jury appreciated the circle's relevance to all Native American cultures, reflected in the shape of a drum and suggesting gatherings for dance, storytelling and prayer. It evokes the cycles of time and life as well as the movement of the stars and planets. As the jurors noted in their review, Pratt's "concept of the circular nature of life makes individual veteran experiences and stories part of a collective, unified experience." And Pratt says, "the circle represents the unity and the timelessness of this design."
A Place to Heal
One of the most daunting challenges NMAI faced in creating the National Native American Veterans Memorial was finding a design that would be truly inclusive of and meaningful to all Native American veterans. Pratt's design, informed and inspired by his own experience as a veteran and tribal citizen who has lived this tradition of service, accomplishes this beautifully. The memorial is a welcoming space for reflection and remembrance, and for honoring the sacrifices and service of generations of Native veterans.
Pratt has expressed his desire to create a space that people will enter into rather than a statue or sculpture at which they can gaze. He says, "I want this to become a special, sacred place for people to come, a place for them to be healed." The water pulsing across the surface of the drum is echoed by concentric rings in the stone of the walkways, suggesting the beat of a drum calling people to the circle. Designed to honor Native American veterans, the memorial is also intended to educate non-Native visitors about their sacrifices. Pratt says this is part of its purpose, to welcome people "to come there and be respectful of our ways," adding, "Maybe this will help people see Native people and realize we're still here and very proud of this land." He also hopes this will give visitors a place to come to remember the veterans they have lost.
On November 11, 2020, NMAI will host a virtual celebration to mark the memorial's completion. When people can safely gather in person—hopefully by the next Veterans Day—NMAI will welcome all who wish to experience it and honor Native veterans. "This is a tremendously important effort to recognize Native Americans' service to this nation. We have so much to celebrate," says Campbell.
Memorial Designer and Veteran Harvey Pratt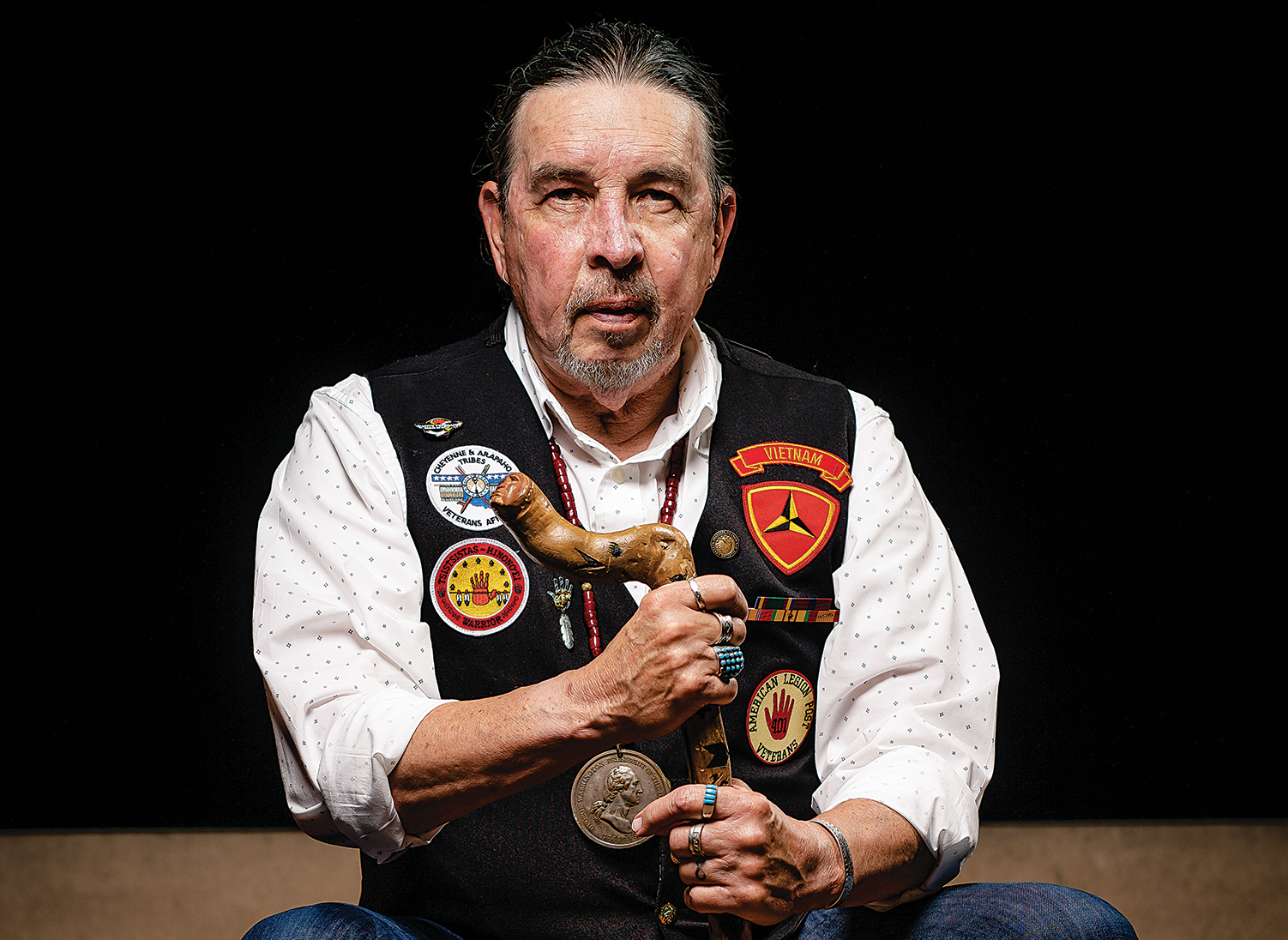 Harvey Pratt, a member of the Cheyenne and Arapaho Tribes of Oklahoma and a Marine Corps veteran, almost didn't submit his winning design for the National Native American Veterans Memorial. In spite of the recognition he's earned for his artwork, he thought he would be outcompeted by the more than 100 other artists and architects who participated.
But then, as he recently revealed in an interview with NMAI's cultural interpretation manager Mandy Van Heuvelen (Mnicoujou Lakota/Cheyenne River Sioux Tribe), he was encouraged by another veteran and inspired by a dream. In the morning, he began to sketch a concept that would incorporate elements of wind, fire, water and earth and unite all Native visitors "through ceremony and the spirituality of Native American people." Pratt says, "There are special places on this Earth that Indians go to, into the mountains and in the valleys. And so, I thought, you know, it has to be some place we go to. It has to be a destination."
Pratt brought not only his experience as a Native artist but as a Marine to the table. Born in 1941, he grew up in El Reno, Oklahoma, a small town just west of Oklahoma City. He served in the Vietnam War in 1963 as part of a unit assigned to protect troops and recover pilots who had been shot down.
After returning to civilian life, Pratt served as a police officer for Oklahoma's Midwest City Police Department. There, he created his first drawing that led to an arrest and conviction. In 1972, he joined the Oklahoma State Bureau of Investigation and spent the next 30 years as an investigator. Upon retirement, he became a forensic artist, reconstructing faces of victims and culprits, aiding national and international law enforcement agencies in high profile cases such as the bombing of the Alfred P. Murrah Federal Building in Oklahoma City in 1995.
Pratt still occasionally helps on cases and serves as a Cheyenne Peace Chief, but his full-time passion is his art. He works in oil, acrylic, watercolors, metal, clay and wood. Among his favorite art topics are "history, tradition, truthfulness, tribulation and humanity's essence." Such themes are clearly reflected in his exceptional memorial design.
Listen to Pratt's entire interview on NMAI's YouTube channel: www.youtube.com/SmithsonianNMAI.