Making a Difference: Native Veterans Continue to Serve Their Communities
Who is a warrior? In Indian Country, the tradition goes far beyond one experienced in warfare. In the warrior tradition, making war is a last resort, not the first. Protecting women, children, communities, land, food and water come first so that future generations can survive.
"Military service did not make us warriors. It was innately part of us—it's in our DNA, our history defending our country, our songs, ceremonies and culture," says Angie Barney-Nez, Army veteran, mother, respected educator and former Miss Navajo Nation. "Outsiders will never understand how Native people are rooted in this land. This is where we were created, where Creator put us, no other land. That's why you see an overwhelming effort by Native Americans to defend our country."
Military service changed the lives of more than 150,000 Native veterans living today who served in the armed forces since World War II. Some returned to their communities to take advantage of the GI Bill, attend college, start businesses and families. Others returned to limited opportunities or suffered disabilities. They were different people than when they left, with PTSD and other injuries left untreated. Veterans hospitals far from reservations make it difficult for Native veterans to get quality medical care for their injuries, even today.
Building Bridges
For Tulalip Tribes Council Member Mel Sheldon, the two years, two months and 11 days he spent in the military changed his life for the better. Sheldon served 22 years in leadership for the Tulalip Tribes of Washington, working in all executive positions including six years as chairman. Sheldon led the team that developed Tulalip's profitable casino resort and Quil Ceda Village, the second federally chartered city in America. Quil Ceda is a model of the tribe's self-governance and taxation power, including having police and fire protection, telecommunications and emergency medical and 911 services.
Sheldon enlisted in the U.S. Army at 18 in 1969, during the Vietnam War. He applied for Warrant Officer Flight School. Training was nine arduous months with a graduation rate of about 60 percent. He received 200 hours flight training in principal aircraft, Hughes 300 and the iconic Huey (Iroquois) helicopters. After graduating, he received orders to go to Vietnam and was assigned to Charlie Troop 1, 9th Squadron, 1st Cavalry. There, he volunteered to fly scout planes with Charlie Troop. Sheldon and crew flew many combat missions with a Cobra in Vietnam and Cambodian airspace.
In one mission over Cambodian territory, he and his crew encountered a large contingent of North Vietnamese and "the jungle lit up like a Fourth of July fireworks party." During the battle Sheldon's crew chief was hit in the back and Sheldon's helmet took a round through the backside. His Loach (Cayuse helicopter) took numerous hits, but everyone survived.
"Anytime the infantry needed help, Cobra gunships armed with rockets and miniguns would roll in blazing and suppress enemy attacks. We did a good job clearing out the enemy to save our soldiers," he recalls. "The constant danger, flying risky missions, putting it out there daily, and living on the edge changes how you look at things. It toughens you."
Sheldon, a commercial fisherman for 25 years in Washington state and Bristol Bay, Alaska, said military service created lifelong brotherhoods and prepared him to lead people in battle, crisis and politics.
"I learned about different models of leadership, considering all points of view, and to make split-second hard decisions for the good of all. It's not just leading but listening and learning to be part of a team. That's how I learned to lead teams to get the mission done, and in battle, I never lost a man."
He also built bridges across state, municipal and tribal communities to develop the tribe's diverse business relationships and economic opportunities. "No one is going to move, so we strive for positive relationships with our neighbors to create jobs and foster economic development in the Pacific Northwest. The more we understand each other and find common ground, the easier it is to find solutions. Protecting tribal sovereignty and diversifying our economy to sustain the tribe's citizens for the next 20 years is my priority."
In September 2021, Sheldon traveled to Watertown, South Dakota, to attend the memorial of Warrant Officer Robert Fortin who was killed in action on September 13, 1971, while flying a mission near Tay Ninh, Vietnam. Fifty years after his death, his brother Roger Fortin asked fellow scout pilots to join his family to honor and share remembrances of "Bob." They were there for him.
A Family Tradition
Indian veterans were in service in Minneapolis when violent protests were breaking out after George Floyd was killed by then police officer Derek Chauvin in May 2020. Patrols organized by the American Indian Movement and other local activists protected the Little Earth of United Tribes Native housing and office complex as calls to defund the police were rampant and fires set by protestors destroyed a block containing a Native youth activity office. But Native veterans were also serving with distinction in the beleaguered police department.
U.S. Marine and former Minneapolis police officer Bob Thunder, a citizen of Red Lake Ojibwe Nation, comes from a warrior tradition of protecting people, dating back to his Ojibwe grandfather who wore a badge in 1894. Thunder joined the marines in 1970 when he was 19 and appreciated the challenges, responsibilities and discipline that military training demanded.
"The training you get saves your life. It tests you and makes you into a stronger person," he said. "I was lucky that I stayed stateside for four years specializing in flight line training. We worked with A6 Intruders and F4 Phantoms training marines in group support for aviation."
As the war was ending in 1974, Bob was chosen for a transition project to civilian life and law enforcement appealed to him. It became a 37-year career that he loved.
"I attended the police academy and became a community service officer working directly with people before I was sworn in as a police officer. I worked within the Native community on Franklin Avenue for nine years and knew people by their first names. That's when community-oriented policing was effective. We listened to people and treated them with respect, and we got it back in return."
Thunder, who raised four daughters and four sons, worked the gang, narcotics and transit units as well as emergency response teams. He later focused on training tribes and communities in gang and drug prevention strategies before he retired in 2011 due to an injury.
Two years later, his son Robb became a police cadet and has been a Minneapolis Police officer for eight years now. When the George Floyd protests set fires in several neighborhoods, Robb Thunder was on the frontlines protecting the Native community as his family closely monitored the protests.
"What Chauvin did set back policing 40 years," said Bob Thunder. "He ruined the image of good officers who serve our communities and pushed racism to the forefront after all our efforts to get people working together. It should never have been allowed to happen; other officers should have stepped in. Now we have people hating police and there's been a huge drop in the number of Minneapolis officers. Not everybody can do that job and it just got tougher." One night during the protests, random shots hit a sign above Robb's head, and his father realized he could easily be killed by those he was trying to protect. "I asked him if he was sure he still wanted to be a cop. He said yes, he would continue serving the community in what I see as our warrior tradition," says the elder officer Thunder. "I have great respect for him and all those who have done it."
Fighting COVID-19
While protests to defund police swept the country, officers on the Navajo Nation were facing a deadly invisible enemy—COVID-19. A Navajo man returning from a basketball tournament in Tucson, Arizona, inadvertently brought the virus home and exposed dozens of relatives at a church service in Chilchinbeto, Arizona, a tiny community in the heart of the Navajo reservation. Contact tracers linked more than 30 cases to the event and Navajo Police quarantined the community, shutting down roads and restricting travel.
But COVID-19 spread rapidly, creating a hot spot that by September 2021 resulted in more than 33,774 cases and 1,440 deaths on the Navajo Nation.
Navajo Nation Chief of Police Phillip Francisco, an Army veteran who served from 1995 to 1999 in Korea, quickly realized he had a public health crisis on his hands. Francisco had also served in the National Guard and was commissioned as a second lieutenant with the Military Police Branch in 2016. The National Guard reached out during the pandemic offering to help with policing duties. However, Francisco declined the notion of outsiders policing Navajo people and instead asked the guard to assist with auxiliary duties such as building emergency medical units.
"Navajo Nation Police are serving and protecting our own people. Our officers are sons, brothers, fathers, daughters, sisters and clan relatives of Navajo families, so compassion and respect are commonplace in our training," said Francisco. "This was an unprecedented situation for police worldwide, but our officers were among the first to deal with, be exposed to and die from COVID-19. We had to close police headquarters and 24 of our new cadets were exposed after attending the funeral of a fellow officer."
As the deadly virus spread, Francisco and his top command—many of them veterans—had to create new protocols, safety measures, quarantines and lockdowns for communities. They acquired personal protective equipment, test kits, masks, gloves, disinfectants and protective coveralls used at checkpoints set up to prevent citizens and visitors from traveling. Millions in special funding had to be allocated to handle the pandemic, straining limited resources.
Francisco's military and law enforcement service came from a desire to help people. After four years in the military, he attended the police academy in San Juan County and became an officer. He then joined the sheriff's office, where he served for 14 years.
"I was part of the FBI task force at the time and there was a big problem with alcoholism, so we obtained funding to go after drunk driving," he said. "That was my full-time job, and I saw some pretty horrific accidents. I was motivated because I wanted to protect people. We prosecuted drunk drivers, closed down some bars and after four years, I decided to focus on training more officers. By the time I left, I had 60 more officers in the field. Then I went back to college while working and earned a psychology degree, thinking I would start doing counseling for police and public safety. But Navajo [Nation] had an opening for police chief, and I stepped up."
The coronavirus put dozens of officers in quarantine and sickened many. Most recovered, but Officer Michael Lee and criminal investigator Esther Charley later died in off-reservation hospitals. With only 206 police personnel to serve the 27,000-square-mile reservation in Arizona, New Mexico, Utah and Colorado, staff shortages mean officers often must cover remote districts with no backup or cell service.
As the Navajo Nation mourned increasing losses, honor guard motorcycle escorts were organized by Navajo-Hopi Honor Riders (NHHR), a motorcycle club formed in 2003 to honor Hopi Private Lori Piestewa, the first Native woman in U.S. military service known to have been killed in combat. Hundreds of people lined Arizona, New Mexico and Navajo highways, waving flags and white handkerchiefs as police from multiple jurisdictions and motorcycle escorts brought the Navajo officers and veterans home.
Bobby Martin, Piestewa's cousin and founder of NHHR said, "We honor and remember them and our Gold and Blue Star families whose loved ones gave their lives serving our country. We ride not only to honor our fallen warriors and those who continue to serve but [also] to promote healing for those who lost veterans. It's our honor to serve our people that way."
"Coming back as a veteran, I had extra credentials, training and confidence that I earned serving our country," said Barney-Nez. "There are thousands of Native veterans who came home to make a difference. In our warrior tradition, you serve your people your whole life."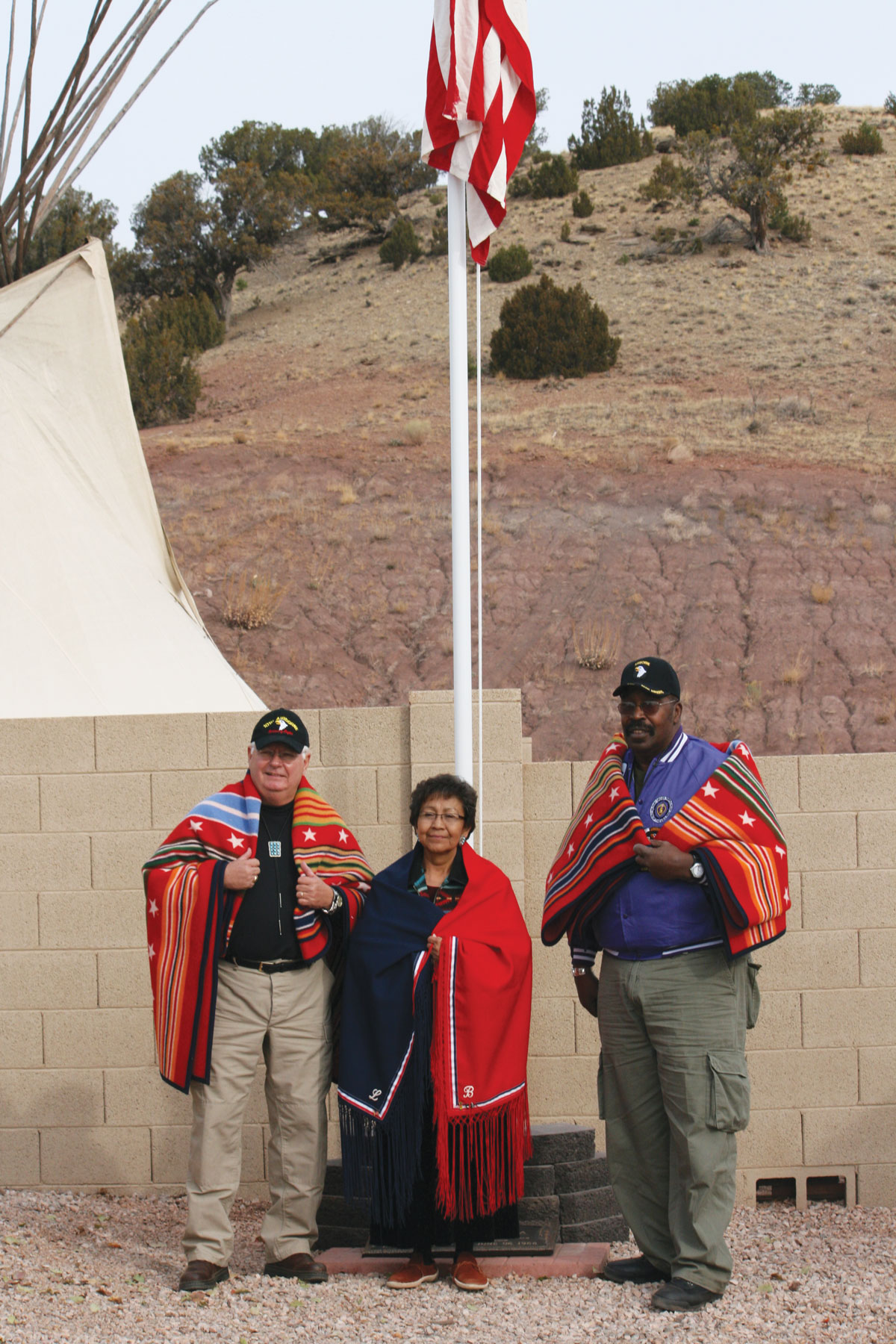 Forty-one years after Private 1st Class Michael Bia was killed in Vietnam, his squadron leader, Terry Ash, and U.S. Army veteran Arthur Corley visited Bia's wife, Lula, to share how he was lost in battle. Courtesy of Roselinda White.
They Also Serve
"The last time I saw him, he was getting on a Greyhound bus with his duffel bags," said Lula Bia, whose husband, Michael, was killed in the Vietnam War. "I can still see him now. It was raining and we drove to Gallup with his parents to see him off. It was my 20th birthday, April 26, and he left for Albuquerque. He flew to Fort Lewis, Washington, and then Hawaii where he got his orders to Vietnam with the U.S. Army 101st Airborne Division. I never saw him again."
They had been married only four months when two uniformed officers came to tell her Private 1st Class Michael Bia was missing in action. "They were at the door saying he had been missing in action for 10 days," she said. "I was pregnant, and I just couldn't comprehend it."
Lula Bia is one of the hundreds of thousands of survivors of American soldiers fallen in war, parents, spouses and children. They are honored as Gold Star families, a formal designation by the U.S. military since before World War II, but they are often overlooked in the celebration of American veterans. Yet their sacrifice also will be remembered when the National Native American Veterans Memorial is dedicated on the NMAI grounds in November 2022. In the words of the English poet John Milton, "They also serve who only stand and wait."
As for so many, Lula Bia's story was one of waiting for information. "Ten days later, I got a telegram confirming he died of a gunshot wound on June 6, 1968, in an ambush in Saber, South Vietnam, Thừa Thiên Huế Province," she said. "When his body came back, his remains were put in a plastic bag with his uniform over it. They recommended we keep the casket closed so none of us ever saw him. I was 20, and I had to focus on the well-being of my baby, so I followed our traditional Navajo beliefs not to view death while pregnant."
Michael Bia Jr. was born three months later. "My son never knew his father," she said. "He grew up with a loneliness in his heart to know who he was, what he was like, what his laughter sounded like. He always yearned to know his dad, and his loss affected us every single day."
For years, Lula held out hope her husband may still be alive, that the military had made a mistake in identification. "At first it didn't seem real. I couldn't believe it was him," she said. "Whenever POWs were being released, I would study the newspapers and watch TV hoping to see his face. I had such hope in my heart [that] maybe they made a mistake and he's out there somewhere."
Lula earned a degree in education, raised her son surrounded by loving family and taught elementary school for more than 40 years on the Navajo Nation. She never got closure for Michael's death, nor did his family.
In 2008, his brother Gabriel posted a message on a Vietnam veteran's website asking if anyone knew Michael. Three months later, he got a reply from Arthur Corley, a veteran from New Jersey who was there when Michael died. After email exchanges, Corley called Lula and wanted to meet her. "I have a story to share, but I want to do it in person," Corley said. "Out of respect, I want to come to your home, and I'm bringing Terry Ash, Michael's squadron leader."
On November 11, 2009, Corley and Ash joined Lula's family on the Navajo Nation for a Veterans Day memorial and prayer service held annually to honor all veterans. She recalled, "Terry told me what happened the night of the ambush when Michael and another young soldier, Samuel Boyd, were killed. They were guarding a naval supply area in the remote jungle where the Viet Cong were hiding. As they returned from reconnaissance that night, something didn't feel right, and then gunfire burst out from everywhere. Michael and Samuel were in the first jeep that got hit. They said he didn't suffer, that he died instantly.
"I knew then that it was him, that it was real. It finally brought closure and healing for me after all those years. I was so thankful they shared their story, grief and even the survivors' guilt they felt. We all cried together and comforted each other, sharing our memories and love for Michael. The honor and respect they showed my family brought healing to us and to them."
The morning after Veterans Day, as they prepared to depart, Corley and Ash raised Michael's memorial flag on the flagpole in Lula's front yard. The flag was proudly displayed in front of a warrior's home partly paid for by Michael's benefits. "I was so thankful for that honor," she says. "After 52 years, he's still the love of my life."
Michael Howard Bia is buried at the Bia/Hicks Veterans Memorial Cemetery in Fort Defiance, Arizona—named in his honor.