The Long Journey Home: Helping Native Veterans Heal
In 1968, U.S. Marine Tom Holm fought and survived the brutal combat of the Tet Offensive and other perilous operations during the Vietnam War. Sometimes, he was asked to identify the bodies of men—his friends— who had been killed in action. "It was pretty awful at times," he recalls.
After such experiences, a veteran's reintegration into civilian life may be a rough journey. The journey can be even tougher when he carries additional burdens of historical trauma and discrimination. Some studies have shown that the rates of post-traumatic stress disorder (PTSD) in American Indians and Alaska Natives are twice those of non-Native, non-Hispanic populations. However, Holm (Creek/Cherokee) and many other Native veterans have been fortunate enough to draw on their cultures to find a path home, one that recognizes both their service to their country and their communities as well as their own individual experiences in war.
Significance of Ceremony
American Indians have fought in all of America's wars, from the American Revolution and Civil War to the recent conflicts in the Middle East. They served to defend their families, their country and—as the first Americans—their land. They did so "despite a long history of oppression, suppression of their culture and centuries of outright warfare by American troops," says Herman Viola, curator emeritus of Smithsonian's National Museum of Natural History.
As described in the book "Why We Serve: Native Americans in the Armed Forces" by Alexandra Harris and Mark Hirsch, a warrior tradition is integral to many but not all American Indian and First Nation cultures. In addition, "warrior" is a term that encompasses more than fighting prowess. "Members of the community view the warrior as a relative who takes part in battle not only to protect the community but also to restore justice and serve the people in other ways," says Holm, now a retired professor of American Indian Studies at the University of Arizona. "The warrior's virtues— honesty, humility and generosity—are part of any Indigenous society that is close to the land."
In Canada, Taiaiake Alfred (Mohawk) grew up near Montreal and spent three years in the U.S. Marines infantry in the early 1980s. "The warrior spirit is a way to express one's self that is honored and revered by Native culture," says Alfred. In the past, once warriors returned from war, the spiritual ceremonies helped them heal. "They told us that if you retake your traditional place, you would heal." The Mohawk carry on their long warrior tradition, he says, and cites his involvement in a 1990 armed standoff with the Canadian Army and police over Indigenous land rights for a golf course in Oka, Quebec.
Two of the great 20th-century novels by American Indian writers follow the difficult return to their Native communities of soldiers who fought in the South Pacific during World War II. The protagonists of N. Scott Momaday's "House Made of Dawn" and Leslie Marmon Silko's "Ceremony" were deeply scarred psychologically by combat or captivity. Holm describes "House Made of Dawn" as "a story about a person who works through things and finally is at peace with himself," and "Ceremony" as a novel that "indicates that you can make peace with yourself through the old ways."
Healing ceremonies are so important because soldiers carry their memories of the battlefield home. Navajo (Diné) psychiatrist Mary Roessel says that for her people, killing people is not permitted, so her tribe offers a way for warriors to come back to the community from war through a psychological and spiritual cleansing process. She says that the Diné's ancient, week-long N'da ("Enemy Way") ceremony was developed to ease symptoms that early records suggest were comparable to PTSD.
Today, the Veterans Health Administration (VHA) uses exposure therapy, where therapist and patient focus on the traumatic experience in a safe setting to lessen the anxiety associated with the memory of the event.
Traditions that Heal
Yet not all Native soldiers have had the benefit of healing through ceremony. Inspired by the lives of his two Yurok great-great uncles, Chag Lowry (Maidu/Yurok/Achumawi) and Members of the Oljato and illustrator Rahsan Ekedal depict in their graphic novel, "Soldiers Unknown," a fictional recreation of the experiences of real Yurok and Maidu soldiers from rural California to the trenches of France. They were drafted to fight in the First World War, even before all American Indians were declared to be U.S. citizens in 1924. Because Charley, the lead protagonist, has killed an enemy in battle, he is forbidden to participate as a singer or dancer in Yurok ceremonies after his return. Nevertheless, he remains connected to his people because he can still pray and craft the regalia used by others in their ceremonies.
Yurok and Maidu veterans are now able to participate in some of their tribal ceremonies says Lowry. "I think there was a gradual acceptance among our ceremonial leaders that our culture had changed and the law had to change because we've had so many generations of combat veterans," he says.
Oklahoman John Emhoolah (Kiowa/ Arapaho) was attending the Riverside Indian School in Anadarko, Oklahoma, when he signed up for the National Guard in 1950 as a way to earn a few extra dollars. Shortly thereafter, the Korean War began and his unit was activated as the 45th Infantry Division. A substantial number of the soldiers in the famed "Thunderbird Division" were fellow American Indians. Emhoolah became a forward observer doing reconnaissance in the 158th Field Artillery and spent five cold months on a mountainside in Korea, where he and his crew directed fire from half a dozen 105 mm howitzers. "I did my job," he says, as did his five brothers, who also served in Korea or Vietnam.
Emhoolah's return home was eased by a Native American Church ceremony held with Kiowa elders. The Native American Church uses sacred medicine, fasting rituals and prayer intended to heal the disrepair of the world, including the stresses of war. "It was like the old days," he said. "We sang the old songs. Because of that, I'm still here."
Since then, year after year, Emhoolah has attended ceremonies of the Ton-Kon-Gah, or Kiowa Black Leggings Warrior Society, which was established more than 200 years ago to honor combat veterans like him. However, the COVID-19 pandemic has put such community gatherings for healing on hold, says Emhoolah. "Everything is cancelled for this year until this bad medicine goes away."
Among the next generation, George Bennett Sr. (Tlingit) grew up in Hoonah, Alaska, during the 1950s and 1960s on a rugged island 30 miles west and a world away from the state capital in Juneau. Rain, cold and snow were ordinary facts of life. Bennett's tribe lived off the land and sea but in harmony with nature.
"We had so little knowledge of the world outside Hoonah," he recalled, but he did learn from his elders' respect for the forest and the ocean. "We took only what we needed. When we went berry picking, my mother would talk to the bears who might be out in the forest, asking their forgiveness for intruding on their homelands."
That life was interrupted when Bennett got his draft notice in 1966 and was sent to Vietnam. "I was excited about doing my share," he says. "I was always envious of guys in uniform when I was a kid."
The U.S. Army trained him to be a radio operator, a major responsibility in an era before miniaturization, when bulky field radios were carried in a heavy backpack. Once in Vietnam, he soon enough became acquainted with the realities of war. At one point, his unit engaged in two days of continuous fighting, often at close quarters at night.
With so much needless death around him, he says, "I felt the values of my culture drifting away," recalling the reverence he had learned as a boy for the land, the animals and the people. At the same time, he admired the Vietnamese he encountered as fellow Indigenous people.
He left Vietnam in October 1968. Public opinion was already turning against the war. Like so many other veterans of his generation, he received no grand welcome at home. He found he couldn't talk about his experiences. He had nightmares and was drinking too much, he says. Eventually, he entered an outpatient alcohol program in Anchorage and was assessed for PTSD. He took part in a Lakota sweat lodge, an experience that required him to be sober for 30 days. Finally, he went to his father's home in Sitka, Alaska, encouraged by his wife, Mary, who he married in 1970. "She always believed that one day, that good guy would come out," he says.
"I got in touch with my culture, my language and our songs again, and I dealt with the guilt, shame and dishonor I had brought into my tribe," he says. "Later, I was able to share the pride that I was a Vietnam veteran. In the ceremonies, I saw the respect of the clans. They were there all the time. I just had to show up."
Holm finally returned home in December 1968. Combat had taken its toll, but he was welcomed back by his family and his people. His uncles who served in World War II took care of him and exchanged experiences— perhaps an informal version of talk therapy. He took part in "Going to Water," a ceremony to free a veteran from the inevitable evils that take place in war, he said. The painful memories were still there but now he was able to live with them.
"Participation in our ceremonies of honoring and purification helps individuals work through the problems associated with post-traumatic stress," Holm said in a 2013 presentation as part of the Vine Deloria Jr. Distinguished Indigenous Scholar Series at the University of Arizona. "Western medicine attempts to heal the body, mind and spirit. Our medicine people do the same, plus they add the element of the environment. A sick or troubled person can upset the harmony of that which surrounds him. So place has to be part of healing and that includes the family, the neighbors, the plants, the animals, the universe, and that may take more than one ritual or type of medicine."
If Native people are unable to bring dead warriors home for burial or funerary ceremonies, sometimes other ceremonies can acknowledge and help ease the loss, says Holm. "There's a song about a horse standing alone on a hill, the implication being that the warrior who rode it didn't make it back."
Among the Navajo, families seek resolution and acceptance of the loss of a warrior missing in action, says Roessel. They might have a "burial" for the spirit. "We want the spirit to be at rest and at peace, and so we conduct ceremonies," she says. "The ceremony also helps the spirit come to rest to avoid harming the surviving family."
Care Through Community
Acknowledgment of service from one's community can also help servicemen and women heal. Most Native tribes and First Nations host powwows and other gatherings during which veterans are honored.
Finding that sense of community during military service can be difficult for Native servicemen and servicewomen, especially since soldiers from the same tribe are rarely found together in the same unit. Debra Kay Mooney (Choctaw) recognized this need after she joined the Oklahoma Army National Guard in the 1990s and was deployed to Iraq in 2004 and 2008 in a combat-heavy engineer battalion and then with the 45th Infantry in detainee operations.
In 2004, she was chatting about powwows with her Native tentmates at the Al Taqaddum Air Base near Falluja, Iraq. Word spread to her commanding officer who agreed to let her organize the first powwow held in a combat zone. In just six weeks, Mooney and her fellow soldiers were able to round up the appropriate regalia from family and friends in the United States, organize and rehearse dances and even fashion steel tomahawks from Humvee armor plating and a steel drum from an oil drum, all of which she and a combat battalion later donated to the collection of the National Museum of the American Indian.
In 2008, she sustained head and back injuries from a fall from a truck, which led to extended treatment at both military and tribal medical facilities. However, "by the grace of God, I got to come home. I'm blessed," she says. "The most important thing coming home is the right support system." Today, her brothers and their wives as well as the powwow community provide that coaching and support.
Finding Balance
Master Sergeant Johancharles "Chuck" Boers (Lipan Apache) photographed that historic 2004 powwow in Iraq. Boers grew up in California, where part of his tribe had been relocated from Texas in 1950. Even as a youth, he says, "I knew I wanted to be in the military," so he entered the U.S. Army right after he graduated from high school in 1983. He undertook tribal ceremonies before going to war and was given a medicine pouch to carry with him to keep him safe.
Trained as a combat photographer, he was deployed to Grenada, Bosnia, Kosovo and five times to Iraq. There he saw heavy fighting in Falluja, Najaf, Samarra and elsewhere. During his 26 years of service, he accumulated three Purple Hearts and two Bronze Stars. He also sustained traumatic brain injuries that left him with migraines, light sensitivity and memory problems.
The choice to take part in tribal ceremonies is a personal one and some Native veterans may decide on more conventional avenues for care. Boers, who is now retired in California, has used every available avenue of help, from the on-base military system to the VHA to the Indian Health Service (IHS) to tribal ceremonies. "The IHS gives vets a place to get together," he said. "Veterans from World War II, Korea, Vietnam and the more recent conflicts could gather and talk and help each other out. It was a way to bring us together as a community of veterans."
The Veteran Administration's National Vietnam Veterans Readjustment Study, which began in 1984, included subsections on Black and Hispanic soldiers. However, not until Rep. Spark Matsunaga and Senator Daniel Inouye pushed for a survey in the late 1980s were Native American, Native Hawaiian and Japanese American troops studied for the effects of post-traumatic stress disorder.
Eventually, the VHA began to include culturally appropriate care for American Indian and Alaska Native vets. The VHA now hosts sweat lodges developed with the collaboration of local tribes at 13 VHA locations. There are also tele-mental health services for Native veterans who live far from existing VHA sites.
War upsets everyone's inner balance, says Boers. "Ceremonies help restore that balance, help bring inner peace, help you with things you've seen or done," he says. "I'm not who I was before going off to war, but ceremonies let me be okay with myself."
Ultimately, the spiritual care and recognition emanating from one's culture and community is crucial to Native soldiers and veterans. As a Ho-Chunk elder in Wisconsin once told Tom Holm, "We honor our veterans for their bravery and because by seeing death on the battlefield they truly know the greatness of life."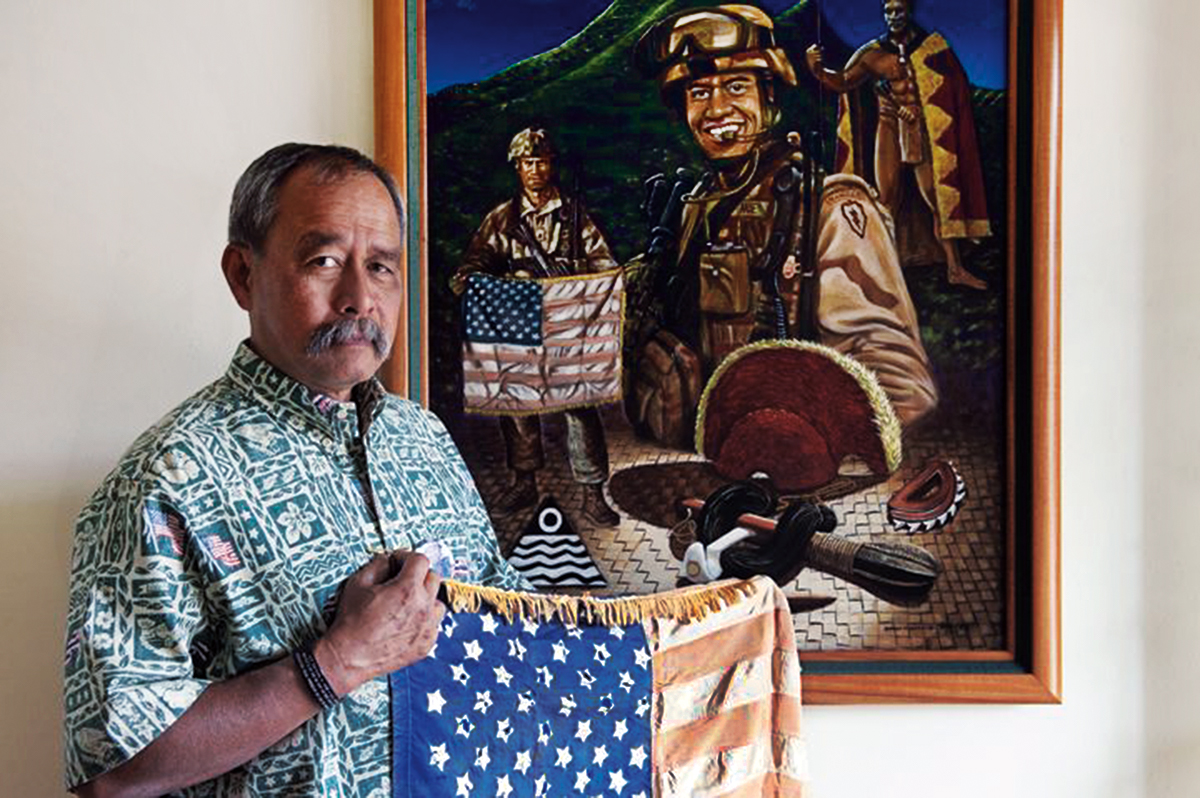 Vietnam veteran Allen Hoe (Native Hawaiian) holds a flag that he and his son, First Lieutenant Nainoa Hoe (in painting), carried into battle. Nainoa was killed serving in Iraq in 2005. Photo Courtesy of Allen Hoe
Remembering Those Taken
War takes its toll, not only on servicemen or servicewomen injured and killed but also on the friends and family of those who never came home. Native Hawaiian Allen Hoe was drafted into the U.S. Army in 1966 and trained as a combat medic. First stationed at Travis Air Force Base in California, he wished to prove himself as a warrior and requested a transfer to Vietnam. Hoe carried a small American flag with him in his backpack as a talisman.
Hoe arrived in December 1967 and joined an infantry battalion reconnaissance team in the 196th Light Infantry Brigade. After a brief R&R in May 1968, he was waiting for a helicopter to return to his unit at Kham Duc when he learned that it had been overrun by the North Vietnamese Army. Among the missing and presumed dead was his buddy, radio operator William "Skip" Skivington Jr. Their bodies would not be recovered for 38 years.
"My biggest disappointment was that I couldn't be there for my guys," Hoe says. He was given the option of serving the rest of his time in Vietnam at a base hospital but preferred to stay in the field.
Hoe left Vietnam in September 1968 and went to college and law school. He remained in contact with Skivington's father, Bill, a World War II veteran, and joined him when Skip's remains were identified and repatriated in 2006.
Hoe's return to life in Hawaii was cushioned by strong family support and their deep Christian faith. But he also embraced the traditional Hawaiian ideal of "'ohana," the extended envelopment of family members to create a secure and safe space. "There was an acceptance of what you had gone through that allowed you to be part of the family."
Years later, capricious fate would again intervene in Hoe's life. His son, First Lieutenant Nainoa Hoe served in the 3rd Battalion, 21st Infantry (which was part of the 196th Light Infantry Brigade in Vietnam). He was struck down by a sniper's bullet in Mosul, Iraq, in 2005. In his backpack, Nainoa carried the same flag his father bore in Vietnam.
Despite the pain of losing his son, Hoe understands his decision to enlist and serve. "Nainoa went into the Army with his eyes wide open. He loved being a platoon leader," Hoe says. Still, he says, he regrets that "my son wasn't able to enjoy the things he had worked so hard for."
Concepts in this article are based on "Cultures of War" in the NMAI's publication "Why We Serve: Native Americans in the United States Armed Forces."