The Code Talkers' Legacy: Native Languages Helped Turn the Tides in Both World Wars
Four years into World War I, the German military continued to thwart Allied maneuvers by monitoring their open-air communications and deciphering their coded messages. As late as the fall of 1918, German forces were still repeatedly countering Allied actions, so U.S. military strategists scrambled to find a means of rapid yet secure communications. The answer came not from new technology but Native culture—the languages spoken by those American Indians who the Marines would later dub "code talkers."
The Genesis of a Code
Myths about Native martial abilities originated in colonial times when American Indians began to be recruited by U.S. Army forces as guides and scouts to perform reconnaissance. Because the Indigenous people who grew up in rural areas were used to navigating rugged landscapes to hunt, trap and fish, non-Native soldiers began to believe that American Indians were natural warriors who were stealthier and possessed innate skills such as an inherent sense of direction, heightened hearing and the ability to see farther at night.
Such stereotyping—which Vietnam veteran Tom Holm (Creek/Cherokee) calls the "Indian Scout Syndrome"—continued into World War I and beyond. This assumption often led commanders to place Native Americans in dangerous positions as scouts, point men and snipers. As American Indians found themselves expected to possess these abilities, they also often volunteered for some of the most dangerous assignments to fulfill military expectations, follow their tribal military heritage and boost their own self-confidence. As a result, a high percentage of Indigenous soldiers were wounded and killed in combat.
The Indigenous skill that did become one of the most important and unique contributions to the U.S. Armed Forces was the ability to speak Native languages. The idea to use Native language as a "code" that would baffle the Germans was discovered when commanders overheard their Native soldiers speaking to each other in the field. Units in France began experimenting by placing small groups of Hochunk, Eastern Band Cherokee and Choctaw soldiers on telephones to send messages in their Native languages; it foiled the Germans. The impact was immediate, as demonstrated by the successes of Eastern Band Cherokee soldiers in the 30th Division at Montbrehein and Choctaw and Cherokee in the 36th Division at Forest Ferme. By the end of the war, several Native languages were being used at various locations throughout the Western Front. Although the term "code talker" did not appear in Marine records until 1944, numerous military officers referred to the use of Native languages as "code" by the end of World War I.
These Native communicators set a precedent that was expanded upon in World War II. During 1940 and 1941, the U.S. Army recruited small groups of Comanche, Chippewa, Oneida and Meskwaki to create codes in their respective languages. The U.S. Marine Corps began training Navajo to do so in 1942, and the Army formed a group of Hopi soldiers to do so in 1943. In the 8th U.S. Army Air Force, a group of Canadian Cree soldiers in the 9th Bomb Command and two Crow in the 97th Bomb Command used their Native languages as codes in Europe.
A Secret Recipe
Native soldiers developed two types of Native American Code Talking (NACT). First developed by Choctaw in World War I, Type one NACT contained coded vocabulary, collections of words or phrases that were assigned to military subjects, within their languages. Type two NACT simply used existing Native languages. Both forms worked as codes because they were based on languages unknown to the enemy and, as the new codes were not based on mathematical processes as found in most code and cipher systems, the enemy had nothing to which to compare them.
During World War II, Comanche soldiers created about 250 coded terms, while Navajo soldiers eventually developed more than 700 terms. Many terms were based on everyday things in the tribal communities such as animals, food, material items and descriptions. Examples of code terms include the Comanche terms for tank ("wakaree'e" or "turtle") and telephone exchange ("puhihwi tekwapu kahni" or "metal talking house"); the Hopi terms for ship ("pa-a-ki-hu" or "houses on water") and the M-1 rifle (mouth and one); and the Navajo term for grenade ("ni-ma-si" or "potatoes"). A 1941 edition of the journal "The Masterkey" reports that one of the tribes in the Chippewa and Oneida group developed terms based on the colors of military hat cords and other insignia, with the Native word for "blue" meaning infantry, "yellow" meaning cavalry and "red" for artillery. The Comanche even had a code name for Adolf Hitler—"Po'sa taiboo'" (Crazy White Man). Hopi, Meskwaki and Canadian Cree also had specially devised code terms, although the number is unknown.
Eight Hopi code talkers were in the 81st Division. Although Frank Chapella, Franklin Shupla and Warren Koopyaquaptewa were all from the village of Tewa, they were both Tewa and Hopi and so spoke both of these tribes' languages. Frank Chapella's wife, Elidia Chapella, and his son, Marshall Shupla, recall how these three individuals spoke to one another in Tewa (their matrilineal classification through their mothers) and in Hopi with the other five members of their unit.
Some Type one NACT groups like the Comanche and Navajo also developed alphabet systems, using the first letter of English words translated from Native words to spell out names of individuals and locations. For example, the translation of the Comanche words for pear, ant, rain, ice and snake could be combined to convey "Paris." While the Comanche used an open system by using any word that translated to the desired letter, the Navajo developed a set vocabulary, such as "wol-la-chee" (ant) for the letter a, "shush" (bear) for b, "moasi" (cat) for c and so on. Later they developed three interchangeable words for each English letter. Both systems prevented repetition and inhibited breaking of the code.
One of the benefits of using these codes derived from Native language was open-air messages could be sent faster, often in one to two minutes compared to existing encryption methods requiring up to four hours to craft, communicate and decode. NACT messages were typically brief—usually less than three lines—to avoid creating radio congestion, drawing enemy attention, providing repetition or giving the enemy more transmissions to analyze. "Whenever we sent a message it was short, sweet and to the point," Comanche code talker Roderick Red Elk noted.
Because of the speed of their communications, code talkers were especially important in relaying information and conveying orders that needed immediate implementation or response, such as troop movement, enemy resistance, evacuation of wounded and directing artillery, ammunition and other supplies. "It was in these defensive positions where you used it quite a bit," Comanche code talker Forrest Kassanavoid said. "All critical information, something they felt was really top secret, was in Comanche."
During 1943 and 1944, U.S. Army, Navy and Marine Corps representatives considered increasing their numbers of American Indian code talkers. However, Army and Navy leaders were skeptical the code talkers' messages were secure and decided not to expand their units. The Marine Corps expressed optimism but kept silent about its growing program.
Despite these decisions, several Army and Army Air Forces units each had small groups of Native communicators. In the Pacific, seven Lakota soldiers in the 302nd Reconnaissance Troop became known as "MacArthur's Boys," while the 5th Bomb Command in the 5th Army Air Force had a radio net of 15 Native Americans who sent radio communications in Acoma-Laguna, Apache, Crow, Hopi, Lakota and other Native languages. In the Pacific, the Navajo, the largest group of code talkers, served in every major campaign, from the battle on Guadalcanal in the Solomon Islands from August 1942 to February 1943 to the conflicts on Okinawa, which lasted from April to June 1945.
The Code That Almost Wasn't
One of the greatest ironies of the Native code talkers in both World Wars is that many attended Bureau of Indian Affairs boarding schools aimed at assimilating them into mainstream American culture by eradicating their languages and cultures. While the schools varied greatly regarding how much they strived to suppress Indian culture, they typically did not permit any cultural practices or the speaking of any Native language.
Yet many were determined to retain their Native languages, continuing to speak while at home or with other students when teachers could not hear them. Farina King (Diné) told how her uncle, Navajo code talker Albert Smith, talked in Navajo to rocks, sticks and other items while outside his boarding school to maintain his language.
"We were forbidden at that time to talk Comanche. That was strictly a no-no, and if we did talk Comanche, we got strictly punished … paddled or forced to wax floors," relayed code talker Charles Chibitty about his tribal language. "So when we see them coming, when we're talking Indian, we hush-up real quick. Like I say, they was always trying to make little white boys out of us … but it never really worked," he said. "When Hitler started kicking around, they was looking for Indians, and they come back to us and asked us to use our language for that special unit, to use to send messages."
Despite boarding schools's efforts to eliminate Native languages, their military-style operations preconditioned the American Indian students for military service. "We had to march every place we went," says Kassanavoid. "We practically all wore the same kind of clothes [uniform] when we were there. … Everything was done by the numbers there at the Indian school, so that gave us a good preparation when we went into the Army."
A Lasting Legacy
Native Americans and First Nations peoples made many contributions to both World Wars in terms of troops, war bonds, agricultural production and reservation resources. Yet their languages had perhaps the greatest impact. Members of more than 30 Native Nations served as code talkers for the U.S. Army, Army Air Forces, Marine Corps and Navy during the World Wars. Groups of code talkers ranged in size from as small as two (Ho-chunk) to eight (Choctaw) individuals in World War I and from two (Crow, Creek, Seminole and Tlingit) to 17 (Comanche) to more than 400 soldiers trained among the Navajo (of which, around 285 saw combat) in World War II. Although by the end of the Second World War, the Japanese had identified the use of Navajo language against them, none of the Indigenous codes were broken in either World War.
A few Navajo code talkers continued code talking exercises while stationed in China after World War II. However, by 1950 advances in communications encryption technology surpassed the need for code talking. Several World War II Navajo code talkers who later served in the Korean War yet were not stationed together reported that the Navajo code was not used in Korea.
While popularly believed to be a secret program, dozens of news articles and other sources about Choctaw, Comanche, Sioux, Hochunk and other Native soldiers speaking in their languages as code—many from high ranking military officers—appeared just after the First World War and reports about Comanche, Meskwaki, Chippewa, Oneida, Lakota and Navajo code-crafting troops circulated before, during and after World War II. While great efforts were made to conceal the Marines' Navajo Program, more than 45 sources mention it between 1943 and 1968, when it was officially declassified. Multiple Marine Corps news releases in 1945 suggest that while the subject of Navajo code talkers was no longer classified by the war's end, the Navajo code book and alphabets remained classified until 1968.
While some groups of code talkers have been honored in their respective communities and states, decades passed since the end of World War II before they were honored on a national level. The Honoring the Navajo Code Talkers Act of 2000 bestowed gold Congressional Medals for the first 29 Navajo Code Talkers and silver Congressional Medals for the others. The Code Talkers Recognition Act of 2008 provided a gold Congressional Medal for each tribe and a silver for each surviving code talker or their family. Choctaw Code Talker Association President Nuchi Nashoba says, "It was an incredible moment. I can't put into words the pride we felt. Those men deserve to be honored."
As of now, only four Navajo code talkers are known to survive—Thomas Begay, John Kinsel, Peter MacDonald and Samuel Sandoval. However, the legacy of Native American code talkers lives on through the unique contributions they made with their Indigenous languages—the countless lives they saved by helping to shorten both World Wars as well as the pride and cultural history that continues in their respective communities and the nations they defended.
Reflecting on the contributions of her father and the other Hopi code talkers, Rosa Honani (Hopi) says we should "be proud of our code talkers … because as small of a group as they were, they were part of the defeat [of the Japanese]" and that they are indicative of the "importance of keeping our language alive."
"There were thousands and thousands of soldiers that got killed," said Chibitty. "If what little we did saved some of those lives, then I'm proud I was a part of it. … We did something, to use our language. … I was glad that I could do that for the country. … And we'd probably do it again if we have to, even at our age."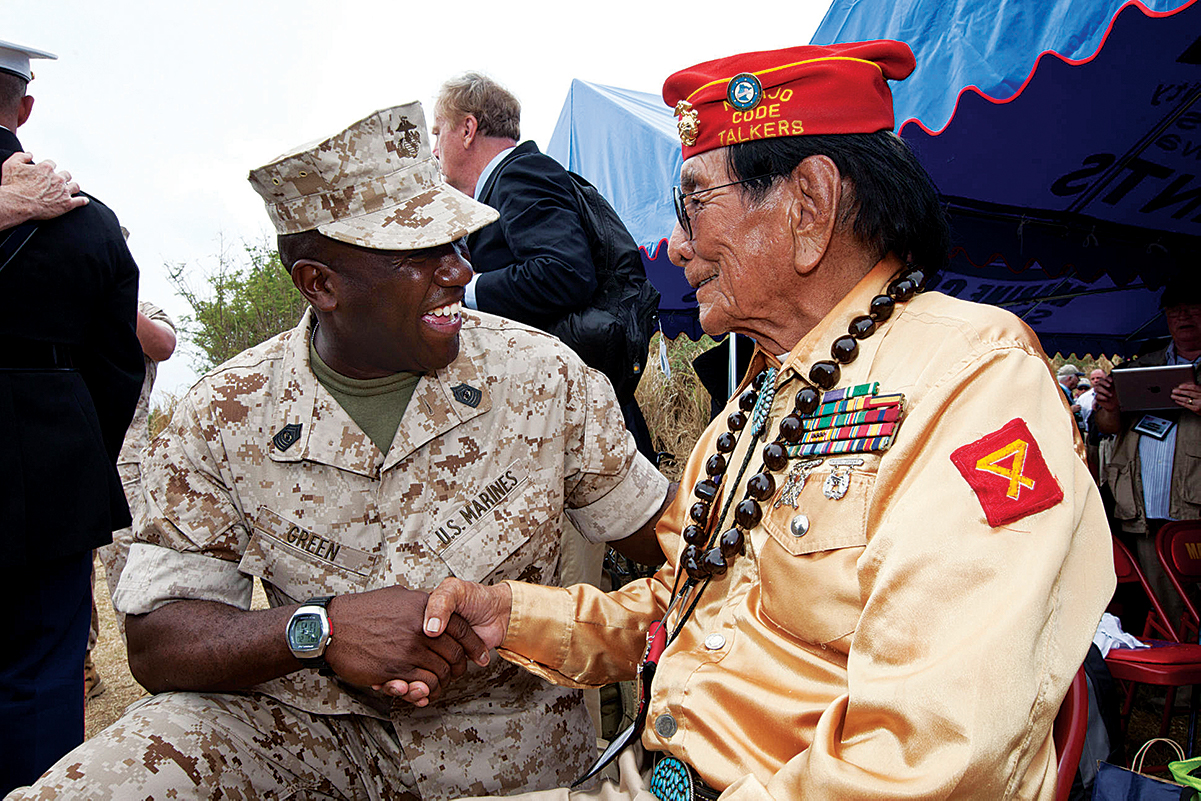 Marine Corps Sgt. Major Ronald L. Green (left) greeted Navajo code talker Samuel T. Holiday during the Reunion of Honor ceremony held on Iwo Jima, Japan, in 2015, to honor American and Japanese World War II veterans and their families.
A Nearly Deadly Case of Mistaken Identity
During World War II, U.S. Marines and Army troops mistook several of the Navajo code talkers who served in the Pacific as Japanese and captured them. Navajo code talker Samuel T. Holiday was just 19 years old when he and his 4th Marine Division landed with the second wave at Saipan in June 1944. When his boat was overturned, he almost drowned in the surf. Barely conscious and unable to rise out of the water's edge he was pulled out by another Marine. The next day a Japanese artillery shell landed close to Holiday as he moved inland. The explosion threw him through the air, knocked him out and nearly buried him in the sand. Damaging one of his ear drums, the concussion left him with considerable pain, dizziness, numbness and ringing in his head. He soon developed a fever.
Not wanting to leave his post, he persevered, continuing to send and relay messages to other units. Returning from sending a message, members of his unit informed him of some shell holes full of water in the rear that were secure and that they had just bathed in. They encouraged Holiday to take advantage of them. Thinking it would feel good to pour water over his pounding head, he made his way there.
As he stripped down and entered the shell hole, the last of the other Marines were just leaving. Soon military police detaining a Japanese prisoner passed by. Not realizing he now looked exactly like the Japanese prisoners, he suddenly felt a bayonet in his lower back and an order in Japanese to "Get out of the water, Jap." Holiday was in shock and thinking it might have been a Japanese, quickly turned around to find that "They had the bayonet right between my eyes. I said, 'I'm PFC Samuel T. Holiday. I'm one of the Marines!'" Despite identifying his unit, the Marine did not believe him and continued to poke him with his bayonet and lead him toward the Japanese prisoners. Luckily another unit member recognized him, and after that soldier and finally their captain intervened, Holiday was released.
As Holiday reflected about fighting against the Japanese: "They were just young guys, and they really looked like Navajos." After several similar instances occurred, non-Native bodyguards were assigned to some Navajo to prevent their misidentification and capture. Despite being mistaken again later, he participated in the invasions of Kwajalein, Saipan, Tinian and Iwo Jima before returning home to the Navajo Reservation in the fall of 1945. He was honored for his service at several events before his death in 2018 at 94 years of age.