A Monumental Effort: Fighting to Protect Bears Ears and Grand Staircase-Escalante
Tucked into the towering, red rock canyons of the Bears Ears and Grand Staircase-Escalante National Monuments in southern Utah are more than 100,000 archaeological and cultural sites, hints of the Indigenous peoples who once lived here hundreds to thousands of years ago. Ancient petroglyphs and pictographs depict collages of people and animals from those times. Square windows in now-empty stone houses peek out from cliffs, overlooking dirt roads. Other evidence of former pueblos—such as the remains of hogans, wikiups, tipis as well as kivas, sweat lodges and granaries—can be found throughout these lands.
Clark Tenakhongva, the vice chairman for the Hopi Tribe in Arizona, says these sites show that this region has been home to Native people since time immemorial. "We still have our ceremonial ties to this area," Tenakhongva explains. "It's much like...the Mormon temple up in Salt Lake City."
Yet many of these sacred sites are now at risk.
In 2017, former U.S. President Donald Trump ordered the U.S. Department of the Interior to review the size and scope of 27 national monuments established after January 1, 1996, that exceeded 100,000 acres or were "deemed to be made without adequate coordination and outreach to the public." Bears Ears and Grand Staircase-Escalante were of special interest because of their mineral, oil and gas resources.
Former President Bill Clinton had established the Grand Staircase-Escalante National Monument in 1996, protecting nearly 1.9 million acres. Following years of advocacy by local tribes, in 2016, then-President Barack Obama designated 1.35 million acres as the Bears Ears National Monument. Then just one year later, former President Trump decided to sharply reduce the sizes of both monuments, cutting Bears Ears to a mere 15 percent of its former size and the Grand Staircase-Escalante National Monument nearly in half.
The Trump administration had been pushing for fewer restrictions for development on public lands. The then president's move to reduce the size of these monuments came on the heels of the U.S. Senate's decision on December 1, 2017, to authorize oil and gas drilling in the coastal plain of the Arctic National Wildlife Refuge in Alaska. President Trump proclaimed, "Together, we will usher in a bright new future of wonder and wealth."
The Bears Ears Inter-Tribal Coalition— made up of representatives from the Hopi Tribe, Navajo Nation, Ute Mountain Ute Tribe, Pueblo of Zuni and Ute Indian Tribe—has been fighting to restore the monument's boundaries. Tenakhongva, who is the coalitions's co-chair, said said that when the monument was finally established, "I became a hot air balloon and started to rise. ... But when Trump reduced it 85 percent, all of a sudden the air came out of the balloon," he said. "It was like an atomic bomb hit you hard."
The new borders of the monuments took effect on December 4, 2017. The action sparked a national debate about not only the value of protecting these lands but the power that U.S. presidents should have in creating—or dismantling—national monuments.
Fewer Protections
When then Presidents Clinton and Obama established the Grand Staircase-Escalante and Bears Ears monuments respectively, both did so under the 1906 Antiquities Act. The act authorizes a U.S. president to designate federal lands that comprise "historic landmarks, historic and prehistoric structures, and other objects of historic or scientific interest" as national monuments. Both monuments have these in abundance.
Archaeologists report that the area where the monuments were created in southern Utah was densely populated and developed during the Basketmaker (500 B.C. to A.D. 750) and the Pueblo (A.D. 750 to 1290) periods. Ancestral Puebloans left much evidence behind, from small lithic scatters to buildings that were once part of large, complex villages.
While the Antiquities Act was designed to protect such archaeological and historical sites, the public lands created under it have also preserved other precious finds and critical habitat. Bears Ears and Grand Staircase-Escalante are noted for their abundant paleontological discoveries, including footprints of dinosaurs walking across mud captured in stone. Their varied landscapes of rocky cliffs, piñon-juniper woodlands and shrubbery surrounding rivers provide critical habitat to a variety of wildlife, including endangered and sensitive species such as the Utah prairie dog, California condor, Mexican spotted owl, greater sage grouse, the Southwestern willow flycatcher, Yellowbilled cuckoo, Colorado River fish, Jones cycladenia and the Navajo sedge.
Former Interior Secretary Sally Jewell said the act is an essential tool that presidents have had since Theodore Roosevelt's term of office. "It's been used, I would argue, sparingly and carefully," Jewell told a Senate Committee on Energy and Natural Resources in February 2016.
Many Westerners argue the reduction in the size of the monuments was the proper response to decades of "federal overreach" and that the monuments had been much larger than necessary to protect specific sites. However, former President Trump's proclamations were met with fierce opposition from tribal leaders, conservationists, scientists, outdoor recreation advocates and lawmakers.
About 2 million acres of wilderness and public land were suddenly open to potential coal, gas, oil and uranium extraction as well as increased livestock grazing and off-road vehicle use, which could severely degrade formerly unspoiled landscape. Many sacred and paleontological sites were now outside of the monuments' boundaries and jurisdiction, making them more vulnerable to misuse and even vandalism. Shaun Chapoose, Ute Indian Tribe business committee chairman and a Bears Ears Inter-Tribal Coalition representative, said such cultural sites are irreplaceable: "Once you lose that, you will never get it back."
"Bears Ears is like a church, a holy place ... where we go to (make) our offering, our prayers, and we don't want it bombed," said Davis Filfred, a former council delegate on the 23rd Navajo Nation Council. "We don't want people to come in and bomb the place and take out all the timber because that's the habitat for all the wildlife and the species that are up there."
Filfred is now chair of the Board of Directors for the Utah Diné Bikéyah (UDB), a nonprofit organization formed in 2012 to advocate for the designation of Bears Ears as a national monument. Filfred, who lives in Aneth, Utah, said, "I know what contaminated soil, contaminated water––even the air, I know what that is because that's how I grew up." He added, "And we have a lot of roads [in Aneth]. I don't want that for the Bears Ears. I want it to be untouched for generations and generations to come so our great-great-grandchildren can see it like it is today."
Bears Ears
The Bears Ears National Monument is public land managed by the Bureau of Land Management (BLM) and the Forest Service in Utah's San Juan County. Ranging from 3,700 to more than 11,300 feet in elevation, its landscape varies from grassy meadows to forest to stark, rocky cliffs.
Bears Ears is named for two buttes that jut up above the ridgeline, which are visible from every direction. Native tribes in the region each have a name for Bears Ears in their respective languages: "Shash Jaa'" in Navajo (Diné), "Honnmuru" in Hopi, "Kwiyagatu Nukavachi" in Ute, and "Ansh An Lashokdiwe" in Zuni. The names all have the same meaning: home. For hundreds of generations, the ancestors of the American Indians of the Colorado Plateau lived, raised their children and buried their people here.
Behind these buttes is Navajo Mountain. The non-Native people "have a lot of questions when they come up to us," spiritual advisor Jonah Yellowman, a Diné and UDB board member said in an interview in the Navajo language. "They ask us, 'How are you related to Bears Ears?' Well, this Bears Ears and the Bears Ears people, they are our people, our grandfather. They make negotiations with the Holy People," he said. "Through the Navajo clans, we say that the Bears Ears is our grandfather. The concept of our clans originated from here."
Members of clans were like family and so not permitted to marry each other until three generations had passed, explained San Juan County Commissioner Willie Grayeyes, a Navajo of of the Bit'ahnii (Folded Arms People) clan. "Those are the traditional and the ethnological set of tools that were placed in the Navajo society."
The region also has historical ties to the people who still live in the region. "My grandfather, Chief Manuelito, is Bit'ahnii like my grandfather, Willie Grayeyes," Kenneth Maryboy said in Navajo, adding that the Bit'ahnii clan lived south of the San Juan River near Bears Ears. Manuelito's sacred Navajo name was Ch'il Haajinii, meaning "the man that watches lowly from beneath." Maryboy, also a San Juan County Commissioner, said Manuelito's brothers were Hashke' Neiní, meaning "fierce one who had many boys" and K'aa'yeelíí, meaning "quiver of many arrows." He said, "People say that K'aa'yeelíí and his brothers were never caught during the Long Walk to Fort Sumner." (Between 1863 and 1866, the U.S. government forced more than 10,000 Navajo (Diné) to march from their homelands in what is now the Arizona area to the Bosque Redondo Reservation at Fort Sumner in what is now New Mexico.)
Today, Bears Ears continues to serve as a place of physical and spiritual nourishment for all the region's Native peoples. Many travel to Bears Ears not only to visit the sacred sites but also to gather firewood, collect medicinal herbs, hunt and convene for ceremonies and events.
"When you go to Bears Ears, I feel from my experience, it's a healing ground. It's a chance to heal from historical traumas," said Alastair Bitsóí (Diné). "Anyone who's experiencing some of those difficulties in their lives, they can connect and use their five senses to really solve some of their inner issues...(and) connect with the land."
UDB hosts an annual Bears Ears Summer Gathering on meadows near the Bears Ears buttes. The three-day event is open to all the Native tribes and draws hundreds of visitors from across the globe. Bitsóí said those who attend experience a cross-cultural connection to the area. "The ceremonies [and] cultures, they're not based on jurisdiction." The tribes are "all at one point," he said. "Cross-pollenating with each other, sharing knowledge, even ceremonies but also acknowledging each other in the Bears Ears landscape.
The summer event also brings together people in support and in defense of the monument. "Defending Bears Ears includes celebrating how far we've come through our cultures....[that] we are still here as Native Americans," Bitsóí said. "We activate the landscape through food, through Indigenous sporting games, through the sharing of cultural dances." Coming to Bears Ears is not only about participating and respecting these cultural activities but doing so within this landscape, he said, "to experience the mountain air and the deer that comes to the camp."
Grand Staircase-Escalante
The Grand Staircase-Escalante National Monument, which is also managed by the BLM, is in south-central Utah. The Grand Staircase area gets its name from steeply stepped topographic benches and cliffs that get progressively lower in elevation, going from north to south, from greater than 9,000 feet to less than 5,000 feet.
Even though parts of this monument are only about 100 miles from Bears Ears and it also has spectacular landscape that features towering red-sandstone formations resembling mushrooms, plateaus, buttes and mesas, it has less of the dramatic rock overhangs that helped preserve the cliff dwellings and other Pueblo architecture at Bear Ears. Whereas rock art, granaries and some remains of other buildings have been found, the abundant evidence of the Ancestral Puebloans who lived in, farmed and traversed the region of Grand Staircase-Escalante is frequently more subtle, such as lithic scatters and pieces of pottery. "This doesn't make it any less interesting or important," said Douglas McFadden, who was the monument's archaeologist for nine years. Many of the archaeological sites of the region have simply yet to be researched or documented, he explained.
Indeed, the lands and cultural sites in and around Grand Staircase-Escalante are significant to the many Native peoples who have ancestral ties to the area, including the Hopi, Zuni, Navajo, San Juan Southern Paiute, Kaibab Paiute, Ute, Ute Mountain Ute, Jemez Pueblo and Acoma Nations. When the U.S. government forced the Navajo from their homelands in the late 1800s, "the Paiute Nation fed and clothed and sheltered us," said Diné Davina Smith. "These stories are still being told."
Also unlike Bears Ears, when Grand Staircase-Escalante was being designated as a monument nearly three decades ago, tribes were not included in the conversation, said Smith, who serves on the board of Grand Staircase Escalante Partners. Since the monument's reduction in size, this organization has been hosting "listening sessions," during which representatives from several tribes in the region have been discussing what is important to them about conserving this land and its cultural sites. "Mother Earth, we're here to take care of her. We are here to make sure our water, our trees and our animals are protected," she said. "Everything in the circle of life is to be respected."
Whereas considering tribes as co-managers of such public spaces has not been "a priority," Smith said. Now, "we're at a point in our lives when we're tired. We're done. Voices are stepping up." During September, Smith gathered plants that she carried in a medicine bag on a two-week-long "prayer run" that she led from the base of the Bears Ears buttes to the Utah state capitol in Salt Lake City. Before she departed on September 4, she said she was looking forward to the 420-mile journey: "Every day is a day I can focus in prayer and meditation on issues such as restoring these national monuments."
An Unprecedented Step
Native people say the decision to shrink Bears Ears and Grand Staircase-Escalante was an attack on the sovereign Native nations with deep ties to the region. Native tribes, environmentalists and outdoor recreation groups filed lawsuits against former President Trump, arguing that national monuments should be permanent and no one should have the authority to revoke a president's decision to create them.
Utah political leaders, including its congressional delegation and now former Governor Gary Herbert, had urged former President Trump to reduce the boundaries. "Most of the Utah leadership," said Mark Maryboy, a UDB board member, "wants to reduce the monuments' size so uranium mining, oil and gas activities would continue."
In March 2021, President Joe Biden tasked newly appointed U.S. Department of the Interior Secretary Deb Haaland with evaluating whether the monuments' former boundaries should be restored—or even expanded. She traveled to Bears Ears in April to meet with Utah governmental leaders and tribal representatives to talk about the decision.
While this was the third time in five years that an Interior secretary visited Utah amid a debate over national monument designations, Haaland's visit was unlike those of former secretaries Sally Jewell and Ryan Zinke. Haaland is Native American, a citizen of the Pueblo of Laguna in New Mexico. Some of her ancestral homeland was just southeast of Bears Ears's vast Valley of the Gods.
At a gathering of a few tribal dignitaries, some members of the UDB and the Bears Ears Inter-Tribal Coalition at a mesa in Bears Ears called Muley Point, Haaland shared a meal made from food from the region—blue corn mush, sumac berries, onions, wild parsley and potatoes. Haaland then joined Utah Governor Spencer Cox, Senator Mitt Romney, BLM Canyon Country District Manager Gary Torres and several other individuals on a short hike to former Pueblo dwellings.
"I appreciate the opportunity to join the governor and the Utah delegation," Haaland said. "The governor's been an incredible host. I'm so grateful for his company on the trails...and all the conversations we've had on this land."
Haaland wrapped up her three-day trip after a number of meetings with elected officials, tribal leaders and others invested in the stewardship of Bears Ears and Grand Staircase-Escalante. Before she left, the Native leaders presented her with gifts, including a hat, a blanket, a basket and a Bears Ears T-shirt.
"We pray there's an opportunity for collaborative action," Cox said. "Can we find those solutions? I believe so."
"In my heart, there's an opportunity for that, to provide the resources that are needed here. All those things can be done through legislation, through an executive order," he said. "But that's hard."
Utah Representative John Curtis, whose district includes Bears Ears, said if Biden uses an executive order to restore the monument, the likelihood that this decision will be rescinded by a future president or taken up by the Supreme Court is extremely high. Instead, Utah lawmakers say they can build a more durable solution through legislation that would allow for negotiations among competing interests.
Haaland submitted her confidential report containing her recommendation to President Biden as to whether to restore the monuments' boundaries in June 2021. As of late September, the administration had yet to make a decision.
"It's important that the president gets this right," Haaland said. "I spent time on the land. I've looked at pictographs, vistas that take your breath away. I've spoken with other folks who've said, 'This is an extremely special place.'
"So it's pretty clear that people everywhere have a feeling about this area and know that the cultural heritage of this area belongs to all Americans," Haaland said. "It's so important that we think of that for the future."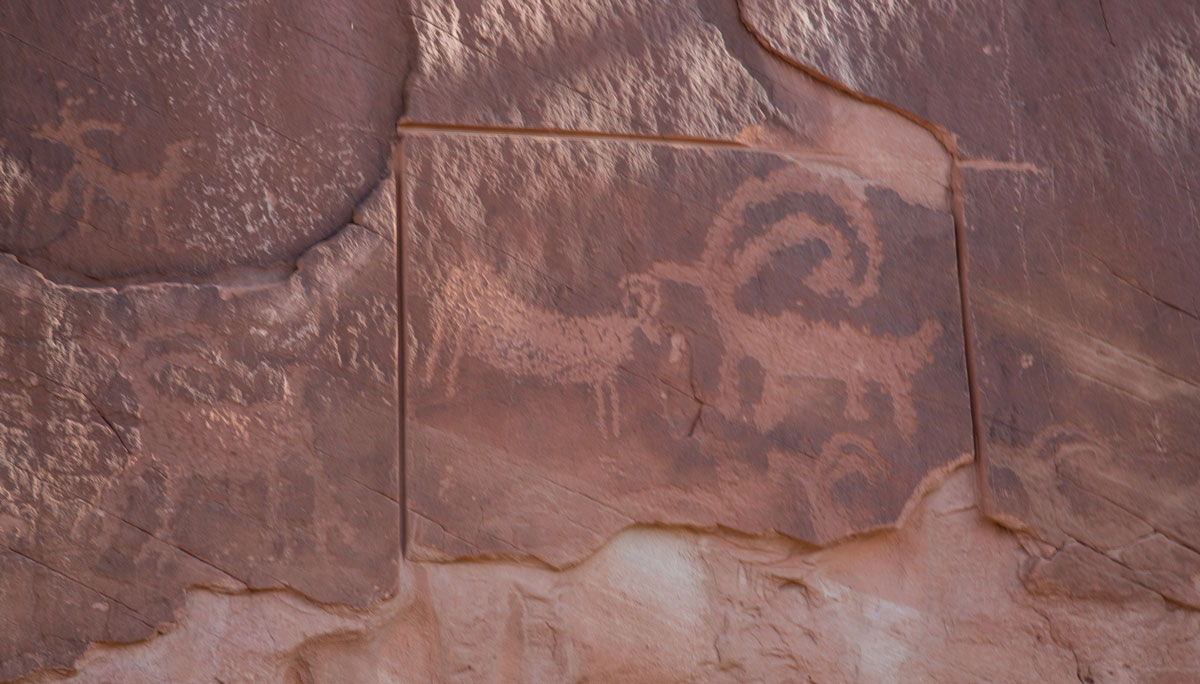 Vandalism such as painting over or cutting into rock surfaces around pictographs and petroglyphs (as was done to this one at Grand Staircase-Escalante) desecrates these sacred sites. Photo by Bureau of Land Management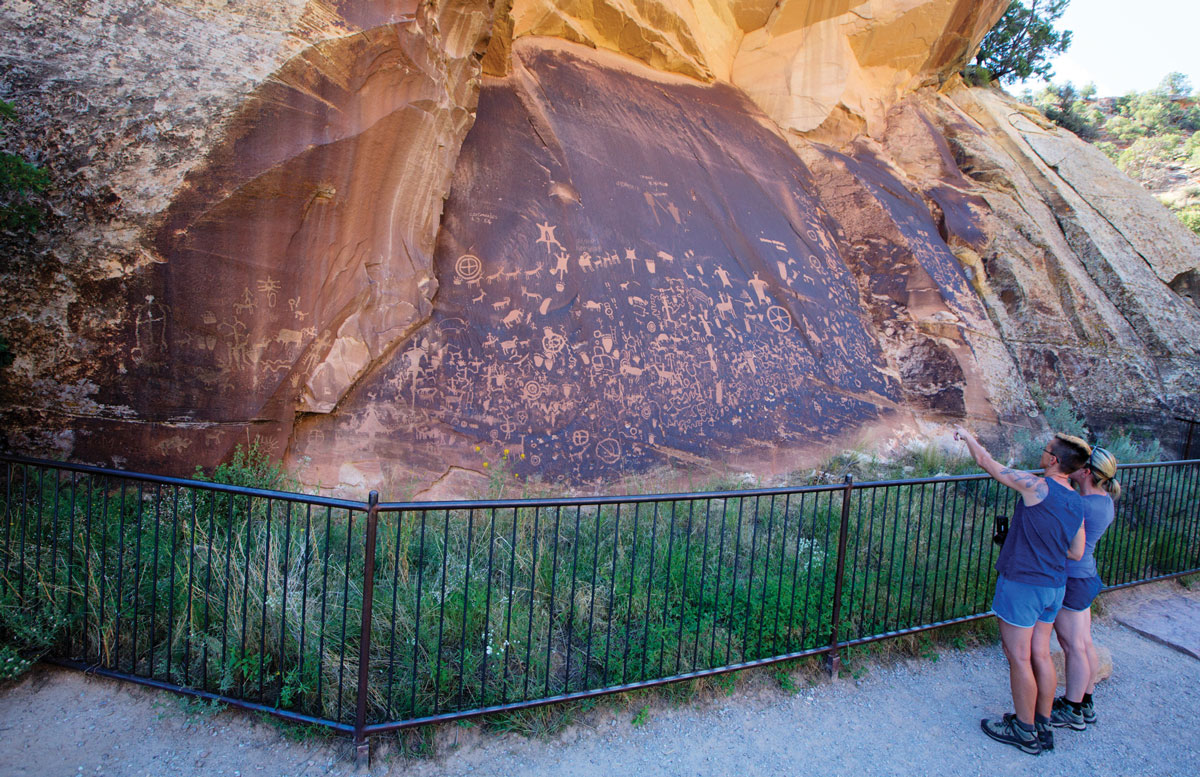 Newspaper Rock can be observed respectfully from a nearby path. It is so named because it is thought to record human activity over a span of some 2,000 years, up until about 1300 A.D. Photo by Bureau of Land Management
Visit With Respect
Visiting national parks and monuments that have cultural sites can be a unique educational experience. However, this should be done with care and respect. Here are just some tips to help preserve these unique places for generations to come:
Stay on marked trails.
Do not give away GPS locations of sites or post geotags on social media as this may drive too much foot traffic and potentially vandals to vulnerable sites.
Observe from a distance. Do not touch, climb on or into ancient structures. They are fragile and it is not respectful to enter these buildings as many are ceremonial in nature and still in use. All are considered sacred ancestral locations.
Do not touch or deface rock art in any way.
Do not move or remove any cultural objects, including pieces of pottery or corn cobs. To Native people, they are part of the landscape and a way to connect with their ancestors.
Do not camp or eat near cultural sites.
Leave no trace, including trash, human or pet waste.
UPDATE: After this article went to press, the White House announced that on October 8, the Biden-Harris administration will restore the boundaries of the three national monuments that were reduced during the Trump administration: Bears Ears and Grand Staircase-Escalante in Utah and Northeast Canyons and Seamounts National Monument off the coast of New England. 
Anne Bolen, assistant managing editor of American Indian magazine, contributed to the reporting of this story.