In northern Minnesota, lush woodlands along Nett Lake are part of the Bois Forte Band of Chippewa nation. For more than a century, a significant portion of this area where these people's ancestors hunted, foraged and fished had been in the hands of timber companies. In June 2022, the Bois Forte Band purchased more than 28,000 acres of these cherished forests—the largest amount of ancestral land that any Native nation in the United States has yet recovered since colonists began taking it more than 400 years ago.
Such land recovery is vital for Native nations, not only to make them whole but also for their people to maintain bonds with their forebears and cultural traditions. For many Indigenous people, land "is our identity," said Bois Forte Band Chairwoman Cathy Chavers. "Without it, we are lost."
Often this land is not only of great cultural but economic importance. The Bois Forte Reservation has three areas: Nett Lake, Deer Creek and Vermilion. Nett Lake is known for its hand-harvested wild rice. Chavers remembers her family harvesting this rice for its business when she was a girl and has passed this tradition on to family members. "Our ancestors are looking down on us," she said. "I'm sure they are smiling."
The Bois Forte Band's success is just one example of tribes recovering or gaining access to ancestral lands that has gained public attention during the past few years. For example, in 2016, the federal government put the sacred site of Pe' Sla in the Black Hills of South Dakota in trust for the Oceti Sakowin people. In 2019, the Wiyot Tribe recovered its Tuluwat Island on California's northern coast, where many tribal members had been massacred in 1860. The Confederated Salish and Kootenai Tribes also regained management of nearly 18,800 acres of bison range on their Flathead Indian Reservation in western Montana in 2020.
But the return of ancestral lands and their management to tribal nations isn't necessarily reflective of a trend. The struggle for Indigenous nations to recover their lands has been going on for centuries.
The Beginnings of Loss
Many scholars of Native American law trace the origin of U.S. legislation and policies to take Indigenous lands to the Doctrine of Discovery. The Catholic Church developed this international law from papal bulls, or edicts, to justify taking land from non-Christian peoples as Spain and Portugal began their exploration of Africa and the Americas during the mid- to late 1400s. This enabled them and future colonialists to buy or even take lands that they perceived as not being owned, ignoring the sovereignty of Native nations and the rights of Indigenous peoples.
The doctrine played a significant part in an 1823 U.S. Supreme Court case, Johnson v. M'Intosh, in which two men claimed ownership of the same parcel of land that had been owned by the Illinois and Piankeshaw Tribes. In the first of three cases known as The Marshall Trilogy, the court ruled in favor of the defendant, stating the Doctrine of Discovery held that tribal nations did not possess full ownership of their lands once Europeans "discovered" them.
When the colonists arrived,"this continent was not empty," said Robert Miller, a member of the Eastern Shawnee Tribe of Oklahoma and professor of law at the Sandra Day O'Connor School of Law at Arizona State University. He and other legal experts have said that the influence of the 1823 opinion is evident in Supreme Court rulings that have spurred federal policies that deny Native nations ownership of ancestral lands—even those that they consider sacred sites—as well as land ownership and development regulations.
The U.S. Supreme Court's decisions have had lasting implications for tribal sovereignty, in part because it held that the peoples of Native nations were dependents of the U.S. government, said Lauren van Schilfgaarde, a member of the Pueblo de Cochiti and professor at the School of Law at the University of California, Los Angeles. However, it also confirmed that Native nations are sovereign, with their own civil and criminal legal systems as well as regulatory powers, including rules for fishing, hunting, zoning and wildland management.
"There was still a pragmatic need to engage with tribal people as sovereign nations, which is why you see the British crown, the French as well as the United States negotiate with tribes via an international instrument of treaties," Schilfgaarde said.
In addition to such rulings, much tribal land has been lost since Europeans landed in North America because many Indigenous peoples were forced into signing treaties written in English or other languages they didn't understand. The consequence was they didn't realize they were relinquishing part or all of their lands. Other treaties that were guaranteeing lands to tribes have simply been ignored.
The United States still interprets the Doctrine of Discovery as valid international law. However, after centuries of appeals by Indigenous peoples, the Catholic Church finally denounced it on March 30, 2023. Pope Francis stated, "Never again can the Christian community allow itself to be infected by the idea that one culture is superior to others."
Roadblocks to Land Recovery
That an individual could have exclusive use of land rather than sharing it with their tribe was a foreign concept to many Indigenous peoples. But after colonists arrived in the Americas, tribes were forced into proving ownership of their lands to maintain their rights to use them.
Today, within what are now tribal reservations in the United States, many individuals, companies, states or the federal government may own sections of land. This is in part due to the passage of the 1887 Dawes Act, named after Massachusetts Senator Henry L. Dawes. Also known as the General Allotment Act, this law enabled the U.S. president to break up tribal land and parcel it out to heads of household or other individual tribal members. Once each eligible member was assigned an allotment, the federal government declared the remainder of reservation land as "in excess of Indian needs" and took it to sell to private companies or state or county governments or opened it for homesteading. What couldn't be sold became public lands such as national parks. This has resulted in the complicated "checkerboarding" of reservations, in which parcels of land belong to different, and often nontribal, owners.
"We want our community to be a reflection of our culture," said Rjay Brunkow, a member of the Turtle Mountain Tribe of Chippewa and CEO of Indian Land Capital Company, a Native-owned institution that provides loans to Native nations for tribal land acquisition and economic development projects. He said the allotment system that resulted from the Dawes Act is "an interruption of that culture."
Another obstacle for Native nations to reclaim tribal territories include the requirement that the U.S. government has designated them as a federally recognized American Indian tribe. Gaining federal recognition can be an arduous and expensive process. For example, the Mashpee Wampanoag Tribe in southeastern Massachusetts lost a lawsuit against the federal government to recover a part of their lands during the late 1970s, in part because it wasn't at that time a federally recognized tribe.
The Mashpee Wampanoag Tribe finally received federal recognition in 2007. This enabled it to successfully petition the U.S. government to put about 320 acres of ancestral lands in New England in a tribal trust. The land under the designation includes the historic cemetery where many tribal members are buried and the Mashpee Wampanoag Indian Museum, which is next to a herring run critical to the tribe's cultural heritage.
Yet not all tribes can afford the application process for federal recognition, said Chairman Brian Weeden. "We all know how today's world and society works: you have to hire the best of the best now, it seems, to get what you need," he said.
Even following procedures doesn't always mean that tribal properties will be permanently protected. After the Mashpee Wampanoag Tribe was allowed to put these newly recovered acres into trust, the Trump administration rescinded its status in trust and the Mashpee Wampanoag people once again had to fight for access to their lands. In 2021, the Biden administration restored the trust's status and the Secretary of the Interior Deb Haaland, a member of the Pueblo of Laguna, upheld that decision.
Even if lands are available for purchase outright from private owners, getting access to capital to buy ancestral lands back isn't always easy for Native nations. Brunkow said mainstream lending institutions may not provide loans to tribes in part because they don't think they will keep up with their payments, or if they do lend money to the tribe, they will charge a higher interest rate or require that their land generate a profit.
The Indian Land Capital Company works with the Indian Land Tenure Foundation, an organization striving to reform laws that inhibit tribes from recovering their lands. Brunkow said these organizations are committed to giving Native nations "the same opportunity to participate in this economy that other entities have." The Indian Land Capital Company doesn't ask tribes to put up their property as collateral, guarantee that the land they wish to purchase generate a profit or even fill out an application for them to obtain a loan. "We don't ever put their land at risk," he said. "We'll find another way." Yet, Brunkow said in his experience working with Native nations, none has ever defaulted on a loan, even throughout the COVID-19 pandemic.
"It is really more of a privilege to go around to talk to Native nations and tribal leaders about their hopes and aspirations to make their community a better place," said Brunkow. He said they have "community pride and that sense of being part of something bigger. This is a legacy that they will leave their children and grandchildren."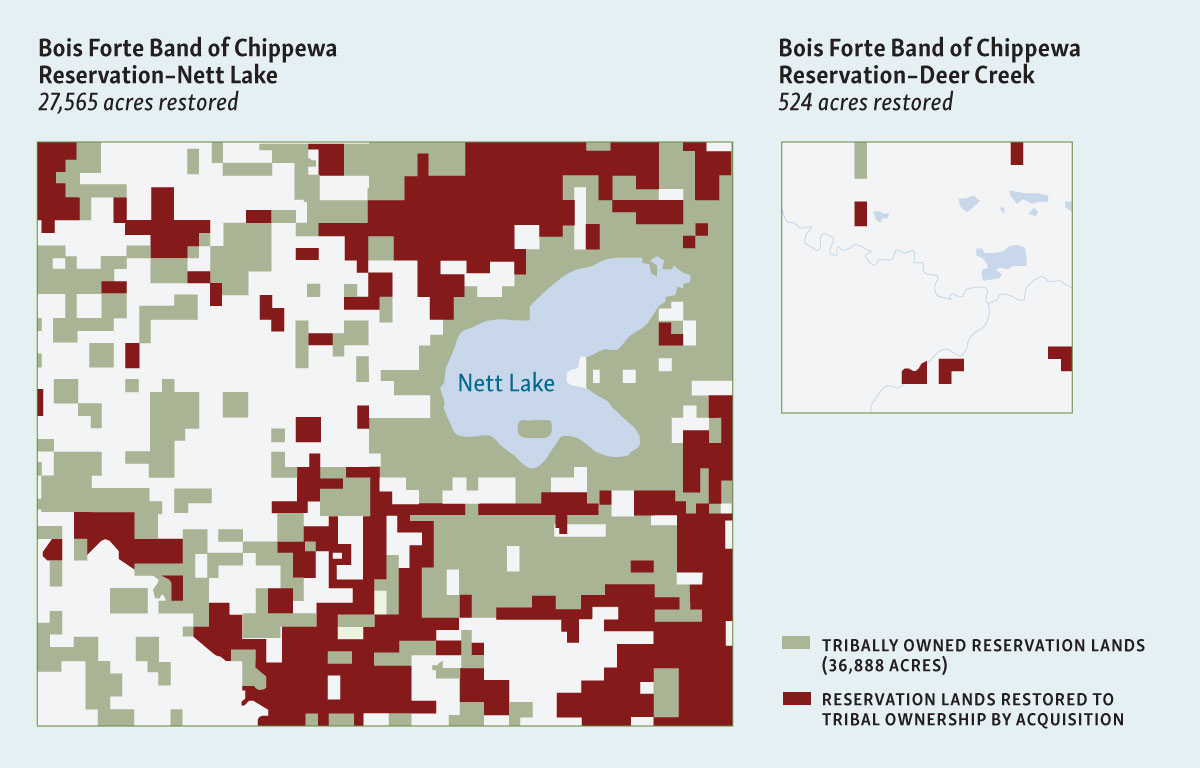 The 'Holy Grail'
The purchase of the Bois Forte Band's lands was made possible through a partnership with the Indian Land Tenure Foundation, the Indian Land Capital Company and The Conservation Fund, a nonprofit organization that works to enable projects that are economically and environmentally sound and of cultural importance. The Conservation Fund was able to purchase the lands from the PotlatchDeltic timber company and then sell these lands to the tribe. The clincher was that these 28,089 acres of forest are an excellent carbon sink—they sequester carbon from the atmosphere—so they qualify for a state program that will pay the tribe not to harvest its trees. Then when the National Indian Carbon Coalition said that the forest could qualify for a significant amount of carbon credits that the tribe could then sell to heavy carbon dioxide producers such as coal factories to pay for its debt.
"This whole thing came together literally like finding the Holy Grail," said Cris Stainbrook, a member of the Oglala Lakota Nation and the president of the Indian Land Tenure Foundation. "The band comes out with their land, the environment is better for having the carbon sequestered, and the Indian Land Capital Company grew their capital availability by a substantial amount."
"I would say [Bois Forte Band land acquisition] has been the capstone of my entire 40-year career," said Kim Berns-Melhus, the Minnesota state director for The Conservation Fund who reached out to the Bois Forte Band about the possible land sale.
The circumstances of the Bois Forte Band reclamation were unique in that it not only happened so quickly but that all the stars aligned to make it possible at nearly no cost to the tribe. Stainbrook and Brunkow said it was highly unlikely that they would see a similar transaction in their lifetime. Still, future generations may have more success recovering ancestral tribal lands from private individuals or entities than federal or state governments in part because many tribes can't afford hefty prices or attorney's fees to challenge federal and state laws and violations of treaties.
Despite the challenges tribes face in recovering ancestral lands, Chavers and Weeden both said that are looking to acquire more. "We're not done yet," said Chavers. Today, the Bois Forte Band of Chippewa has about between 40 percent and 50 percent of its ancestral lands. The Mashpee Wampanoag Tribe has control of about 1 percent of its traditional region.
As Indigenous youth learn more about their heritage and awareness of "land back" issues spreads, Chavers said she hopes they follow in the footsteps of Haaland and pursue careers that give them a seat at the table in federal agencies that regulate tribal land ownership and management. "We don't want to be invisible anymore," she said. "We want to be seen and heard—and understood."
Ultimately, Chavers said, being able to manage ancestral areas allows Indigenous peoples to fulfill their duty as protectors and stewards of the natural world, an obligation their families and elders have instilled in them for generations. "If something happens to those natural resources and they can't come back, that's a huge loss," Chavers said. "For everybody—not just tribes."