Succinct Poetry with Long Roots and Reach
Haiku has been Donna Beaver's go-to poetry style for a long time. That's in part because it plugs into her love of nature. It also nurtures Beaver's connection to her Alaska Native ancestry.
A short form of poetry, haiku was originally the starting verse of the longer collaborative form of poetry known as "renga," which originated in Japan more than 700 years ago. Although haiku is thought to be a strict form of three lines long, with five syllables in the first line, seven in the second and five in the third, most haiku in English are commonly written in less than 17 syllables. A Tlingit and Tsimshian poet, Beaver said her poems are inspired by the "simple observations about seasons" (known as "kigo" in Japanese) and other elements of the natural world that are also characteristic of this form of poetry.
Beaver's poems also express her feelings about and experiences with her cultures. Her Native name is Kaakwdagaan, and she belongs to the Kaagwaantaan (wolf clan). Her childhood memories of exploring forests around Juneau and berry picking with the women in her family live on in her haiku. "My auntie Julie was extremely wise on going out into the woods," said Beaver. "The bears love the berries just as much as we do."
Although Beaver, now living in Kernersville, North Carolina, has spent most of her life in the eastern United States, her poems draw primarily from her family's Alaska Native history. Her works are also inspired by the climate and coastal landscapes of her hometown, Juneau (known as Dzantik'ihéeni in the Tlingit language), and the Chichagof Island and Glacier Bay area in the Tongass National Forest, the ancestral territory of her family and the Hoonah Tlingit.
That's in part because in spite of her family moving to Arlington, Virginia, when she was in grade school, her parents nurtured their connection to her family's Native land and heritage and they visited her extended family in Alaska often. Her stepfather, who was a woodworker and federal forest ranger, taught her about nature-themed poetry and fostered her love of the outdoors by taking her hiking in Virginia's mountains within the George Washington and Jefferson National Forests. She said today her position as an outreach coordinator for the U.S. Geological Survey helps maintain her connection to land.
Beaver's love of the haiku has inspired her to encourage others to appreciate it as much as she does. Together with her husband and noted haiku poet Alan Pizzarelli, Beaver started a podcast about the genre. And she has given presentations about the poetry at schools, colleges and conferences hosted by Haiku North America.
Through her efforts to create more awareness about haiku, Beaver has brought more recognition to American Indian and Alaska Native poetry and song forms, which she said share elements of the Japanese short forms. Some writings hint at the shared history, customs and ways of life of the peoples of the Pacific Rim, she said. "Every single Native culture across the entire continent, they have their own seasonal things that they do," said Beaver.
"We are forever grateful for the work of Tlingit and Tsimshian poet and multidisciplinary artist Donna Beaver and her years of dedication of bringing Native culture to the public," said Rosita Worl, president of Sealaska Heritage Institute, a nonprofit dedicated to perpetuating Tlingit, Haida and Tsimshian cultures of Southeast Alaska. In 2018, Beaver organized an event called "Singing Praises to You: Alaska Native Poetry" at the institute's biennial Alaska Native culture festival, Celebration. Worl said of Beaver, "One of her greatest contributions is that she also brought the voices of many of our Native poets, including the notable and honorable Nora Dauenhauer, to the forefront. Our tribal members will forever remember Donna for her effort."
Ishmael Angaluuk Hope, an Indigenous scholar, poet and games writer based in Juneau, was one of several writers she invited to be part of the Celebration 2018 event to honor Dauenhauer and others. Hope, who is also of Tlingit heritage, said Beaver's work has made him more aware about the nature-centric origins of the short-form poetry. In addition, Hope said he appreciates that although Beaver has "a Tlingit mind, an Indigenous mind and is of this land," her poetry evokes the influences of other cultures.
"It's not in the Tlingit language, it's not in Tlingit oratory, it's not Tlingit storytelling," said Hope. "It's a very conscious, exact—at least as far as you can get in the English language—retention of the haiku tradition."
Hope, who met Beaver through the late Tlingit regalia designer Clarissa Rizal, his former mother-in-law, said the poet's multicultural sensibility and historical consciousness about her Alaska Native culture places her among activists of different ethnicities—including his father—who since the 1970s have been advancing Indigenous literature and the writings of contemporary Indigenous writers. Hope said the Native literary world needs people like Beaver who have a passion for "bringing people together."
This amalgamation of influences extends to the artistic media Beaver has used to express herself. While Beaver's poetry follows the format of haiku, the way she presents her works reveals her experimental nature. Beaver developed a love of creative writing, photography and illustration when she was in high school and has continued to nurture those interests by taking classes and workshops. Her visual work has been influenced by Japanese filmmaker and painter Akira Kurosawa, photographers Diane Arbus and Duane Michals, as well as other creatives. Today, she is using still images and short videos to amplify her poetry. Some of her favorite portraits she has created have been of her own children, but she has also mixed scenes of landscapes with iconic art or characters from Alaska Native stories. "I love working in layers of stuff," said Beaver.
Beaver's artistry reaches across generations. Some of her other art forms include making beaded copper and stone jewelry. The beading she learned from her Tlingit mother and great-grandmother, who also made dolls and moccasins. Her metalwork is inspired by the metal artworks of her grandfather. Beaver is passing down the jewelry-making tradition to her grandchildren. More recently, she's been drawing inspiration from her Tlingit and Tsimshian grandfather Amos Wallace, a master totem carver, some of whose works and those of his brother, carver Lincoln Wallace, are in the collection of the National Museum of the American Indian.
The COVID-19 pandemic put a pause on many of Beaver's activities, but now she is eager to get back to her creative pursuits. These past two years have been the longest she's been away from Alaska in decades, but she is looking forward to returning to her ancestral lands for the Sealaska Heritage Institute's Celebration 2024. And she wants to restart her haiku podcast.
Beaver also wants to create more portrait photography. However, this time instead of her children, her subjects will be her grandsons. Beaver said one of the other projects she wishes to complete is a children's book, in part because it will allow her to stretch her illustration skills. The story is about, she said, the "gifts of the animals to us as people," and, not unlike her poetry, it brings together her love of the natural world and the connection she feels to her Tlingit ancestry.
Beaver said there's a reason why she's focusing on children. "They're the ones who will be inspired by our culture and see how beautiful our culture is," Beaver said. "They're the ones who carry on these traditions to be proud of," she said, and as future stewards, they can develop "a deep respect for the animals around us and care for this planet."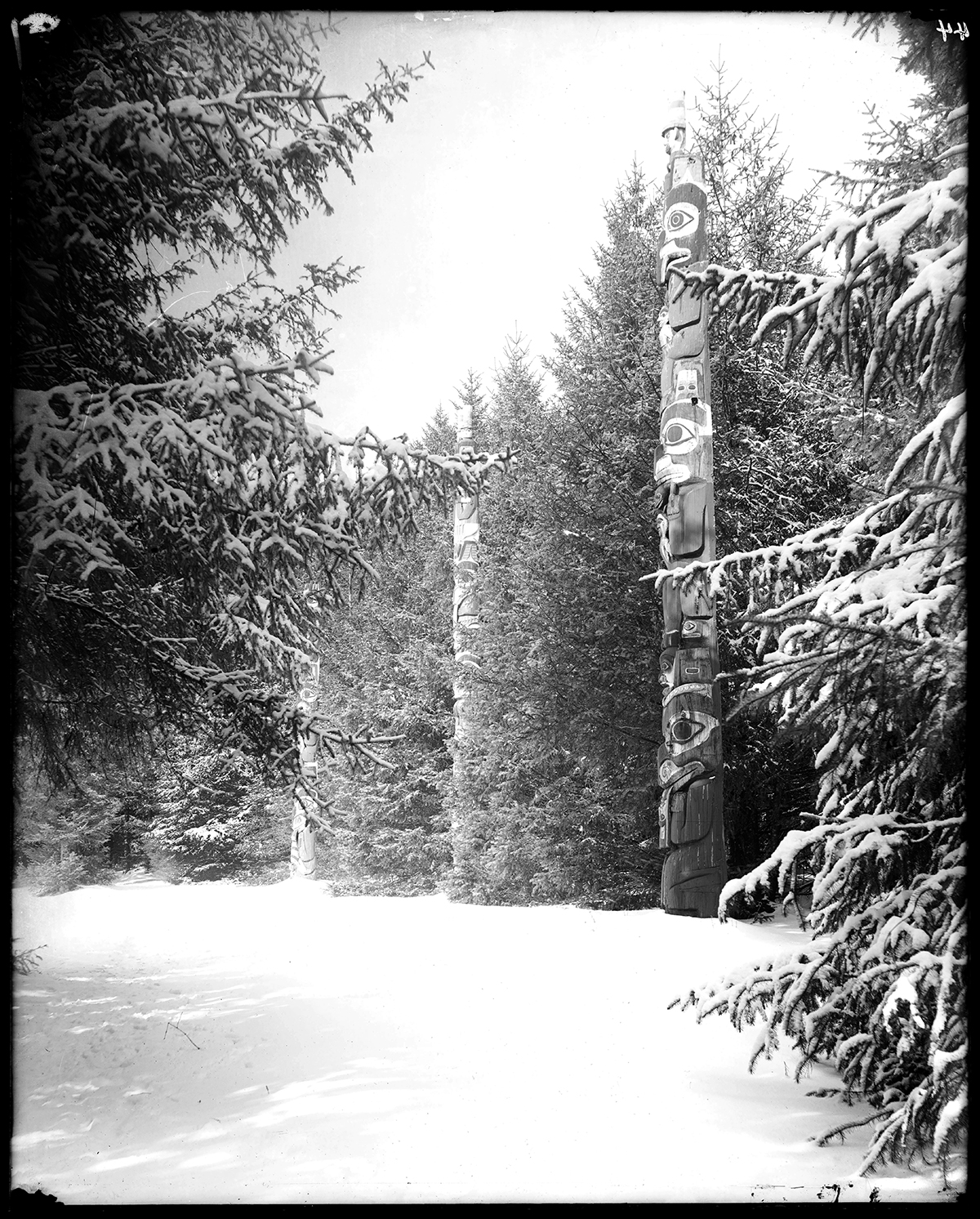 deep snow
in the tribal house
the warmth of old stories

 

dleit gaadlaan
haa shuká hít yeex'
ch'áagu shkalneek kaa toowú alt'eix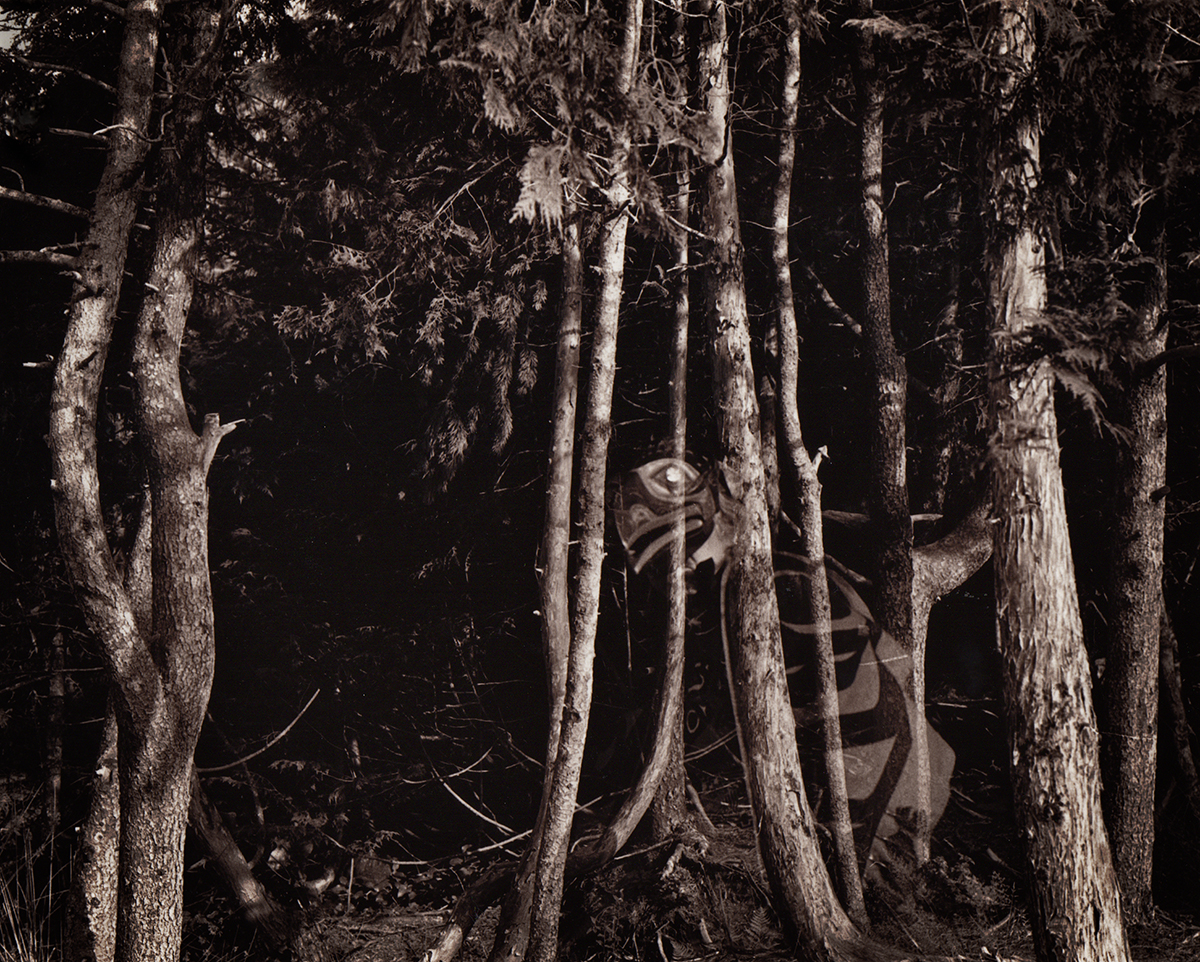 Raven Forest

There's a voice in the wind,
I hear calling to me—
Kwa Caw   Kwa Caw.

I caw back
and continue picking berries.
High in the trees five ravens cock their heads
to watch me.

I wander with the ravens farther into the woods,
but always keeping the other berry pickers in sight,
my aunties.

In the forest,
thoughts are more than—
"Oh, what a beautiful place."

I stand alone in this forest,
and something surrounds me
like a warm blanket.

Yet, blows a cold breath
at my back.

I don't drift too far from the others,
the elders' tales are always
in the back of my mind  . . .

I could disappear like the others,
before me—

An otter in the
spirit world.