An Art Revolution: T.C. Cannon Shows Native Life at The Edge Of America
T.C. Cannon's art is anything but quiet. His bold brushstrokes, blocks of vibrant colors and sometimes unsettling imagery shout from his canvases. His works are often full of dichotomies, juxtaposing traditional Native culture with symbols of Western society. Some also reflect not only the turbulence of the 1960s and 1970s that surrounded him but the conflicts within himself. For a treasured few, he marries paintings or drawings with poetry and music, creating three-dimensional art that inhabits the space around you. Such fearless departures from what was until then American Indian art contributed significantly to redefining Native art as well as the view many people had of Native America.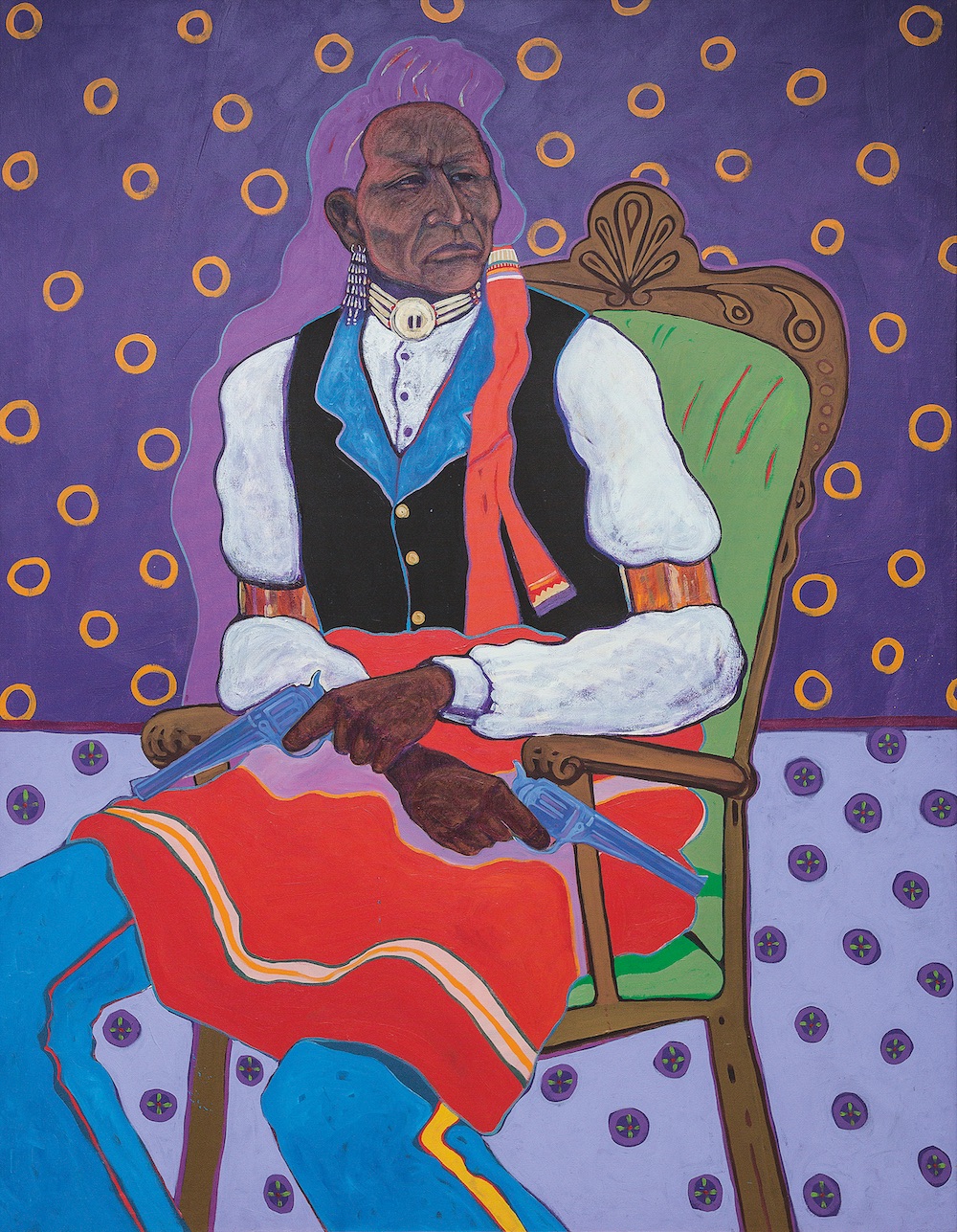 In Two Guns Arikara, a soldier wears traditional Plains Indian adornments with his U.S. military scout uniform. Purple Victorian wallpaper pops behind him. "Cannon activates space very vividly," says Karen Kramer, curator of At the Edge of America. "He relies on an interplay between background and foreground, Native and non-Native elements. He confronts us to bring us to a different place of understanding."
Two Guns Arikara, 1974–1977. Acrylic and oil on canvas. 71.5" x 55.5". Owned by Anne Aberbach and Family, Paradise Valley, Ariz. © 2019 Estate of T.C. Cannon. Photo by Thosh Collins.
"Cannon was a visionary," says National Museum of the American Indian Director Kevin Gover (Pawnee). "The imagery he created was stunningly authentic and has influenced the work of many other artists, Native and non-Native alike."
Yet, until recently, Cannon's impact has gone largely unrecognized outside of art circles. From April 6 through Sept. 16, 2019, the NMAI in New York will host the final showing of T.C. Cannon: At the Edge of America, an exhibit that is as multidimensional as the artist. The retrospective opened in the spring of 2018 at the Peabody Essex Museum (PEM) in Salem, Mass., before traveling to Tulsa's Gilcrease Museum in Cannon's home state of Oklahoma. The exhibit features 69 of his visual works, from widely recognized paintings to drawings, lithographs and wood etchings. It also includes songs, poems and many of Cannon's personal items such as his notes, letters, military medals and even his vintage Martin guitar.
Karen Kramer, curator of the exhibit and PEM's Native American and Oceanic Art and Culture, says while the title At the Edge of America was inspired by a line from one of Cannon's poems about living in San Francisco, it has a much greater meaning. "It refers to how Native people have been marginalized over time and how Native American art has been left out of the American canon," says Kramer. "This exhibit inserts T.C. Cannon's rightful place in American art as well as his place in the pantheon of the great Native American artists."
Born in 1946 as Tommy Wayne Cannon, "T.C." and his sister, now Joyce Cannon Yi, were raised by their Kiowa father and Caddo mother in small towns in southwestern Oklahoma. Even when they were children, Yi recognized that her brother had talent as an artist: "He always had a sketch pad in his hand."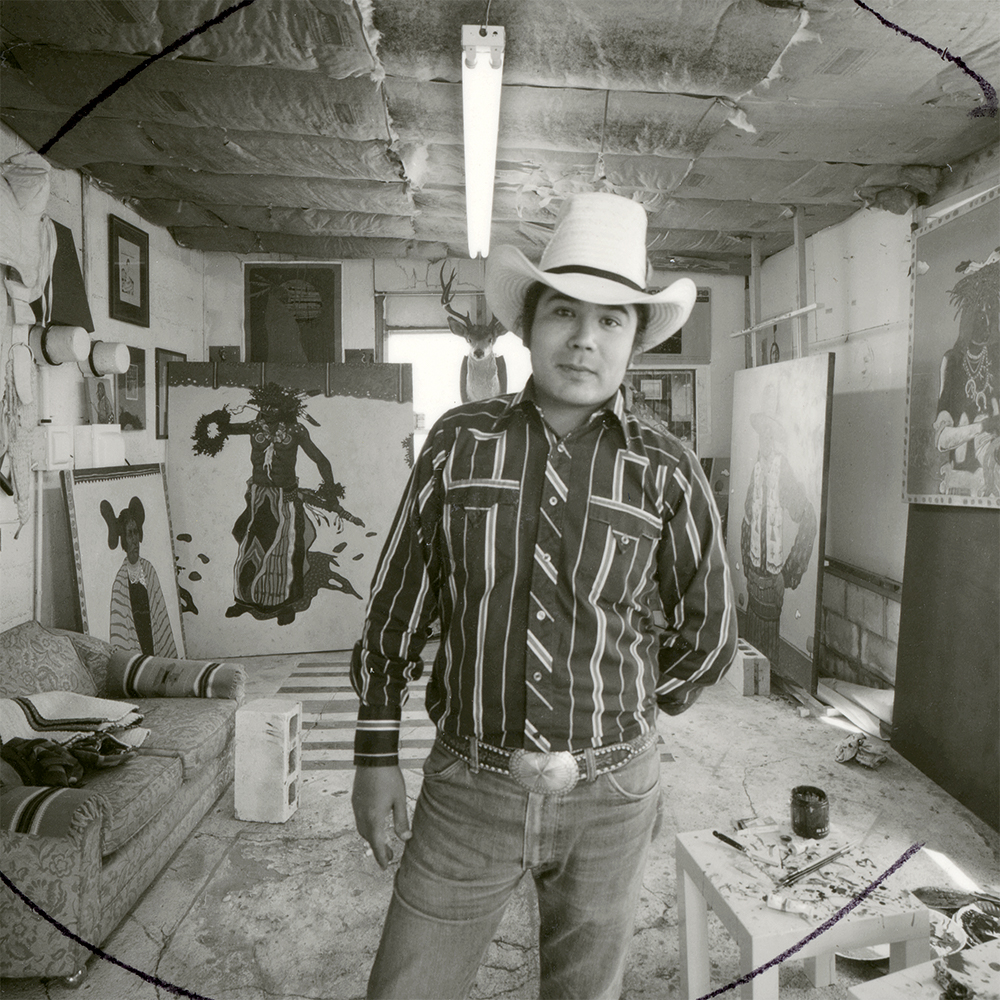 T.C. Cannon in his Santa Fe, N.M., studio in 1976, the height of his influential but brief career as a multimedia artist. He died in a car accident just two years later.
Photo courtesy Wheelwright Museum of the American Indian. © Herbert Lotz/New Mexico History Museum.
After graduating from high school in 1964, Cannon attended the recently founded Institute of American Indian Arts in Santa Fe, N.M., for two years. There, budding American Indian artists were encouraged to stretch beyond traditional painted scenes of deer and buffalo. The first generation of graduates from that school paved the way for decades of modern Native artists to come. "It was a revolution," says Kramer.
Cannon developed a unique style that was influenced not only by painters such as Vincent van Gogh and Henri Matisse but by leading folk and rock singers of the day, particularly Bob Dylan and Woodie Guthrie. His desire to create music and sing like them led him to ask local music instructor and singer Michael Lord to teach him to play guitar. "We had an instant bond," says Lord. Just months later, the two began playing in local coffee houses and clubs together.
Cannon continued his studies at the San Francisco Art Institute in 1966. However, after only two months, the young man left to enroll in the U.S. Army. He served two years in the Vietnam War as a paratrooper in the 101st Airborne Division before returning to the United States in December 1968. Although Cannon earned several military medals, including two Bronze Stars for his service during the Tet Offensive, his poetry, music and drawings reveal his conflicted feelings about the war. In a 1975 self-portrait, he stands wearing part of his army uniform with his arm draped casually over the shoulders of a skeleton while an atomic bomb – a common motif in his drawings – explodes in the background. When he came back from Vietnam, he was a changed man, says Yi: "I couldn't laugh with him as easily. He wouldn't open up so much." Of those that enlisted, she says, "They go over boys and come back men." Lord agrees: "He was quieter, more serious. He threw himself into his painting and drawing."
Only three years later, Cannon's career as a nationally recognized artist was truly launched. In 1972, the National Collection of Fine Arts (now the Smithsonian American Art Museum) featured him and his former instructor Fritz Scholder in the exhibition Two American Painters. Jean Aberbach, the owner of Madison Avenue's Aberbach Gallery, purchased almost all of Cannon's canvases and agreed to represent him.
Yet Cannon seemed to know that his good fortune would not last. Yi says both she and he knew somehow that "he was destined to die at an early age." In 1973, he wrote a poem that appears to foretell his own death:
all i know is that you . . . . my friends
will be far away when i die
and the stillness in my heart
will shake not breath or nerve in your
body vessel
nor will tear fall from unknowing word
bent into the cup of your ear.
Cannon would create more than 80 works, including some 50 paintings, a handful of woodblock prints and linocuts, as well as dozens of poems and songs before a car accident in Santa Fe, N.M., ended his life on May 8, 1978. He was just 31 years old. "It still bothers me," says Yi. "That little boy who I used to play with when we were children, that teenager who was my friend…the adult who was there even though we lived so far apart…my brother, I was never going to see him again."
In spite of the brevity of his career, Cannon's strong voice ensured that his art has lived on well beyond his early grave. Lord says his friend would have been thrilled to have his works featured at NMAI in New York: "T. said that he never wanted to be known as a good Indian artist. He just wanted to be known as a good artist. He would be pleased that he finally reached that."
Yi says she hopes people remember her brother as "the kind, generous gentleman that he was," and as "the person who never gave up on his paintings. He went through so much. He didn't have anything, and he risked it all for his career. God put him here. God said to him before he was born 'you are going to change the world of art' – and he did."
Music Was His Muse
Whether writing poetry or songs, "he was in love with the English language," says Michael Lord, T.C. Cannon's former guitar teacher. Music inspired Cannon to paint, draw or write songs or poetry or vice versa. He often blasted songs of his favorite singer, Bob Dylan, and other folk and rock musicians of the day from his studio.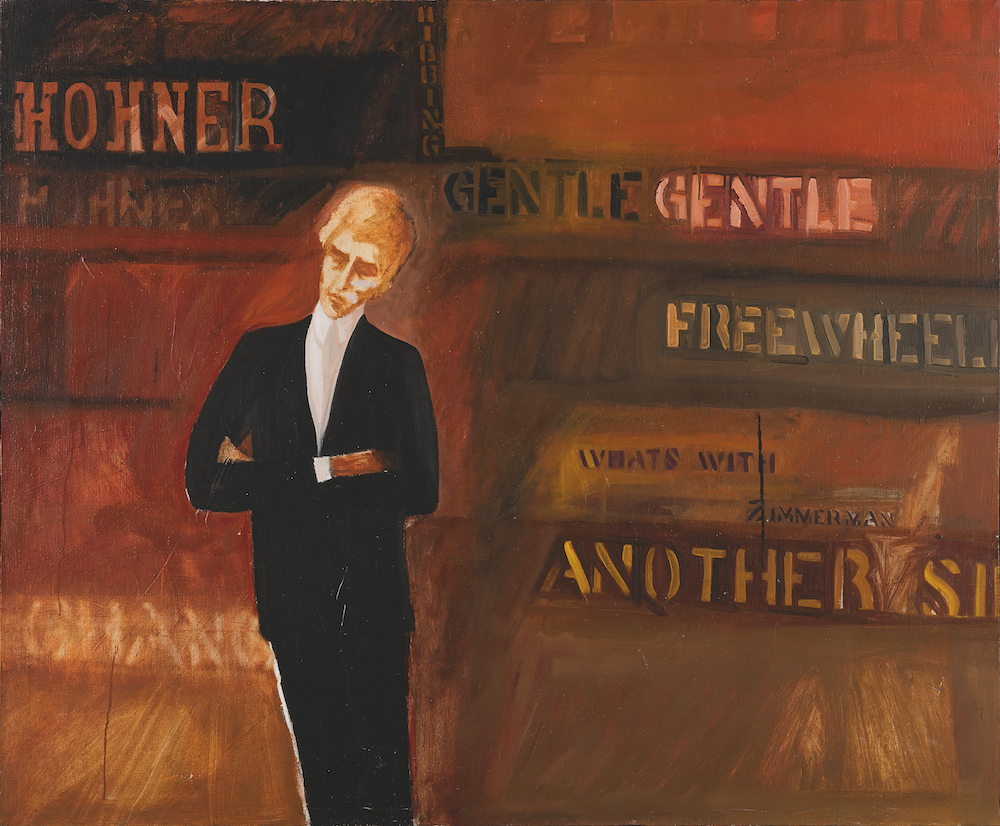 In this 1966 portrait of Dylan, Cannon paints his muse with golden hair rather than brown. Behind him are phrases pertaining to the singer, including "Hohner" (harmonica), "Freewheeling" and "Another Side" (parts of album titles) and "What's with Zimmerman?" (Dylan's birth name).
It's Alright Ma, I'm Only Sighing, 1966. Oil on canvas. 46" x 56". Museum of Contemporary Native Arts, Santa Fe, N.M., Honors Collection, 1967, CD-13. Photo by Addison Doty.
Many art historians consider Cannon's Mama and Papa Have the Going Home Shiprock Blues the pivotal painting of his career. This work defined the bold style and tone of many of his works that combine past and present as well as traditional American Indian and modern American cultures. The 1966 painting shows a Navajo (Diné) man and woman wearing traditional textiles and jewelry and sporting sunglasses. This would significantly change the way American Indians were portrayed in art.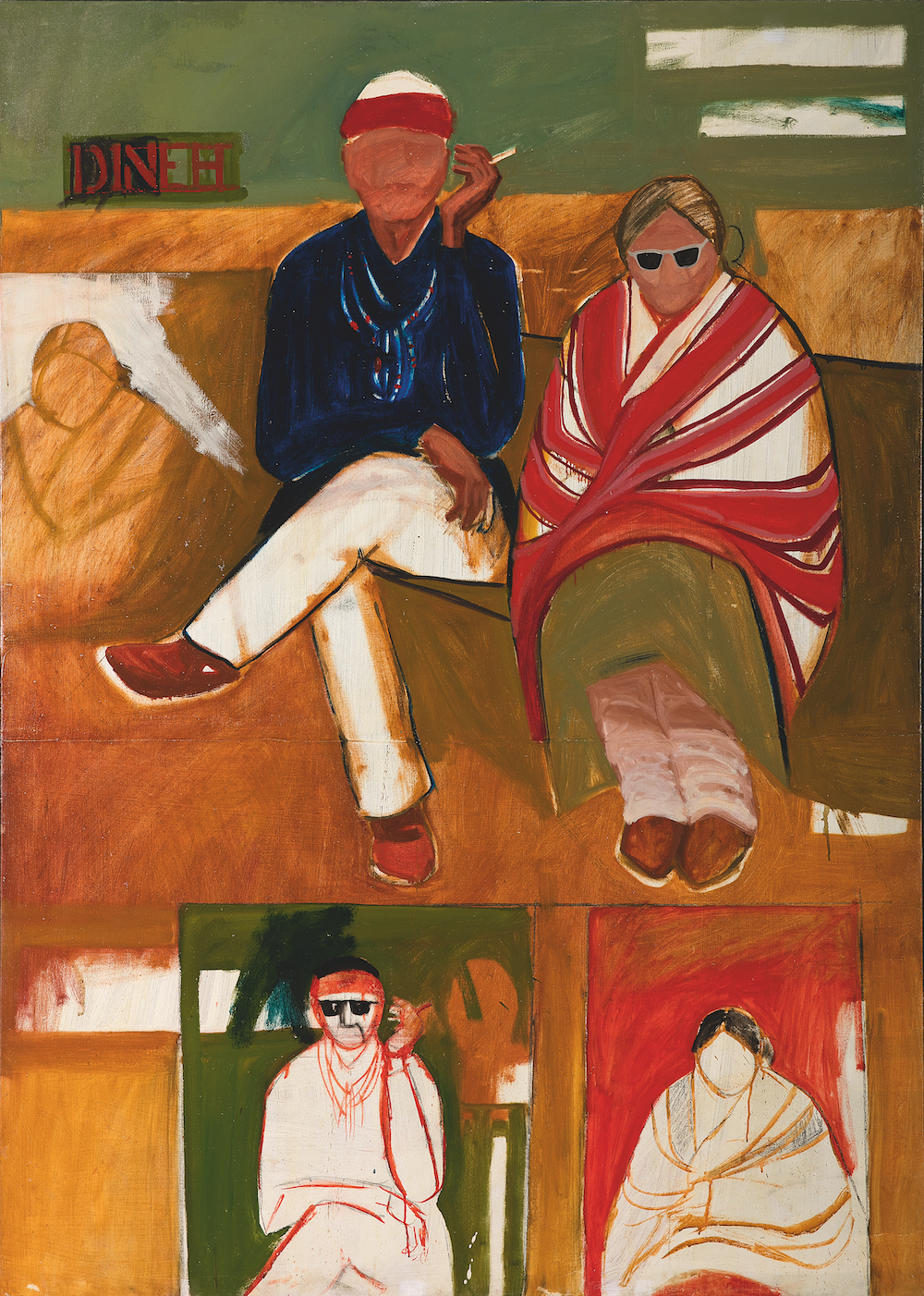 Mama and Papa Have the Going Home Shiprock Blues, 1966. Acrylic and oil on canvas. 84" x 60". Institute of American Indian Arts, Museum of Contemporary Native Arts, Santa Fe, N.M. © 2019 Estate of T.C. Cannon. Photo by Addison Doty.
Cannon wrote a companion song for Shiprock Blues in the style of Dylan. While they are viewing the image, visitors to the At the Edge of America exhibit can hear a recording of Cannon singing his song as well as songs from the other singers that inspired him. Across from the painting, Cannon's vintage Martin acoustic guitar silently leans against a wall.
Mama and Papa Got the Shiprock Blues
well i've been out there where the v.c. stay
i write home most every day
it don't seem to ease my pain at all
'cause i long for the sand and the
piñon trees
sheep manure up to my knees
and in the evening time my greasy
jo-babe squaw
oh mama, papa's got those blues again
oh mama, papa's got the shiprock blues again …
Inner Conflict
i have seen unhonest death
and it breathed a yellow smoke into
my memory.
i have drank with a young man's terror
and grief.
any nuisance of any naïve posture
bores me now.
do not bother me with your new invasion
tonight!
—T.C. Cannon
Cannon joined the U.S. Army's 101st Airborne Division in 1966. However, the horrors he saw during the Vietnam War affected him greatly. As a kind, gentle person, "Vietnam was an enigma for him," says Lord. While he was still in Vietnam and after returning to civilian life about two years later, his sketches, poetry and songs revealed his ongoing inner conflict about the war.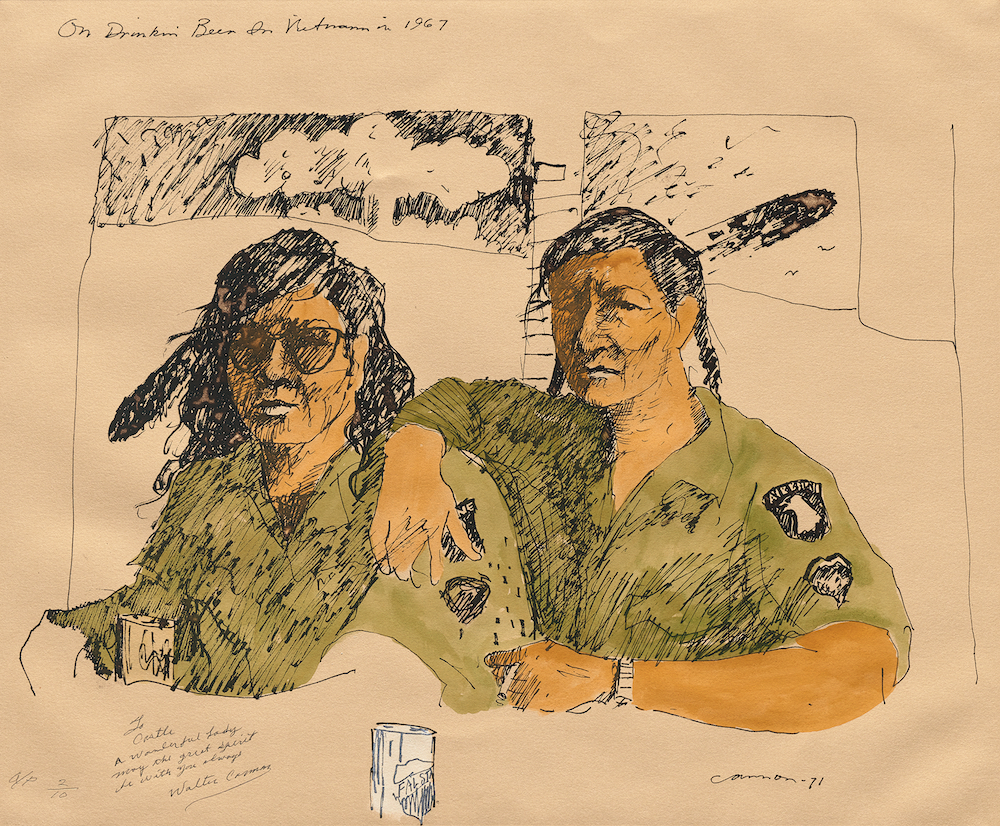 An atomic bomb explodes behind this reimagined reunion of Cannon with his friend Kirby Feathers at a Vietnamese bar. Such bombs were a common motif in Cannon's drawings once he entered the Vietnam War. Cannon and his father, Walter Cannon, a Korean War veteran, were inducted together into the Kiowa Ton-Kon-Gah, or Black Leggings Warrior Society. Walter Cannon created this limited-edition posthumous print of the drawing after his son's death.
On Drinkin' Beer in Vietnam in 1967, 1988–1989 Lithograph. 24" x 30". Collection of Irene Castle McLaughlin. © 2019 Estate of T.C. Cannon. Photo by Allison White.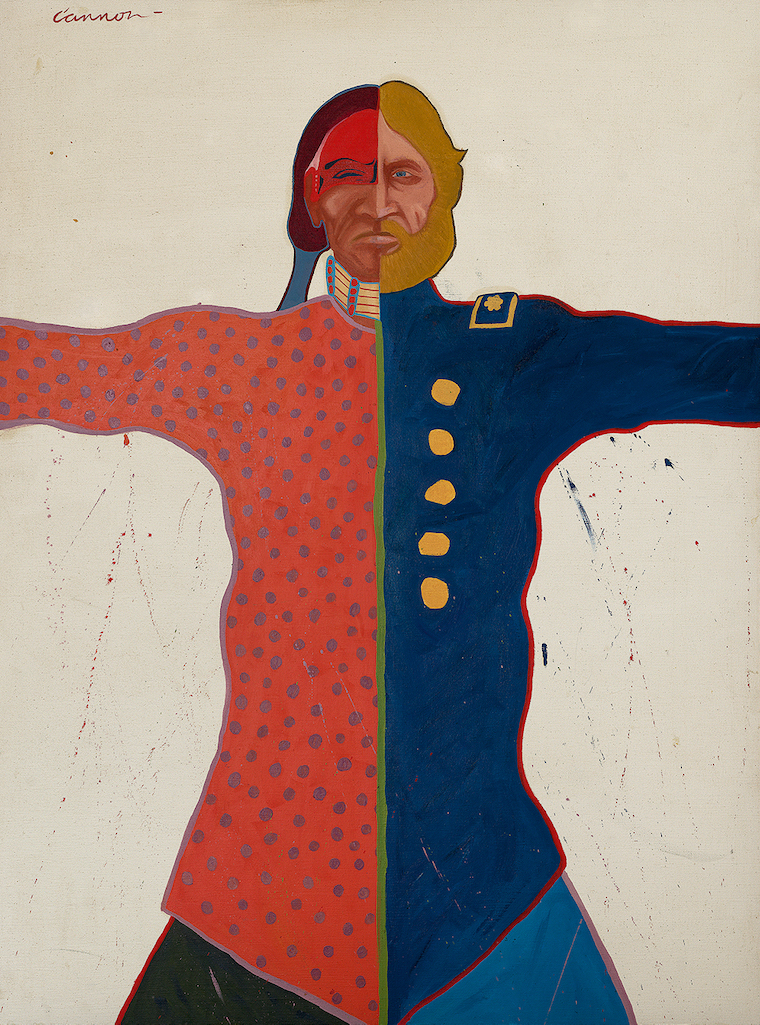 This painting (above) shows just how divided Cannon felt about fighting in a war, with one half being the Native warrior and the other the colonizing soldier who oppressed his people.
Soldiers, 1970. Oil on canvas. 48" x 36". Collection of Arnold and Karen Blair. © 2019 Estate of T.C. Cannon. Photo by Scott Geffert.
Reckoning
Cannon's work often juxtaposed traditional Native and non-Native cultures, as if to say defiantly "we are still here" in spite of hundreds of years of colonization that displaced American Indians from their land and brought disease that devastated their populations. In Washington Landscape with Peace Medal Indian, this diplomat wears a peace medal that was a gift from the U.S. government to symbolize friendship and to commemorate agreements. However, he is separated from the power – the U.S. Capitol, visible through the window – that decides the fate of his people and his land.
Despite such seemingly opposing imagery, Kramer says that the artist was "averse to binaries. He didn't draw simple lines between Native and non-Native people. He was really engaged in the space in between. He believed in people's ability to understand his work because of the shared histories or humanity he revealed."
Washington Landscape with Peace Medal Indian, 1976. Acrylic on canvas. 50" x 45.5". Collection of the New Mexico Museum of Art. Gift of Nancy and Richard Bloch, 2001 (2001.13.1). © 2019 Estate of T.C. Cannon. Photo by Blair Clark.
Renewal
"T.C. was a Renaissance man," says Lord. Insatiably curious, he not only explored a great range of music, from folk and country to classical and opera, he was a voracious reader and became deeply interested in Native history and spirituality.
Completed a year before his death, the 20-foot-long mural Epochs in Plains History: Mother Earth, Father Sun, the Children Themselves is Cannon's most monumental work. This visual journey takes the viewer through the religious and social epochs of southern Plains Indigenous people.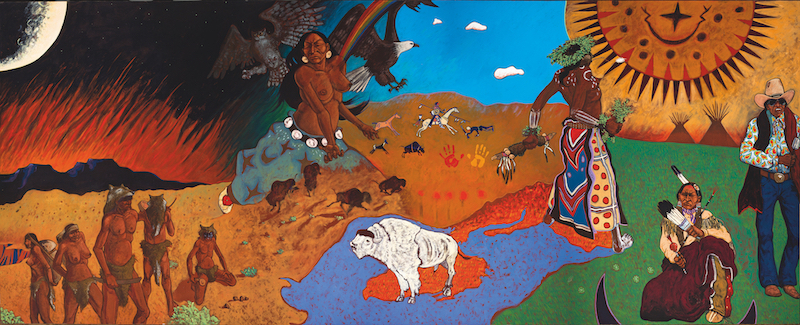 Epochs in Plains History: Mother Earth, Father Sun, the Children Themselves, 1976–1977. Oil on canvas. 96" x 240". Collection of Seattle Office of Arts and Culture, Seattle, Wash. © 2019 Estate of T.C. Cannon. Photo by Gary Hawkey/IoColor.
Cannon explained the arc of the story as:
"Starting from the left edge, the painting is dark, partially lit by a hundred-mile prairie fire and an ancient moon under which traipses a small clan of old people. They are lost in darkness and superstition, but their land before them is lit by a holy light . . . emanating from the large figure of Mother Earth throwing out gifts of buffalo and medicine. The right side of the panel contains three major figures, the first being a sun dancer, the second a Kiowa peyote man, and the third, a gourd dancer who dances off the panel's right edge."
As a tribute to Cannon's mural, the Peabody Essex Museum commissioned singer-songwriter Samantha Crain (Choctaw) to compose One Who Stands in The Sun, titled after Cannon's Kiowa name Paidoung-u-day. Playing Cannon's guitar – which was given to Lord by Cannon's sister, Joyce Cannon Yi, after her brother's death – Crain recorded the song at the Daybreak Star Indian Cultural Center in Seattle, Wash., where the mural has been displayed. Visitors to the At the Edge of America exhibit can hear a recording of the song while viewing the mural, and as a continuation of the tribute to Cannon's works, Crain is scheduled to perform at NMAI-NY in August.
One Who Stands in The Sun
Darkness: open,
unknown, broken.
Magic woman,
you covered us in light.
Backwards, forwards,
Suddenly cornered,
Cavalry soldier,
you covered up our life.
One who stands in the sun
One who stands in the sun
Sacred spirit
be our witness.
Oh, I'm not finished:
the children are themselves.
I keep growing,
learning, roaming.
My hands were holding
a story all along.
One who stands in the sun
One who stands in the sun
— Samantha Crain